How to stop robocalls on a landline—A guide to avoiding bots
Robocalls are threatening to become the most significant tech scam problem in the world. Reports say that around 85 billion robocalls were made in 2018. An even more concerning piece of information is that around $10 billion were lost in phone scams in the States alone.
Even if you hadn't been a victim of a phone scam, you have probably lost your temper more than once, dealing with these annoying automated calls. Sometimes they happen in the middle of the night, so it's safe to say that robocalls verge on downright harassment.
Although you still can't avoid robocalls altogether, there are ways to reduce the number of calls you get. Robocallers don't discriminate between devices, so you can expect them to call you on both your mobile phones and landlines. It is a bit easier to block them on your mobile phones, but there are a few things you can do to prevent robocallers from reaching you at home as well.
What's a robocall?
A robocall is not your regular telemarketing call. The technology uses an automatic dialing service to make thousands or even hundreds of thousands of calls at the same time. While telemarketers use people to conduct the calls, robocalls are pre-recorded messages or robot messages.
You can recognize a robocall because it will not be a conversation, but an instructional voice message prompting you to do something. Some government agencies, like the IRS, use robocalls as well, but they usually send a letter or an email that provides the same information as the call.
It can be challenging to distinguish between legitimate robocalls and scam calls, so the problem is becoming more significant as the technology advances allowing the scammers to appear like official or even familiar phone numbers. There is a nationwide initiative to fight back against robocalls and phone scams. The Federal Trade Commission is at the forefront of this battle. Unfortunately, the system is still not functioning perfectly, so you need to be careful and try to avoid robocalls as much as you can.
Are robocalls illegal?
Here lies the problem. Not all robocalls are illegal. Some of them are legitimate calls, used by government agencies, and other institutions and organizations to pass on valid and important information to their clients.
Some of them are:
The Internal Revenue Service (IRS) that uses pre-recorded messages to inform you about any issues or changes related to your taxes or the agency policies (the difference is that the IRS will always use other communication tools like email or snail mail to contact you)
Schools often use robocalls to let you know about closures or other issues you need to be made aware of immediately
Pharmacies use such calls to inform their customers that their prescriptions are ready for pick up
All of the above could be considered emergency calls and do not happen often. This means that most robocalls are illegal and, most probably, a part of a scam. FTC's Telemarketing Sales Rule states that telemarketing businesses need your written approval to put you on their automated calling lists.
This implies that all robocalls and any other automated sales-related calls are a direct violation of the Telemarketing Sales Rule. Scam attempts are against the law and subject to criminal prosecution. As soon as the caller tries to sell you something, their call becomes illegal.
How to avoid robocalls?

Before we discuss the ways to block robocalls on your landline, we should go through some general advice that you should follow regardless of the type of device you get robocalls on. As these calls are most likely scam related, don't take them lightly, and try to stick to the following:
Don't pick up—If the number or the timing of the call feels dodgy, the best course of action is not to answer the call at all (if the call is urgent the caller will leave a message or send a text)
Don't talk—Even if you do answer a robocall, try not to engage because the scammers may record your voice and use it as a voice approval for something (the word yes is a big no during robocalls)
Don't convey any personal details—You should never reveal any personal information regardless of how legitimate the call seems to you
Avoid pressing any keys or numbers—If the robocaller instructs you to press a number or a key to get yourself removed from the calling list, don't fall for it because it will only confirm that your number is valid and that they can keep calling
It would be best to hang up as soon as you realize that you are dealing with a robocaller. In case you think that the call may be coming from a valid source like the IRS or one of your utility providers, don't call the number suggested in the call. Find the number for yourself and check the potential issue by talking directly to the agency or the provider.
How to block robocalls on a landline?
It's way easier to block robocalls on a mobile phone than on your home phone. The technological improvements have been focusing on smartphones, leaving the landlines vulnerable to various annoying phone scams.
What aids you will use to fight robocallers who are harassing you on your home phone, depends mainly on the type of phone service you have. Most Americans have no idea whether they are using a home phone with an actual landline, or a VoIP (Voice over Internet Protocol).
VoIP phones appear to users like regular home phones, so if you are not sure what you have, check with your service provider. In case you have the same service provider for the Internet, cable, and telephone, you are most likely using the VoIP technology.
Internet-based phones offer much better options for blocking unwanted callers than traditional landlines. We will go through both variants and advise how to stop robocalls and other potential phone scammers.
Block robocalls on home phones that use VoIP

The first thing to do is check what your provider can do to help you block unwanted calls. All major carriers offer some kind of service that can be useful in filtering calls before they come to you.
You can also use additional web-based call blocking services that serve as a triage to the phone calls before they are directed to your number. They analyze the call and decide whether or not it is valid.
There are various ways that the services handle such calls. You can usually choose if you want to:
Block the call completely
Direct it to a designated voicemail
Divert it to a spam folder
Let it ring silently, so you can see it a missed call
Let it ring with a message on a display that it is a potential robocall
Since most robocalls are scams, they tend to happen at certain times. If you can detect the period when they arrive, you can have your home phone switched automatically to sleep or silent mode during that time.
Stop robocalls on landlines with traditional phone wires
Robocalls you receive on your home phone seem to be even more annoying, mostly because they are the hardest to block. While there are numerous, and pretty effective ways to stop such calls on your mobile phones, landlines are trickier, thus favored by the robocallers.
There are a few things that you can do to protect yourself, apart from the general tips we provided previously. If you are experiencing difficulties with spam calls, you can:
Check with your carrier if they have a service that can help you
Install a call-blocking device on your phone
Although they will be able to filter and block some of the calls, none of the above options is entirely efficient. You shouldn't expect to get 0 calls, but you can reduce the number significantly.
Carriers
Most providers developed services that are designed to fight robocalls. Even though they do not function perfectly, they can reduce the number of unwanted calls. Her's what some of the popular providers have to offer:
Carrier

Service
Cost
AT&T
Call Protect

free

Verizon

Spam Alert
free
T-Mobile
●     Scam ID

●     Name ID

●     Scam ID free

●     Name ID $4.00

Sprint

Premium Caller ID

$2.99
Call-blocking devices
One of the most popular and efficient ways to stop robocalls on your landlines is by installing a call-blocking device. They usually come in the shape of a small box that you attach to your home phone with a cord.
Call-blocking devices come with a blacklist of confirmed scam-related numbers. You can also add numbers you don't want to answer to that list. Others require you to make a whitelist, which contains the numbers you wish to receive calls from.
You would be able to avoid many unwanted calls by using a call-blocker. The device detects a questionable phone number and:
Stops the call
Informs you that the call is suspicious with a blinking light
Sends the call directly to voicemail
Directs the call to a recorded message with several options, which prevents robocalls from getting through
| | |
| --- | --- |
| Pros of call-blockers | Cons of call-blockers |
| Helps detect unknown callers | Unable to determine if the call is  a robocall with 100% certainty |
| Allows you to choose which calls to take | Requires to input numbers manually |
| Filters robocalls by using Choose the option feature | Cannot support a significant amount of numbers on both blacklist and whitelist |
What is the Federal Trade Commission doing to stop robocalls on landlines?
FTC is trying hard to fight the phone scams and robocalls. The Commission teamed up with dozens of state and federal agencies to put an end to this new technological plague. The action they named Operation Call It Quits is showing results, as it brought 95 criminal and civil lawsuits against robocall scams all over the States.
As the fight is becoming more active, FTC is urging people to report all scams, so they can detect robocallers efficiently. The Commission created the National Do Not Call Registry, on which you can register, and protect yourself from unwanted calls.
You may be wondering how to check if your number is on the Do Not Call list, or if there are any exceptions or expiration rules you should have in mind. Worry not—DoNotPay has all the answers you need.
While the list works when it comes to legitimate telemarketers, it won't protect you from scammers. Another problem is that it applies only to calls that are occurring within the U.S. Many robocalls come from servers abroad, which makes them out of reach of the United States law.
The good thing with being on the list is that all honest businesses will respect it, so in case you do get a suspicious call, you may as well be sure that it's a scam.
What is Robo Revenge with DoNotPay?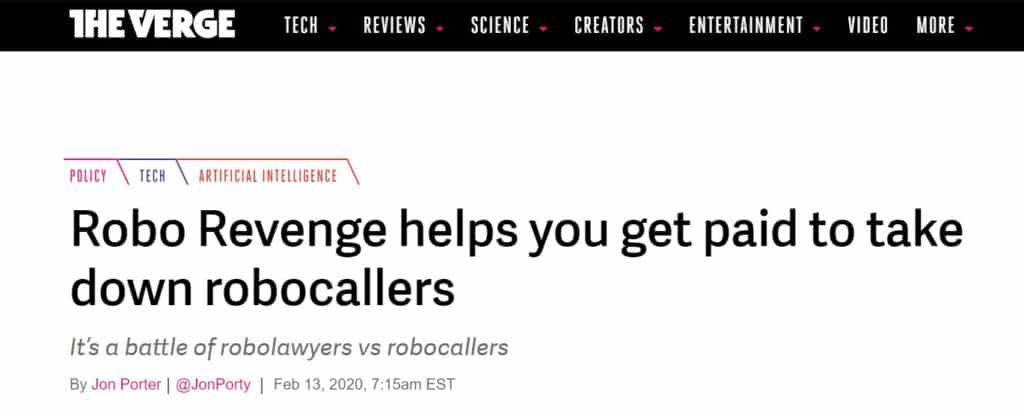 If you are determined to get payback for all the harassment you suffered from robocallers, DoNotPay can help. This fantastic app developed a nifty feature called Robo Revenge that can assist with fighting robocallers in a way that hurts them the most—by getting their money.
DoNotPay created the world's first robot lawyer, and as it seems logical to get a robot to fight a robot, this is an excellent way to make something out of these scam attacks. Robo Revenge helps you automatically sue the robocaller, and it can get you as much as $3000.
While we are waiting for the legislation to catch up with all the technological improvements that enable phone scammers to rob us flat, Robo Revenge takes advantage of your consumer's rights and helps you get payback.
You should be aware that Robocall Revenge will only work with callers from the U.S. It is still almost impossible to fight the calls coming from overseas. Since you won't be able to make a distinction, taking the call is a slight risk. It may be a risk worth considering if you manage to take some of their money, and get your deserved revenge.
How does Robo Revenge from DoNotPay work?

The process is easy, although it will require some time on the phone with the robocaller. You will also need to get the DoNotPay virtual card, which is free and straightforward. To make a case against the robocaller, you should:
Take the robocall
Wait for the caller to ask for money (don't worry, they will)
Log on DoNotPay through your web browser
Select Robo Revenge
Generate the DoNotPay virtual card
Allow transaction which will collect the scammer's details
Wait for DoNotPay to file the complaint and create a demand letter compliant with the Telephone Consumer Protection Act
You should know that DoNotPay will put you on the Do Not Call Registry immediately. The virtual card that you will give to the robocaller is entirely safe because it is not connected to your bank account or your real credit card details.
What are the most common robocall scams?
Robocall scams are getting more intricate and complicated as we speak. The most common mimic calls from your bank or the IRS, and they will always imply that your personal information or financial details have been stolen.
The scammers might try to take advantage of the unstable economy, and target you if you have any unpaid bills lying around. They'll claim to call on the behalf of a collection agency, and demand that you pay whatever you owe. They are nothing but helpful, though, so they'll even provide a secret discount just for you—but only if you deposit the money into their account! Stay on top of your finances, and you won't be susceptible to this type of scam. If you need some help to lower your bills, DoNotPay is here for you.
The scammers usually play on fear as it will make the victim confused and unable to think clearly. Don't be surprised if they have a lot of data on you (address, names of family members, etc.) since getting those online is easier than you think.
Robocallers often use spoofing. It's a trick that makes the phone number appear as a local or even familiar number, so you trust the caller more. Whatever methods they use, don't fall for them, and hang up as soon as possible. You can always check if something is going on by calling the actual service provider.
What else can DoNotPay do?

If providing free virtual credit cards and dealing with robocall scams wasn't impressive enough, there's much more we can do for you. DoNotPay aims to help people in need of legal assistance get appropriate help and advice without spending thousands on fancy lawyers and consultants. The DoNotPay virtual legal team started with fighting parking tickets but expanded to offer many services to those who need assistance.
If you are struggling with the following, don't hesitate to contact DoNotPay:
Disputing traffic tickets
Fighting speeding tickets