Start Your SiriusXM Free Trial Without Worrying About Your Credit Card Info
SiriusXM Holdings Inc. is an American broadcasting company that provides online radio and satellite radio services operating in the U.S. The company was formed by the 2008 merger of XM Satellite Radio and Sirius Satellite Radio, uniting them into SiriusXM Radio. By the end of March 2020, SiriusXM had around 34.77 million subscribers.
Does SiriusXM Offer a Free Trial?
Yes, SiriusXM offers a free trial.
There are two options to choose from:
Listening to SiriusXM both inside your car and on other devices

Listening to SiriusXM outside of your car—on your phone, laptop, or online
Regardless of which option you choose, you'll get a three-month free trial. The difference is that, if you want to listen to SiriusXM inside your vehicle, you won't be required to give the company your credit card information.
The situation is a bit different if you're not a car owner or don't want to connect the service with your car's radio. A credit card is required to start a SiriusXM free trial on other devices, and additional fees and taxes apply as well.
How to Activate SiriusXM Free Trial

How you will activate SiriusXM free trial depends on whether you have purchased a new or a pre-owned vehicle:
New Vehicle

—In case you've bought a new four-wheeler, it might come with a factory-installed SiriusXM. If that's the case, your trial should be active from the moment of purchase
Pre-owned car

—If you've bought a used car, ask the dealer whether the vehicle came with an active free trial. This is highly unlikely, but it doesn't hurt to ask
In case the vehicle came with a SiriusXM free trial, but the radio is not on or is not receiving all the channels, you can do these two things:
Refresh the radio using your RadioID

Call 1-866-635-9632 for help
Can I Listen to SiriusXM Outside of the Vehicle?
With streaming SiriusXM, you can listen to it on your PC, Mac, iPhone, iPad, iPod touch, Android devices, etc. Both free trial options include streaming on other devices, and you'll be able to enjoy over 300 channels.
Find Out What Channels and Services You Can Get With Your Trial Subscription
By logging into the Online Account Center, you can determine what type of package you have received with your trial subscription. In case you are logging in for the first time, you need to register by using your Radio ID.
There's also a possibility of creating a customized channel guide you can download and keep in your car to find channels and programs you are interested in. The process is rather straightforward—all you need to do is click the checkmark next to the genre you want to include in your custom channel guide.
When it comes to music, there's something for everyone, from classic hits, hip hop, and R&B to classic rock, metal, jazz, and even opera. Apart from standard radio channels that only play music, you can also select between different Talk channels—featuring comedy shows and podcasts—and Sports channels.
To save your custom channel guide, you will have to provide SiriusXM with your name, email, and phone number. The company will occasionally send promotional emails, asking you to upgrade to a paid service, as well as newsletters with information about new channels.
If you want to stop receiving emails from SiriusXM, you can leverage DoNotPay to get rid of spam for good. Log into your DoNotPay account from your , navigate to the Spam Collector tab, and forward the unwanted email to spam@donotpay.com. Upon receiving the email, we will automatically unsubscribe you from SiriusXM's mailing list. Keep in mind that you can use this feature to unsubscribe from any unwanted emails.
Will SiriusXM Free Trial Automatically Renew Into a Paid Subscription?
Whether the free trial renews automatically or not depends on the option you chose when creating your SiriusXM account. The company will not ask you for credit card information if you opt for the Listen Inside Your Car option.
Given that you're not connecting your credit card to the SiriusXM account during this free trial, there's no possibility of getting charged after the three-month period. If you want to continue using the service after that, you will need to upgrade your account to one of the paid packages.
SiriusXM Paid Packages

Name

Offer Details

Price

XM Select

XM video

Ad-free music channels

24/7 comedy channels

World-class news

College sports

Listening outside of your car

$16.99/month

XM All Access

Everything in XM Select plus:

Customized ad-free music stations

Access to all sports channels

$21.99/month

XM Mostly Music

SiriusXM video

Selection of music channels

Listening outside of your car

$10.99/month
If you're only interested in listening to SiriusXM outside of your car, you'll be able to choose between SiriusXM Essentials at $8/month and SiriusXM Premier at $13/month. The latter includes two dedicated Howard Stern channels, SiriusXM video, and play-by-play sports channels.
You will need to select one of the two options when starting your Listen Outside Your Card free trial. Depending on what you choose, you will be charged $8 or $13 automatically after the three-month free trial period.
How to Cancel SiriusXM Free Trial

If you do not wish to continue using SiriusXM services after the initial three months, you will have to call the company's customer service to cancel your subscription.
The number of SiriusXM customer support is 1-866-635-2349. The company's working hours are:
Monday—Friday: 8:00 a.m.–10:00 p.m., ET

Saturday–Sunday: 8:00 a.m.–8:00 p.m., ET
If you want to avoid the hassle of contacting SiriusXM's customer support and start your free trial completely risk-free—DoNotPay is the solution!
Do You Want to Avoid an Automatic Renewal? DoNotPay Virtual Credit Card Is the Solution!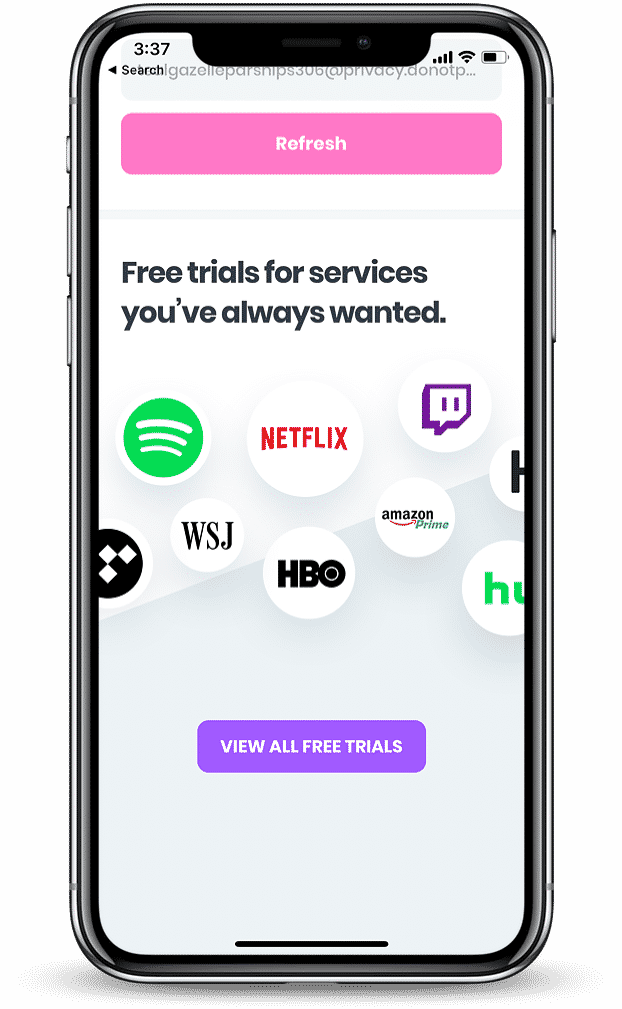 How many times did you subscribe for a free trial, forgot all about it, and ended up paying for the service you don't want? If you would rather avoid wasting money, once you decide to sign up for a SiriusXM Premier free trial, you can use DoNotPay's virtual credit card instead of your real card. That way, you will not have to think about when you need to cancel SiriusXM Premier.
You can access DoNotPay from any . DoNotPay's virtual credit card isn't connected with you in any way, shape, or form. You can use any name or address, and DoNotPay will provide you with the credit card number and expiration date.
SiriusXM—or any other company for that matter—won't be able to tell the difference. You'll start a free trial as you would with an actual card, but you won't have to worry about getting charged automatically after it ends since DoNotPay's card isn't connected to your bank account.
DoNotPay Can Help You Out When Dealing With Other Legal Issues

There's a reason why DoNotPay is the best robot lawyer in the world. SiriusXM is not the only radio service we can lend you a hand with! DoNotPay has a way to cancel TuneIn, SiriusXM's Pandora, or even Amazon's Audible!
You can access DoNotPay from any . Our robot lawyer is here to help you out with:
Disputing traffic tickets

Fighting speeding tickets
How SiriusXM Charges May Appear on Your Bank Statement
| | | |
| --- | --- | --- |
| Debit Purchase - Visa Sxm*siriusxm.com888-635-5144ny | Payment to SXM*SIRIUSXM.COM/ACCT|888-635-5144|NY | VISA DDA PUR 469216 SXM SIRIUSXM COM ACCT 888 635 5144 * NY |
| SXM*SIRIUSXM.COM/ACC | SXM*SIRIUSXM.COM/A888-635-5144, NY #0000 | SXM*SIRIUSXM.COM 866-SHOPXM1 NY |
| SXM*SIRIUSXM.COM/ACCT 888-635-5 | POS Adjustment - SXM*SIRIUSXM.COM/A 888-635-5144 NY | POS DEBIT SXM*SIRIUSXM.COM/ACCT 888-635-5144 NY |
| Debit Card Purchase - SXM SIRIUSXM COM ACCT 888 635 5144 NY | SXM*SIRIUSXM.COM | PENDING DEBIT CARD PURCHASE - SXM*SIRIUSXM.COM/ACC |
| RECURRING CHECK CARD PURCHASE SXM*SIRIUSXM.COM/ACCT 888-635-5144 NY | SXM*SIRIUSXM.COM/ACCT | Recur Debit Card Purchase SXM*SIRIUSXM.COM/ACCT 888-635-5144 NY |
| SXM*SIRIUSXM.COM/A | SXMSIRIUSXM.COM/ACCT 888-635-5144 NY | SIRIUSXM.COM/ACCT 888-635-5144 NY |
| DEBIT CARD PURCHASE - SXM*SIRIUSXM.CO 888-635-5144 NY | CHECKCARD SXM*SIRIUSXM.COM/ 888-635-5144 ON | SIRIUS RADIO 888-635-5144 |
| DEBIT CARD REFUND - SXM*SIRIUSXM.COM ACCT xxx-xxx-5144 NY | SIRIUSXM.COM/ACCT | RECURRING PURCHASE AT SXM*SIRIUS |
| SXM*SIRIUSXM.CO | SXM*SIRIUSXM.COM/ACCT 888-635-5144 NY | CHECKCARD SXM*SIRIUSXM.COM/ACCT 888-635-5144 NY |
| PENDING - SXM*SIRIUSXM.COM/ACCT 888-635-5144 NY | SXM*SIRIUSXM.COM/A888-635-5144 N | SXM*SIRIUSXM.CO 888-635-5144 NY |