Facts You Should Know About the Contractor Workmanship Warranty
A contractor workmanship warranty is a specific type of warranty, and we can tell you all the details regarding its length and coverage. We can also offer you the easiest way of claiming car, home, and product warranties—DoNotPay.
What Is a Contractor Workmanship Warranty?
A contractor workmanship warranty is a way to protect your house. If you have this type of warranty, you can count on coverage for possible installation and workmanship errors.
If you don't get a workmanship warranty, you could end up suffering numerous consequences in case your house has issues that have to do with installation.
This type of warranty will be in effect for a year after the construction work is done. You will need to speak with your contractor and check the specifics to see if they work differently.
The Difference Between a Workmanship and Manufacturer Warranty
You will usually come across two types of contractor warranties:
You can opt to have both, and that way, you will have everything covered. This means that these two cover different things. Here's a brief overview of what each warranty will protect:
| | |
| --- | --- |
| Type of Warranty | What It Covers |
| Workmanship Warranty | The work that a contractor does and all installation failures |
| Manufacturer Warranty | The materials as well as malfunctions caused by manufacturing mistakes and premature aging |
What also makes these two types of warranties different is their length. The workmanship warranty will protect your house usually for one year, while the manufacturer warranty can last between ten and 30 years.
DoNotPay Can Help You File Home Warranty Claims Easily
DoNotPay can help you file home warranty claims and protect what is inside your house once it is done. To make sure you deal with this tedious task easily, you should use our app and avoid all the inconveniences.
Open DoNotPay in a , and follow these steps:
Navigate to the

Claim Warranty

feature

Choose the

Home Warranty

option

Tell us the name of your home warranty provider

Provide us with the details of the issues with your appliances or systems

Select

Submit
DoNotPay will make sure the company gets your claim quickly, and the service contractor should get in touch with you soon after. Your virtual assistant will be there to show you the best options for home warranties in America based on our reviews.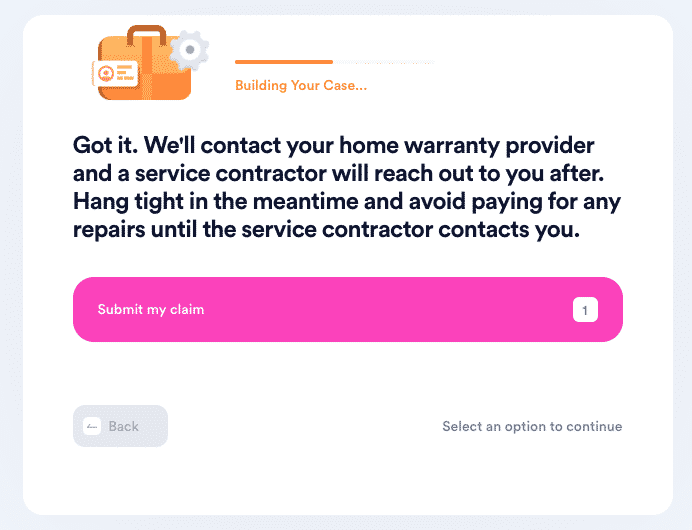 Even if you are dealing with car warranties, we can offer a solution to complicated situations when a dealer won't terminate your extended warranty. If you'd like to learn more about extended warranties for used cars, DoNotPay can provide the answers to all of your questions.
What if Your Warranty Claim Gets Rejected? DoNotPay Helps You Appeal It
DoNotPay understands the process of warranty claims and how it usually works. If your warranty request gets rejected, we offer a way of filing an appeal! The world's first robot lawyer will be by your side with strong arguments that can help your case.
Let us help you fight bureaucracy by following these directions:
Locate and select the

Claim Warranty

feature

Choose the

Appeal a Denied Warranty Claim

option

Let us know if you're filing an appeal against an extended warranty dealer or a product manufacturer

Provide us with relevant info regarding your warranty claim and the company in question
And that's all! You have only to sit and wait for the company to get in touch with you and tell you more about the status of your warranty claim.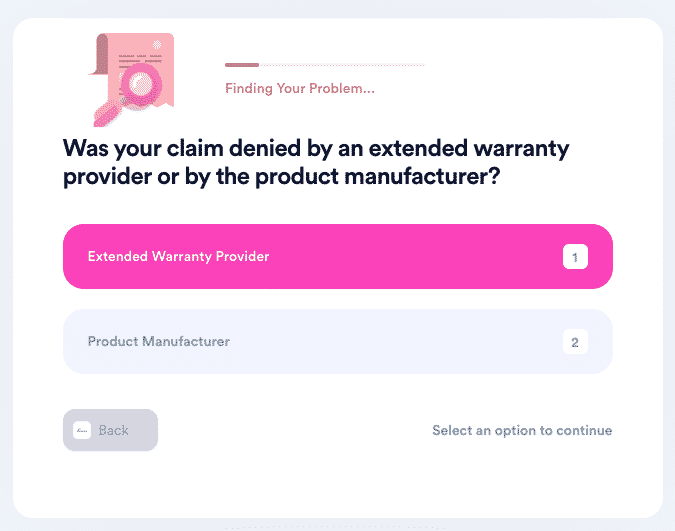 DoNotPay Is the Best Virtual Assistant Around
In case you are looking for a way to terminate your memberships with home insurance companies, DoNotPay can offer you a solution. Say goodbye to charges from Lemonade Insurance or Ameriprise Insurance in a few clicks.
We can assist you with claiming warranties from other home warranty companies, such as Nations Home Warranty, Universal Home Protection, or America's Preferred Home Warranty as well.
We can help you with many more administrative issues apart from warranty-related ones.
If you access DoNotPay from a , you can choose between any of these features:
Challenging speeding tickets

Disputing traffic citations