Check a Saks Gift Card Balance and Get Your Cash Back With DoNotPay!
There are hardly any downsides to getting a Saks gift card. If you enjoy using it, you should learn how to check your gift card balance and avoid potential unpleasant situations at the cash register.
In this article, DoNotPay will present the most practical ways to check your Saks gift card balance. We will also teach you how to manage the remaining balance on your gift card—including getting the leftover funds on a used gift card in cash!
What Should You Know About Your Saks Fifth Avenue Gift Card?
If you got your Saks gift card as a present, you may not be familiar with all its characteristics. Having all the info will enable you to take full advantage of the card or even inspire you to buy it for another fashionista.
Here is what you should know about Saks gift cards:
They are available in standard and electronic form (e-cards)
You can buy them on the Saks official website and in any of the company's stores
They are redeemable online, in store, and by telephone across the U.S. and Canada
You can use them anytime since they have no expiration date
They can be used without any additional charges
You can replace a lost, stolen, or damaged Saks gift card upon showing proof of purchase
Bear in mind that the store won't redeem your gift card for cash if you get bored with it or decide not to use it—unless required by state law.
How To Perform a Saks Fifth Avenue Gift Card Balance Check
Checking the balance on your Saks gift card can be done in one of four ways:
Online—Access Saks' official gift cards page and:

Click on the Check Your Balance tab at the bottom of the page
Enter your card number and PIN
Hit Check Balance

In-person—Walk down to any Saks Fifth Avenue store and ask one of the employees at the cash register to check your gift card balance. Make sure to set aside enough time for this little excursion as you may wait a while before an employee at the store can devote their attention to you
By phone—Call Saks Fifth Avenue at 888-695-4872. Make sure to have your gift card handy so you can give the employee the necessary details. They will perform the check and inform you of your balance. Prepare to wait on hold for a good while, though
Via DoNotPay—Our app can if you upload the front and back photo of your gift card in our app. We can get in touch with the card issuer and get the needed info for you in a snap
Once you check the balance on your gift card, you can decide whether you want to keep using the card or redeem the remaining amount in cash.
How Can I Get the Remaining Balance on My Used Gift Card in Cash?
Have you got enough funds for a few more purchases but don't want to spend them? You can turn your gift card into cash in one of the ways presented in the table below:
| | |
| --- | --- |
| How To Get Cash for Your Used Gift Card | Details |
| Sell it online | Numerous websites are dedicated to selling and buying used gift cards. Bear in mind that these websites work for profit, so you probably won't be able to sell your card for more than 80%–90% of its value |
| Use a kiosk | You should locate one of the numerous card exchange kiosks and trade your card for cash. Note that kiosks accept only plastic gift cards since you have to insert them into the machine |
| Make purchases on behalf of someone else | If you know someone who would like a few items from Saks, you can buy them using your gift card and get the reimbursement in cash |
If you're not set on getting cash for your gift card, you can still put it to good use if you:
Exchange the card for another of similar value—You can swap your card via one of the websites that offer these exchanges
Give away the card—This option is still better than letting the card collect dust
In case you have only a couple of dollars left on your gift card, you can take advantage of a gift card cash back policy in 11 U.S. states and Puerto Rico.
What Is the Gift Card Cash Back Law?
You may be eligible to get a reimbursement for the remaining funds on your gift card if you:
Live in one of the states with a gift card cash back policy
Have a balance on your gift card that doesn't exceed a specific amount
Most gift card cash back states require companies to provide a cash reimbursement to gift card users if the leftover amount on their gift cards is below $5. Exceptions are the following states:
California—$10
Colorado—$3
Vermont and Long Island—$1
Do you want to try redeeming the cash yourself? You should prepare for the grueling process of explaining your rights to confused Saks employees and waiting ages for your request to be processed. A far better solution is to subscribe to DoNotPay and let us take care of the whole process for you!
DoNotPay Is Your Fast Ticket to Getting a Gift Card Cash Back
DoNotPay has come up with a way to simplify the gift card cash back procedure to the max. Our app will:
Research state laws
Draw up a request
Send the request in your stead
Even if you don't live in a state with a gift card cash back policy, we'll make sure you get the gift card money back—even from free gift cards.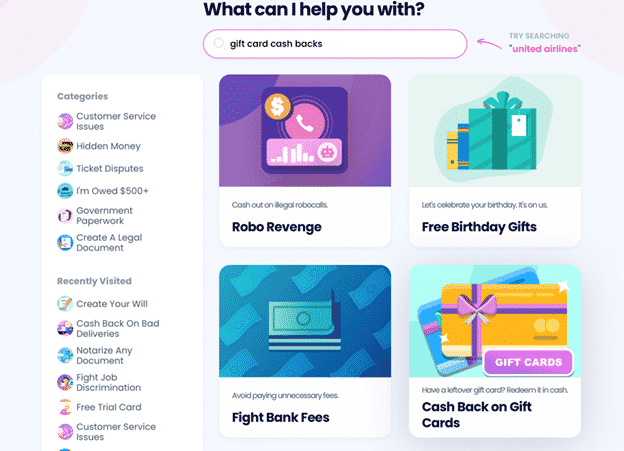 Here's what you need to do:
Click on our Gift Card Cash Back tool
Provide your card details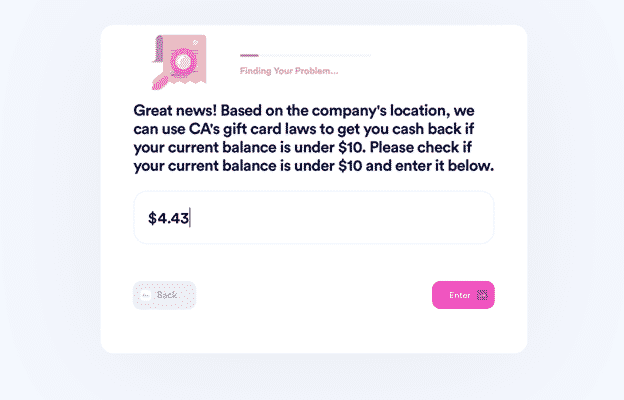 What if you don't live in one of the gift card cash back states? We will send your claim to one of the states with a gift card cash back policy, provided Saks has stores there. You should get your money in the next 14 days.
We can handle much more than Saks gift cards! Check out only a fraction of other gift cards we can help you with:
DoNotPay Covers All the Bases
From getting you ready for various government tests to helping you reduce your property taxes, DoNotPay offers valuable assistance with the tasks that make most people at least roll their eyes. Dealing with bureaucracy isn't fun, but it also doesn't have to be as difficult as it is.
Every product in DoNotPay's portfolio is designed to efficiently deal with a specific issue within a few minutes and without sacrificing your comfort. Take a look at the tasks our app can make much more simple:
A Little More Money Never Hurt Anybody
Hardly anyone would turn down a chance to earn some more cash. That's why DoNotPay not only protects your rights and interests but also offers great opportunities to improve your financial situation.
With our help, you can find paid clinical trials, locate your missing money in any state, get your cash back from used gift cards, or enter various raffles and win great prizes.