Want To Check Your LOFT Gift Card Balance? DoNotPay Will Show You How
Gift cards are often forgotten after a use or two—that's because most people don't know that they can turn their remaining gift card balance into cash. The process can be tedious, but don't worry because DoNotPay is here to turn it into a piece of cake!
We will show you how to check your LOFT gift card balance and get money for it the easy way.
Get To Know LOFT Gift Cards
LOFT gift cards can be loaded with any amount between $20 and $1,000 and are used as an alternative way of shopping at over 500 LOFT locations. They can't be replaced if they're lost, stolen, or damaged. LOFT offers gift cards in both physical and electronic form.
How To Check Your LOFT Gift Card Balance
You have several methods of checking your LOFT gift card balance. You can do it:
Online
In person
Via phone
Through DoNotPay
How To Check Your LOFT Gift Card Balance Online
Checking your LOFT gift card balance online will require you to:
Go to the official LOFT website
Scroll to the bottom of the home page
Find Check Your Balance section
Click on the Need to check your Gift Card or E-gift Card balance? drop-down menu
Enter your gift card number and click Continue
How To Check Your LOFT Gift Card Balance in Person
If you want to check your LOFT gift card balance in person, use the official store locator and:
Visit the nearest store to you
Give the cashier your gift card
Ask them to check your remaining gift card balance
How To Check Your LOFT Gift Card Balance via Phone
Prefer checking your gift card balance over the phone? The LOFT customer support team works from 8 a.m. to 11 p.m. EST during the weekdays and from 9 a.m. to 9 p.m. on weekends. You can reach them at 1-888-563-8444 and:
Wait for a customer service representative to pick up
Give them your gift card number
Inquire about your remaining gift card balance
Wait for a response
How To Check Your LOFT Gift Card Balance via DoNotPay
DoNotPay can fast-track the process and help you see how much money remains on your gift card—no time or effort required on your part! Here's how it works:
Fire up our Check Gift Card Balance tool
Upload a photo of your gift card—front and back
Confirm your request
That's that! Leave it to us to reach out to the company's customer care and get the info you need. You'll receive an email with the details of your balance.
What To Do With Extra Funds on Your LOFT Gift Card
Did you check your remaining gift card balance? Here's how you can use it:
Spend the remaining balance on LOFT merchandise
Exchange the gift card at a Coinstar kiosk
Sell the gift card online
Spending the Remaining Balance on LOFT Merchandise
If you have enough funds left on your gift card, you can treat yourself or your loved one with merchandise from LOFT. Here are only some of the products the company is selling:
Dresses
Pants
Shorts
Skirts
Sweaters
Sleepwear
Belts
Shoes
Hats
Jewelry
If you are short on money for a desired purchase, you can wait for a LOFT sale as their gift cards don't have an expiration date.
Exchanging the Gift Card at a Coinstar Kiosk
Coinstar's gift card exchange kiosks allow you to get cash for your gift card quickly. All you have to do is find one near you, insert your used gift card into the machine and claim money for it. Take into account that you will only receive about 80% of your remaining balance.
Selling the Gift Card Online
Selling your gift online will only land you a percentage of the total value of your gift card. If you're okay with getting only a small sum of it in cash, here are your options:
Visit an online marketplace—Go to one of the online platforms, such as eBay or Facebook marketplace, and list your card for sale. Note that you will have to wait for a potential buyer
Go to a reseller website—Numerous websites offer money for gift cards. Find one and sell your gift card for cash quickly
Want To Redeem Your LOFT Gift Card? You Can Do It With DoNotPay
Did you know that Puerto Rico and 11 U.S. states have legislation that allows you to get cash back for gift cards? The amount you can claim for your remaining gift card balance depends on the limits set by each state. Check out the table below for more details:
| | |
| --- | --- |
| State | Limited Amount |
| Rhode Island | $1.00 |
| Vermont | $1.00 |
| Connecticut | $3.00 |
| Oregon | $5.00 |
| Colorado | $5.00 |
| Missouri | $5.00 |
| Massachusetts | $5.00 |
| Maine | $5.00 |
| Washington | $5.00 |
| Puerto Rico | $5.00 |
| New Jersey | $5.00 |
| California | $10.00 |
It doesn't matter whether you're a resident of some of these states or not because you can redeem your gift card in no time by !
How To Use DoNotPay To Redeem Your LOFT Gift Card for Cash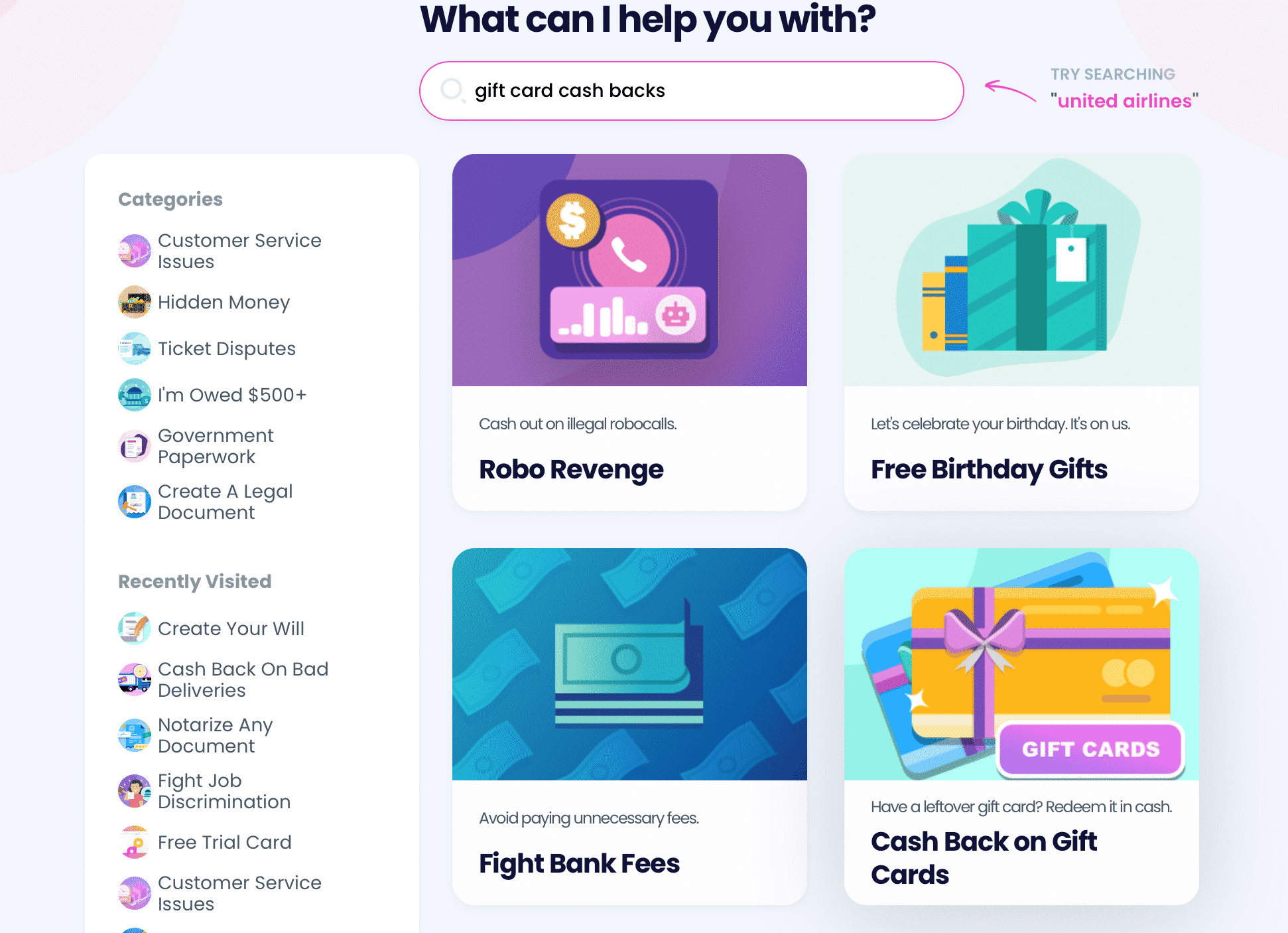 The easiest solution to get cash for your LOFT gift card is to use DoNotPay. Here's how our AI-based app works:
Select our Gift Card Cash Back product
Answers our chatbot's questions
We will file a cash back request and forward it for you to a LOFT office in one of the cash back locations. Once we send it, you can expect to receive your money in 14 days.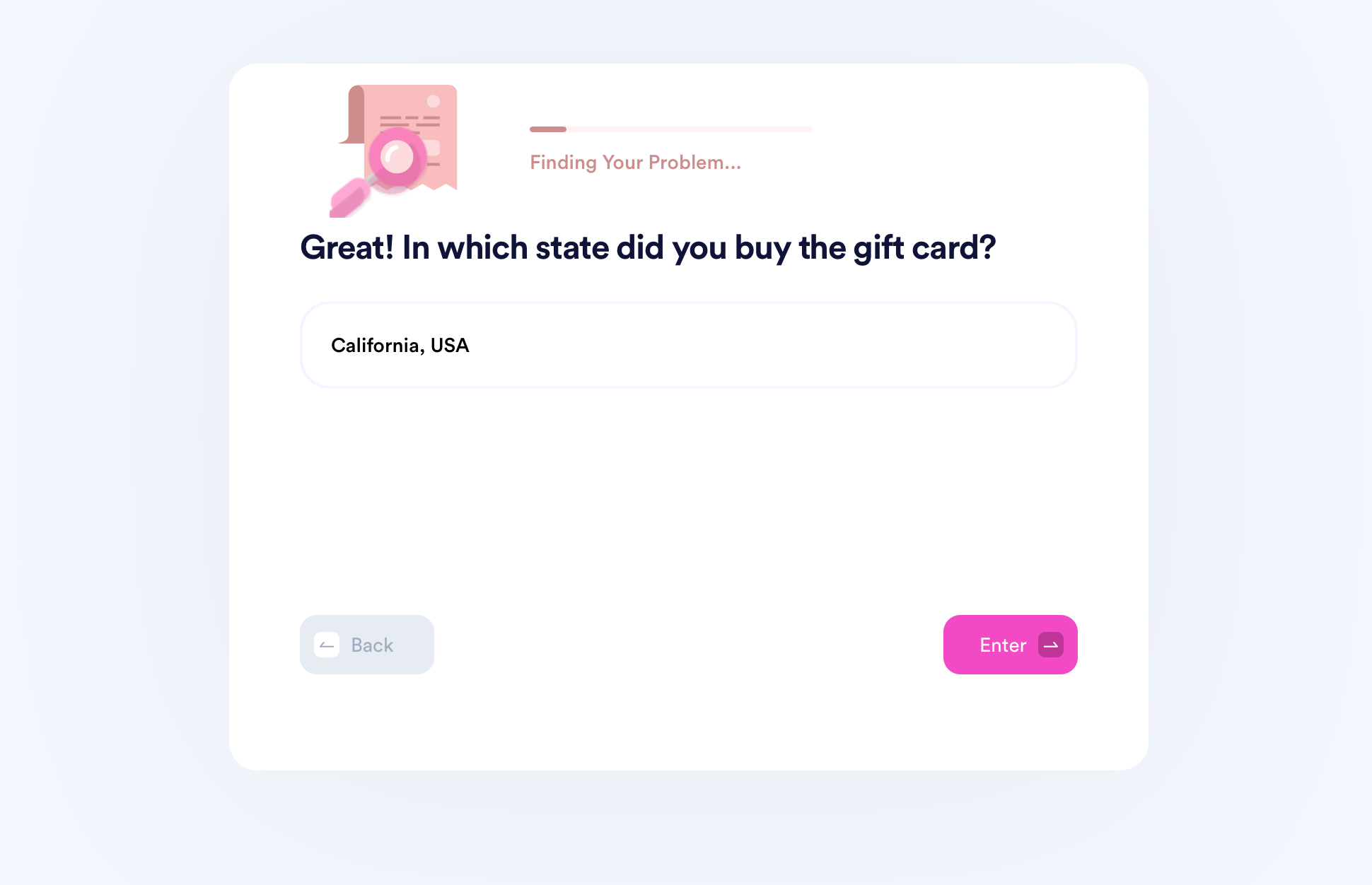 Want to learn how to get free gift cards or return them for cash? Need help with gift cards from other companies? DoNotPay is happy to help! We can provide assistance with gift cards from:
Manage Your Tasks Easily With Our Help
DoNotPay is the perfect solution whenever you need to resolve legal or bureaucratic matters. Here's a fraction of what our AI-driven app can help you out with:
Lowering your property taxes
No Matter What You Need, DoNotPay Is by Your Side
Do you have a bunch of subscriptions that you waste money on but don't even use? We can help you cancel them effortlessly! After that, our app can initiate a refund request and make sure you get your money back.
Facing financial difficulties? DoNotPay can help you lower your bills, get free raffle tickets, get gift card cash back, find your missing assets, and so much more!
For a low monthly fee, you'll get access to our impressive range of products, so sign up now!