All You Need to Know About the Chase Virtual Debit Card
When banking and ensuring your money is safe, you may choose a bank like Chase Bank. However, even though it is a large banking branch, this doesn't always mean it is the right choice for everyone. For instance, if you want a , you may wait a while to get it.
DoNotPay knows the pros and cons of using Chase Bank when you want a virtual credit card. We can help you understand the fine print before you sign up for all your banking needs to go through them.
Is There a Chase Virtual Debit Card Available?
Chase Bank does not provide customers with the ability to have a designated virtual debit or credit card. Instead, they offer two other ways for you to pay or get cash without using an actual card. These two options are the:
Digital Wallet
With the Digital Wallet, you can pay from your Chase Cards through:
Fitbit Pay
Garmin Pay
Timex Pay
Or Click to Pay
The first three require using wearable technology or smartwatches. The Click to Pay option uses your mobile device and any website that offers the service. During the checkout process, you simply look for "click to pay" and the money will withdraw from your Chase account.
Cardless NFC
The Cardless NFC option allows you to withdraw money from any Chase Bank ATM that has a wireless logo on it. To use it, you must use your smartphone and tap it against the wireless logo and select the amount of money you wish to withdraw.
Is Chase Services Free to Use?
When choosing Chase Bank, the Digital Wallet is free to use, and it works with any Chase card that you have in your actual wallet, including Chase Sapphire, Chase Slate, Chase Debit, and Chase Business Debit, among many others.
To get started, you must:
Sign-In to the Chase Mobile App
Tap Your Credit Card or Debit Card to Add Them to Your Digital Wallet
Locate Account Services and Digital Wallets
Select the Wallet You Want Your Card to Be Added To
Select the Card
Accept Terms and Conditions for Adding the Card (If Applicable)
When using the Chase Cardless NFC, there is no charge because it is simply a bank ATM transaction that you are using at that bank. If you venture out to other ATMs, there may be fees.
How Safe is Chase's Digital Wallet and Cardless NFC?
The Cardless NFC is as secure as any Chase Bank virtual credit card could be. This is because it uses other security features that make it impossible for someone to use without your knowledge. This includes:
Fingerprint Scans
Pass Codes
Facial Recognition
Digital Wallets are also secure since you use them as you would any other online payment option during checkout.
The problem for some people is that for each of these options, you must have your card information saved on a device. What happens if you lose the device? Are all devices secure enough that no one can access that private information?
If you are uncomfortable saving valuable card information on your smartphone, there are other options. DoNotPay offers a true virtual credit card that you can use for shopping and much more.
How Does the DoNotPay Virtual Card Work?

With DoNotPay, your privacy and safety are the top priority. Therefore, DoNotPay offers virtual credit cards that are randomly generated for a single time use transaction and will never link to your actual bank or credit card account.
No waiting for approval, filling out extensive forms, or dealing with any other headaches that may stem from:
Signing Up for Free Trial Offers
Giving Subscription Services a Try
Shopping Online with Retailers You Don't Trust to Erase Your Card Information
As a bonus for you, it is very easy to get a virtual credit card for these uses. You simply need to:
Visit DoNotPay Online
Once you are on DoNotPay, you will need to sign-in to your account.
Locate the Virtual Card Service
Visit the "learn" tab of the DoNotPay website.
Select Generate a Virtual Credit Card
Let DoNotPay know you are ready for your one-time-use virtual card number.
Use the Card as You Would a Hard Card
The generated card will have everything you need to ensure it looks like a valid credit card. Simply input the card's 16-digit code, expiration date, and 3-digit code into the billing section.
If signing up for free trials or subscription services, you don't even have to put in your real name and address if you would prefer not to. The company you are dealing with will never know.
The card and all traces of its existence will disappear within minutes of being issued to you. This protects your privacy and your finances.
Is the DoNotPay Free Trial Virtual Credit Card Usable Anywhere?

One of the best parts of using a free trial card or the virtual credit card that DoNotPay offers is its versatility. It will work with virtually any service that can use a card number. This includes:
| | | | | |
| --- | --- | --- | --- | --- |
| Streaming Services | Television Trials | Creative Endeavors | Helpful Program Trials | Gaming Trials |
| | | | | |
No matter what you want to try out, DoNotPay's virtual credit card ensures that every free trial is exactly that: a free trial. You do not even need to make a deposit to use it.
Other Services DoNotPay Can Provide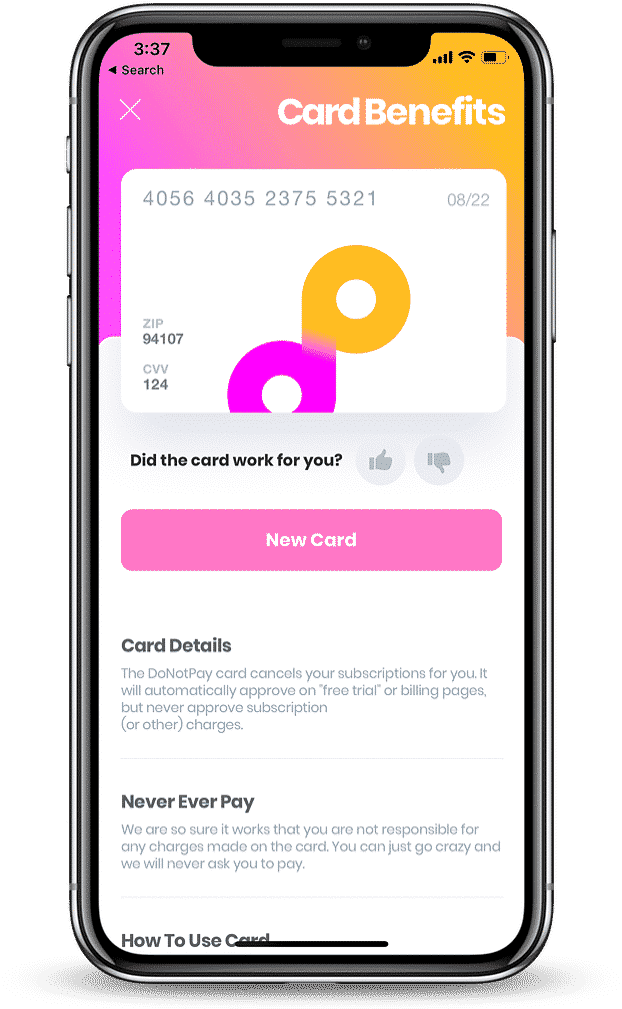 Helping you figure out which option is best since the isn't available is just one service DoNotPay offers. Some of DoNotPay's other services are:
DoNotPay can eliminate the stress of virtually all real-life issues that you have to deal with daily. If you are ready for a little stress relief, all you have to do to get started is visit DoNotPay online. They are always available and always ready to assist.