California Paid Sick Leave—Doctor's Note Rules
Since the federal government doesn't regulate paid sick leave, employees have to turn to state laws for protection. California is one of the few states that have a paid sick leave law, which allows employees to recover properly and not go sick to work.
The law covers various aspects of sick leave. When it comes to California paid sick leave, are doctor's notes mandatory? In this article, we'll explain how doctor's note rules work and also show you how you can to request sick leave hassle-free.
What Your Doctor's Note Should Look Like
Employers often demand doctor's notes to prove you're not fibbing. A good note consists of:
Date of examination
Diagnosis
Recommended time off
Doctor's name
Contagious status (if the employer requests it)
Any more than that would be a violation of doctor-patient confidentiality and the patient's privacy.
California Sick Leave—Is a Doctor's Note Necessary?
A doctor's note has two uses:
To prove the employee's disability
To prove the reason for sick leave
Disability Note
If you have a physical disability and you require reasonable accommodations to make your workplace accessible, your employer has the right to ask you for a physician's note. They can do that if:
The disability isn't visible
The note won't infringe on your right to privacy
Proving Your Sickness
In this instance, California sick leave law has no requirements when it comes to employees bringing in a doctor's note. This means that the employer can't ask for it or deny your request if you don't have the note.
Bear in mind that if you call in sick and ask for more days than you have available, most employers will demand a doctor's note to see if you really have a need for such a long leave.
For instance, if the law provides you with three work days off, and you require five days to recover, the employer can ask for the note to approve the last two days. The note must cover all five days.
If you're looking for paid sick leave because of COVID-19, know that the Emergency Paid Sick Leave Act (EPSLA) allows employers to request a note.
How Many Days Off You Get in California
Sick day rules are not the same for everyone. The amount of paid days off you get depends on the size of your company and its location. Take a look at the following table to find information about available sick days:
Location
Nine Employees or Fewer
10–24 Employees
25 Employees or More
Oakland
40 hours
72 hours
—
San Francisco
48 hours
72 hours
—
Berkeley
—
48 hours
72 hours
Santa Monica
—
40 hours
72 hours
San Diego
40 hours
Los Angeles
48 hours
Request Sick Leave the Easy Way—Use DoNotPay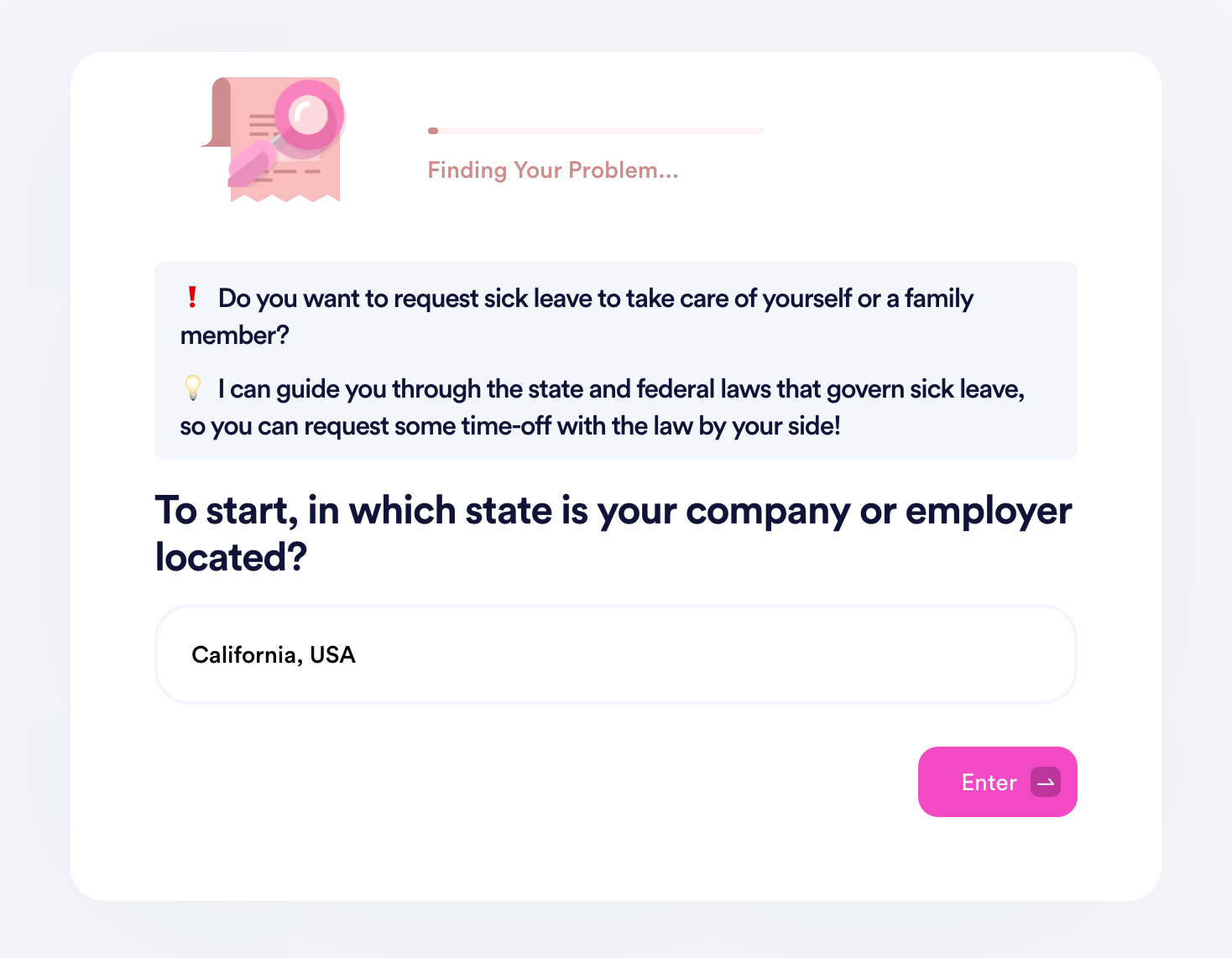 When you need to go on sick leave, you have to request days off from your employer. If you want to avoid an awkward conversation or don't know what your email request should include, DoNotPay is here to help you.
Our app will draft the entire request letter on your behalf—you don't have to do any of the writing. All you need to do is , navigate to the Request Sick Leave tool, and:
Tell us what state you live in, and we'll show you what sick leave laws are applicable
Answer a few questions about the company
Enter the dates on which you'll be absent from work
Choose whether you want DoNotPay to:

Send the request to your employer directly
Forward it to you so you can email it on your own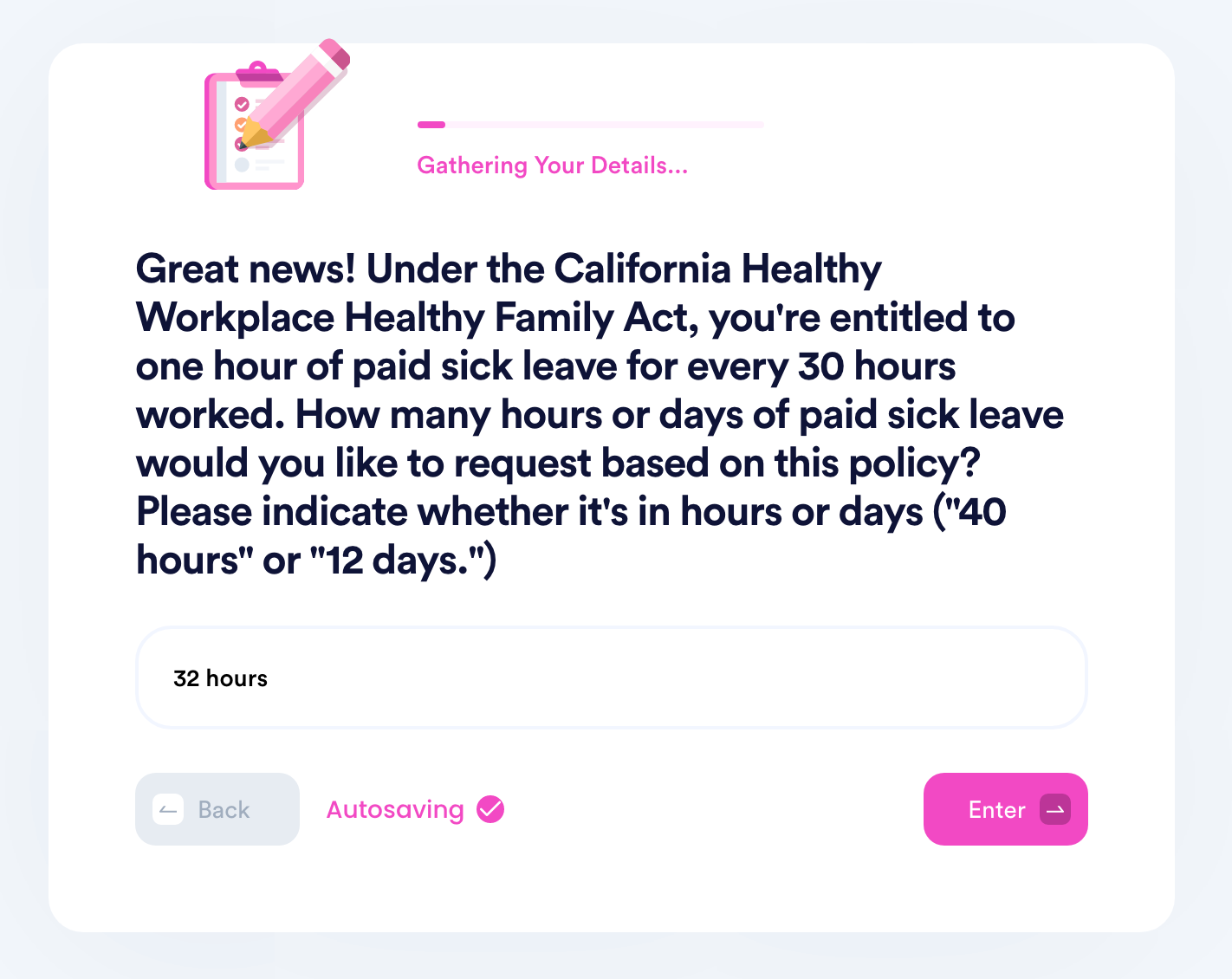 If your employer denies your request, forces you to work, or fires you for not showing up, you can sue them and protect your rights with our Small Claims Court product.
DoNotPay Is Your Ultimate Money-Saver
Don't spend your hard-earned money on subscriptions you don't use—cancel them with our app in a few simple steps! The best part is—that's not all we can do to help you save some coins. DoNotPay can also reduce other expenses by helping you:
Kiss Spammers and Harassers Goodbye for Good With DoNotPay
Our app offers handy features that can assist you with blocking irritating robocalls and getting rid of pesky spam texts and emails. It also gives you peace of mind by helping you fight workplace discrimination, stalking and harassment, annoying neighbors, and defamation.
With DoNotPay, you will always be able to maximally protect your safety by searching updated sex offender databases and avoiding unpleasant situations. Suppose you have already been a victim of harassment or any other crime. In that case, we can help you get compensation with no difficulties!