Oakland Paid Sick Leave 101
Do you know if you get Oakland paid sick leave?
While your employer should inform you of your right to accrue paid sick leave, they may not have yet.
Oakland sick leave laws differ from those at the state level—consult this guide to determine the extent of sick days you're entitled to.
If you need help composing a sick leave request letter, we can assist with that too—DoNotPay's Request Sick Leave product dramatically .
Basic Information About Oakland Paid Sick Leave
Before you call in sick, you need to know how this legislation works. The fundamental terms of Oakland's paid sick leave law include:
Eligible employees get one hour of sick leave for every 30 hours they work
Employees can earn a maximum of 40 hours of sick leave
You can use this time to care for yourself or any of the following persons suffering from an illness or injury:
Children
Spouses or common-law partners
Parents and parents-in-law
Grandchildren
Grandparents
Siblings
Care recipients
Household members
Who Is Eligible for Sick Leave Under the Oakland Sick Leave Law?
Not all citizens working in Oakland are covered by this form of legislation. There are a number of exemptions to the law—review the table below to determine your eligibility:
| Employment | Eligible (Yes/No) |
| --- | --- |
| Full-time | Yes |
| Part-time | Yes |
| Temporary | Yes |
| Independent contracting | No |
| Government | No |
| Apprenticeship | No |
| Internship | No |
What if My Illness Is Related to COVID-19?
As a resident of California, you may be eligible for additional sick leave provided by emergency legislation resulting from the pandemic. To qualify for California COVID-19 supplemental paid sick leave, you must:
Work in California
Have been employed for at least 30 days
Work at a company with 25 or more employees
In the event that your employer denies your access to sick days, you can file a complaint with the California Department of Labor.
When To Use Sick Leave
Are you unsure of what qualifies as too sick to work? While you may feel obligated to keep working, medical experts agree that it's best to avoid being sick at work at all costs.
Don't be afraid to call in sick if you feel it is necessary. By law, employers cannot:
The bottom line is that whether you have a minor case of food poisoning or something much more severe, you have the right to use your earned sick leave. If you believe your employer has violated your rights, you can file a complaint with the City of Oakland.
How To Use Your Sick Leave
If your workplace doesn't have a specific policy for sick leave requests, you can execute the process informally in one of two ways:
Phone
Composing an email to ask for time off is easier said than done if you don't know where to begin. Allow DoNotPay to help you out!
Get Your Sick Leave Request Letter From DoNotPay
Our Request Sick Leave product helps you draft a professional request for time off, making the procedure as stress-free as possible.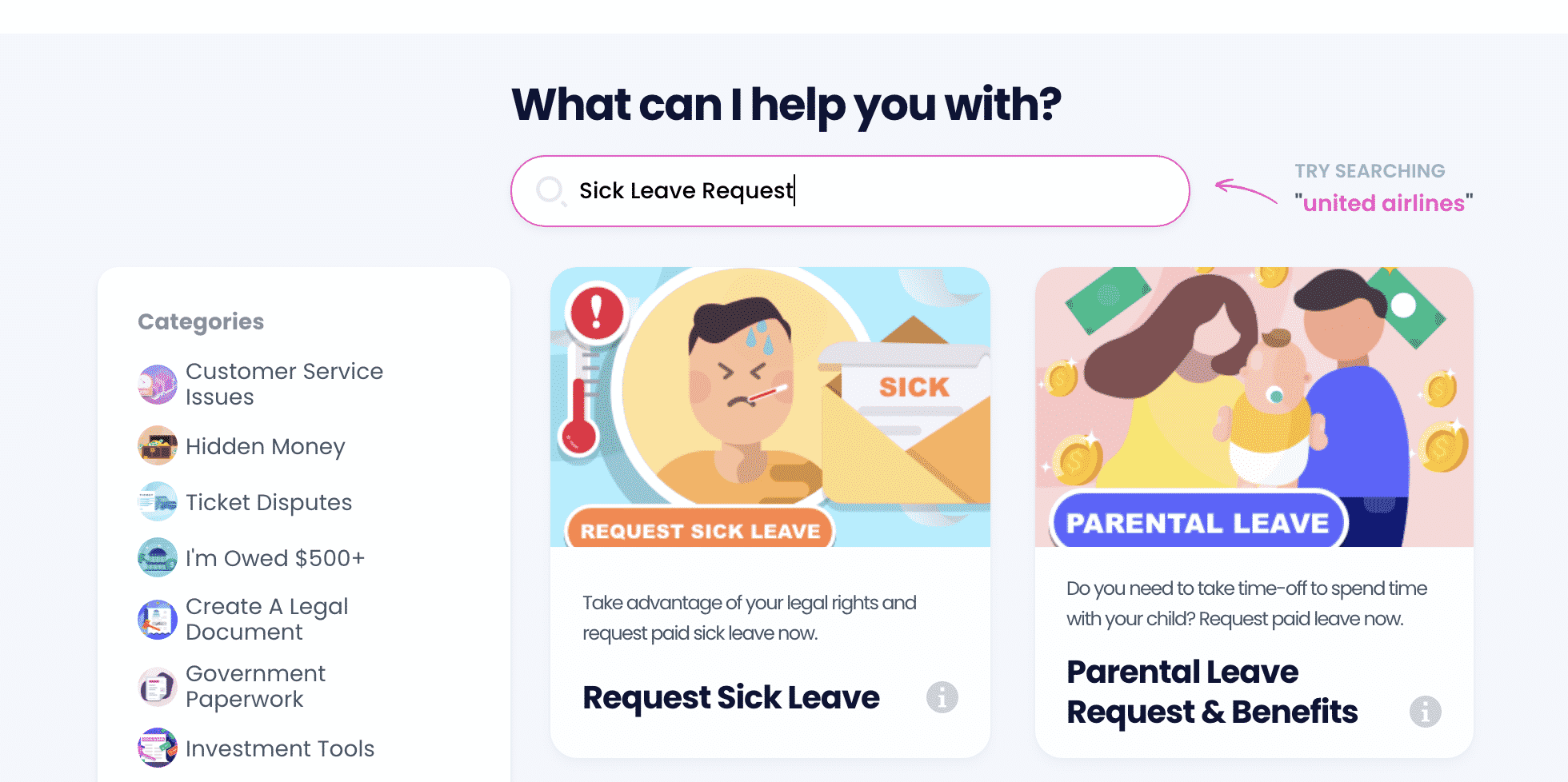 Here is how it works:
in any web browser
Navigate to the Request Sick Leave product
Tell us about your work and the days you're requesting off
Upload a photo of your doctor's note if necessary
After that, you can download your letter or have our app submit it to your supervisor on your behalf.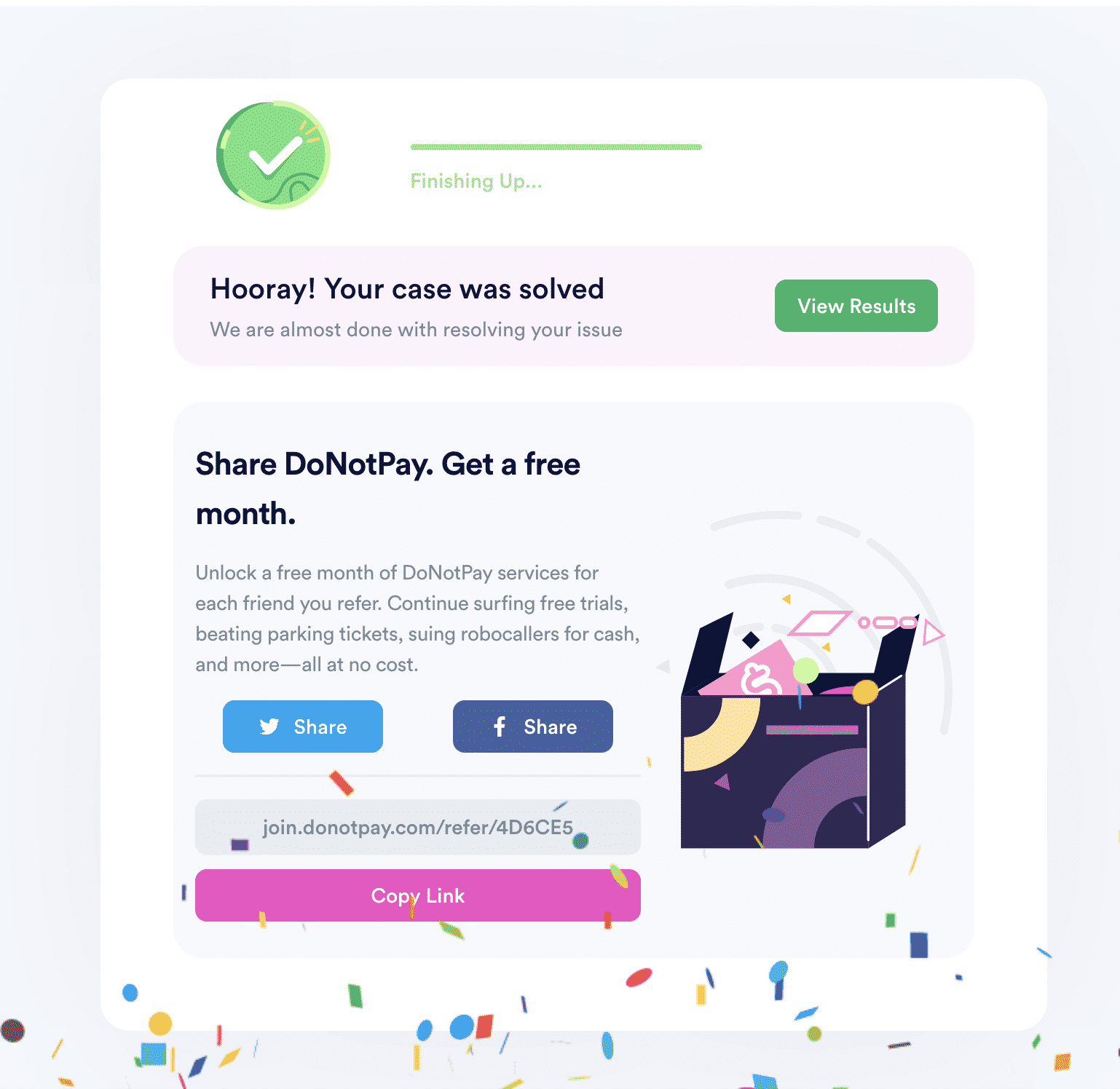 Turn to DoNotPay and Remove Bureaucratic Issues in a Snap
Does paperwork bring you to the edge of a nervous breakdown? With our help, you will skip all administrative impediments and get ready-made legal documents before you know it! No failed drafts or huge legal fees!
DoNotPay can generate:
Once you create the desired document, you can fax it online without a faxing machine or have it notarized with zero complications in the same app!
Your Info Is Safe With Our App
You don't need to leave your credit card info or personal details if you want to start free trials that won't turn into paid subscriptions without notice. DoNotPay will create a virtual credit card with a fake name and generic credit card number for you in just a few clicks. This way, greedy companies won't take a single penny from your account without your authorization!
Our app can also help you file anonymous HR complaints or create burner phone numbers to avoid disclosing your real info when signing up for apps and platforms.