How Does the San Francisco Paid Sick Leave Ordinance Work? DoNotPay Has All the Answers
If you're feeling sick at work, you should request time off. Whether you'll be paid for your absence or not depends on the laws in your state or city. In case you're wondering about San Francisco paid sick leave laws and regulations, you've come to the right place!
In our article, you will learn:
What the San Francisco Paid Sick Leave Ordinance is
How much paid time off you can get
What you can use your paid leave on
How to ask for sick leave easily
What Is the San Francisco Paid Sick Leave Ordinance?
No one should be forced to work when sick. That's why, in 2006, San Francisco, California, became the first city in the United States to pass a paid sick time law called the Paid Sick Leave Ordinance (PSLO). The law enables San Francisco employees to get days off to:
Recover from any physical or mental illness or injury
Seek medical diagnosis
Get preventive care
Care for family members who are ill or need medical diagnosis, treatment, or preventive care
Donate bone marrow or organs or help family members in doing so
Address any needs they might have if they're victims of:

Domestic violence
Sexual offense
Stalking
How Much Paid Time Off Can You Get in San Francisco?
Under the PSLO, you can earn one hour of sick time for every 30 hours you work. The maximum amount you can accrue depends on how many workers your company has. For more details, check out the table below:
| Fewer Than Ten Workers | More Than Ten Workers |
| --- | --- |
| You can earn up to 40 hours of paid sick time | You can get up to 72 hours of paid sick time |
When you earn the maximum amount of sick days, you won't be able to earn more until you've used some of the accrued ones.
What Can Paid Sick Leave in San Francisco Be Used For?
You can use any accrued sick days at work on:
Taking care of an existing health condition (either yours or of a family member)
Specified purposes if you are a victim of domestic violence, sexual assault, or stalking
How To Ask for Paid Sick Leave in San Francisco
To ask for paid sick leave in San Francisco, you will either have to call or email your boss. They need to let them know about the leave in a timely manner so they can delegate your tasks to someone else.
If you're not sure what the best way to go about it is, you should . With us, you'll get a custom leave request letter that will provide your employer with all the details they need regarding your absence.
Ask for Time Off the Easy Way With DoNotPay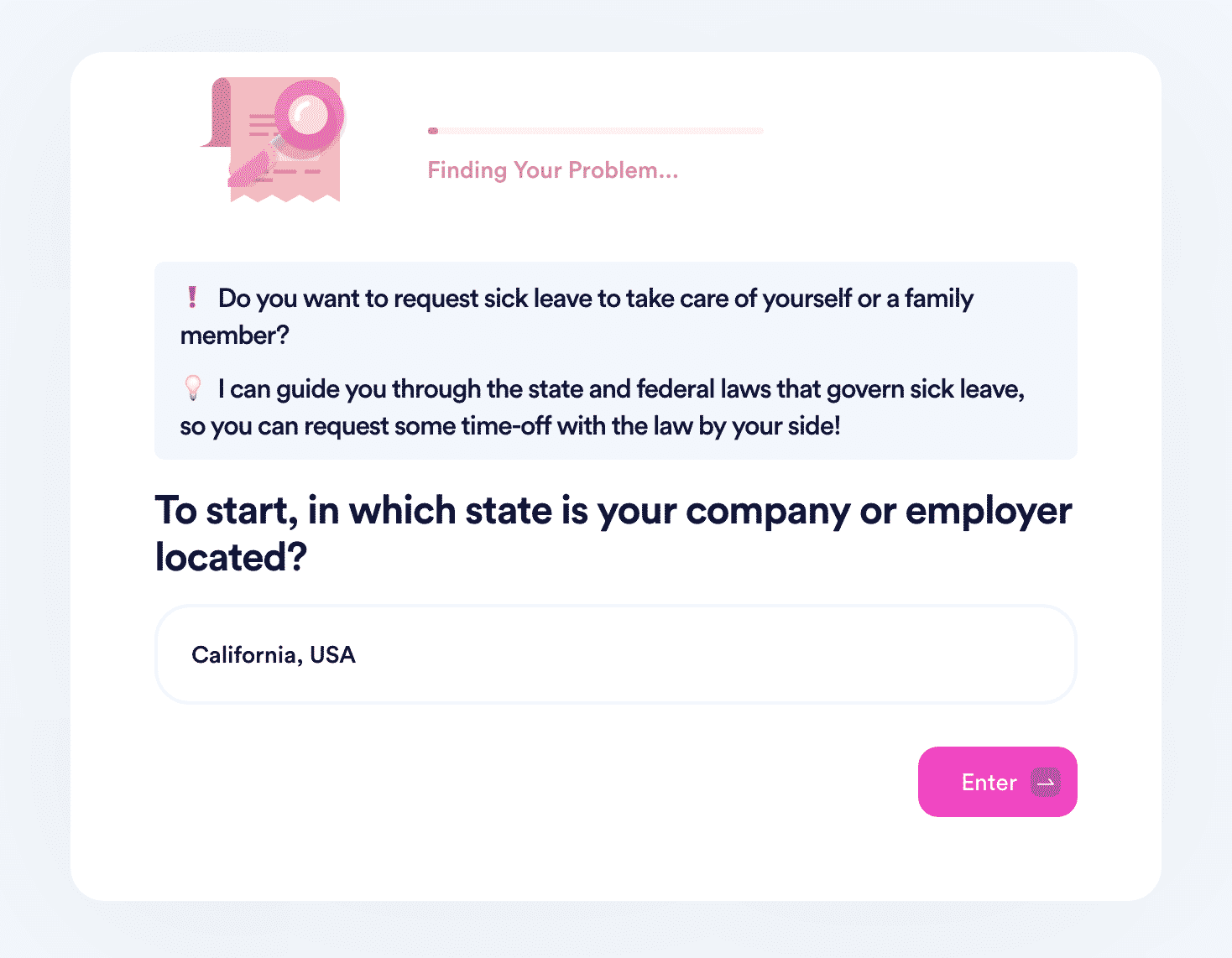 Need a professional leave request letter, but you're not sure how to write one? Our AI-powered app can draw it up for you in no time!
All you have to do is:
Select our Request Sick Leave tool
Answer our chatbot's questions
Upload the required paperwork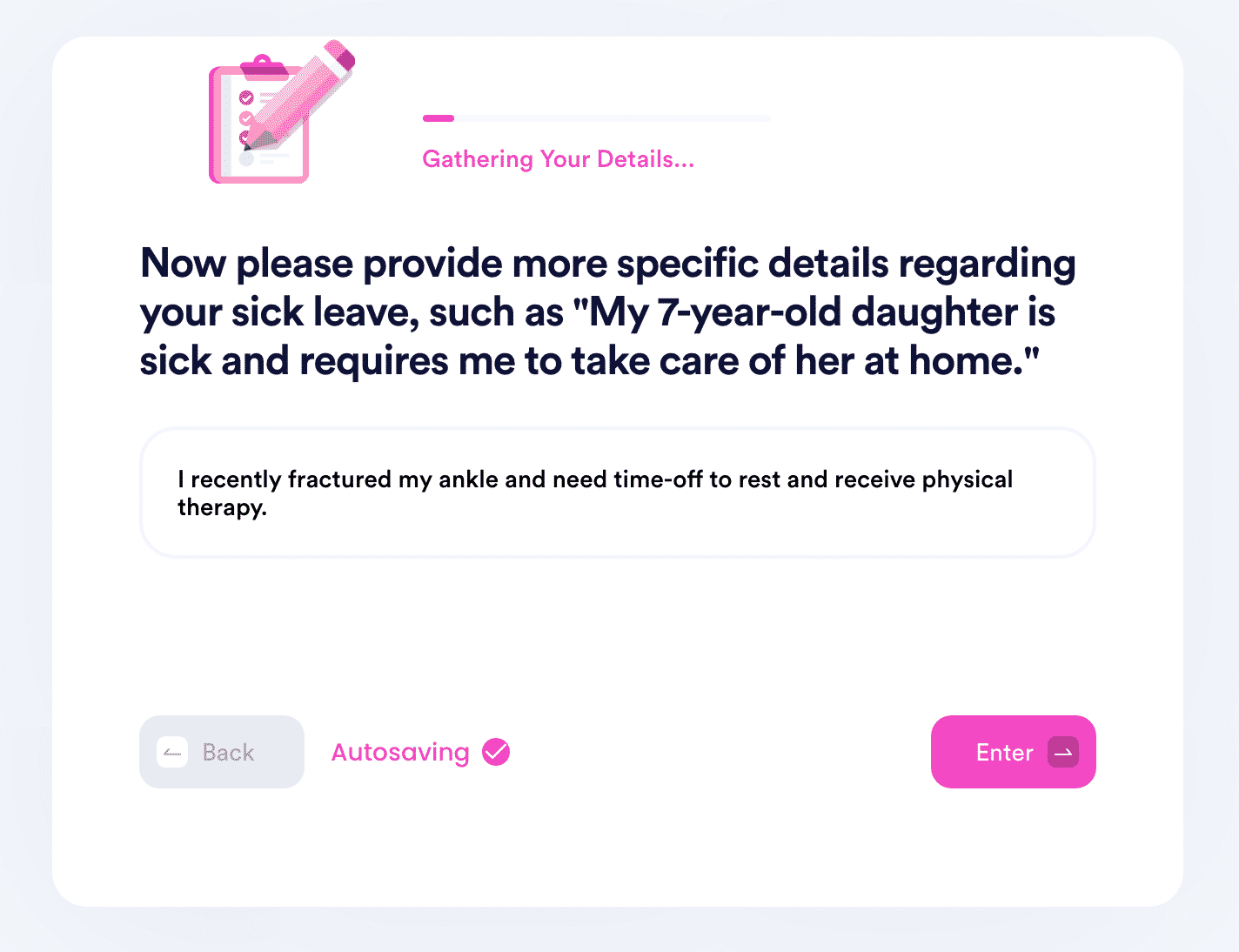 We will process your request instantly and generate the letter for you. You can then choose whether you want us to send it to you or forward it to your manager directly. Since all eligible employees are legally protected by the Paid Sick Leave Ordinance, you can use DoNotPay to take your employer to court if they threaten to punish or fire you.
Is There a Covid-19 Related Sick Leave Law in San Francisco?
Although there are no laws related to taking sick leave due to COVID-19, you can take time off under the PSLO if:
You need to take care of a family member who isn't sick but needs to be in quarantine
You have to provide care for a family member whose school or employer temporarily stopped working due to health or public officials' recommendations
Your workplace ceased operations due to COVID-19 safety measures
You are older than 60 or have a certain health condition, such as:

Heart disease
Lung disease
Diabetes
Kidney disease
Weakened immune system

Public health officials require you to quarantine to prevent the spread of the virus
DoNotPay Is Your Ultimate Money-Saver
Don't spend your hard-earned money on subscriptions you don't use—cancel them with our app in a few simple steps! The best part is—that's not all we can do to help you save some coins. DoNotPay can also reduce other expenses by helping you:
Kiss Spammers and Harassers Goodbye for Good With DoNotPay
Our app offers handy features that can assist you with blocking irritating robocalls and getting rid of pesky spam texts and emails. It also gives you peace of mind by helping you fight workplace discrimination, stalking and harassment, annoying neighbors, and defamation.
With DoNotPay, you will always be able to maximally protect your safety by searching updated sex offender databases and avoiding unpleasant situations. Suppose you have already been a victim of harassment or any other crime. In that case, we can help you get compensation with no difficulties!