Apple Return Policy During COVID-19: All You Should Know
COVID-19 has turned everyone's lives upside-down, and that includes even something so ordinary as returning the purchased goods. Say you want to return an Apple product you have bought, but the pandemic measures are making it difficult for you. What should you do?
Thankfully, Apple's return policy during COVID-19 isn't all that different from their standard return policies. We decided to summarize the entire Apple item return procedure for your convenience, as well as show you how to in mere minutes!
Apple Standard Return Policy Essentials
Several crucial points within Apple's return policy apply in both pandemic and non-pandemic situations:
You can return an Apple item up to 14 calendar days after you bought it
You can only return Apple items that you have bought directly from Apple—whether in-store or on their website
Make sure to pack the Apple item you are returning in its original packaging—with the documentation, adapters, and accessories it came with
How To Return an Apple Product Properly
You can return your Apple product in two ways:
Ship the item to Apple
Bring the item to an Apple retail store
Mail Return
To send your unwanted Apple product to Apple via mail, you first need to sign in to Apple's Order Listing page with your unique Apple ID and password. This will open a page with all of your recent orders.
Once there, follow these steps:
Select the item you want to return and head out to the Order Details page
Click on Start a Return under your item
Click Get Started
Confirm the items you want to return on the next page
Click on Initiate Your Return
Select Print Return Label (repeat this if you're sending back multiple products/packages)
After the completion of these steps, you can schedule a pickup time of your item with a carrier or return it to any Apple retail location.
In-Person Return
You can return your Apple item to any retail store. The in-store specialist will process your return and issue a refund.
Apple Item Refunds and Exchanges
Apple will refund your returned item as soon as they receive it. The refund method is directly linked with the original payment method:
Refunds for products that you have bought with a credit or debit card will be sent to your card issuer bank
If you bought the item using an Apple Gift Card, the refund will be issued as an Apple Gift Card via email
In case you wish to exchange the Apple product for another, you can do this in any U.S. retail store. Before you take your product to the store with the intent of exchanging it, make sure the store has your desired item in stock by checking their website. To return Apple items you have ordered online and which turned out to have defects, you can contact Apple's customer service at 1-800-676-2775.
What Apple Products Are Not Eligible for Return?
Apple items that are not eligible for a return include:
Electronic software downloads
Software up-to-date program products (software upgrades)
Apple Gift Cards
Apple developer products
Apple print products
Opened software products are also non-returnable according to Apple's Open Box return policy if they have been installed on a computer.
| Can You Initiate a Return With Apple During COVID-19 Via | Yes/No |
| --- | --- |
| DoNotPay | Yes |
| Email | Yes |
| Phone | Yes |
| Mail | Yes |
| In person | Yes |
Let DoNotPay Do All the Heavy Lifting With Your Return Requests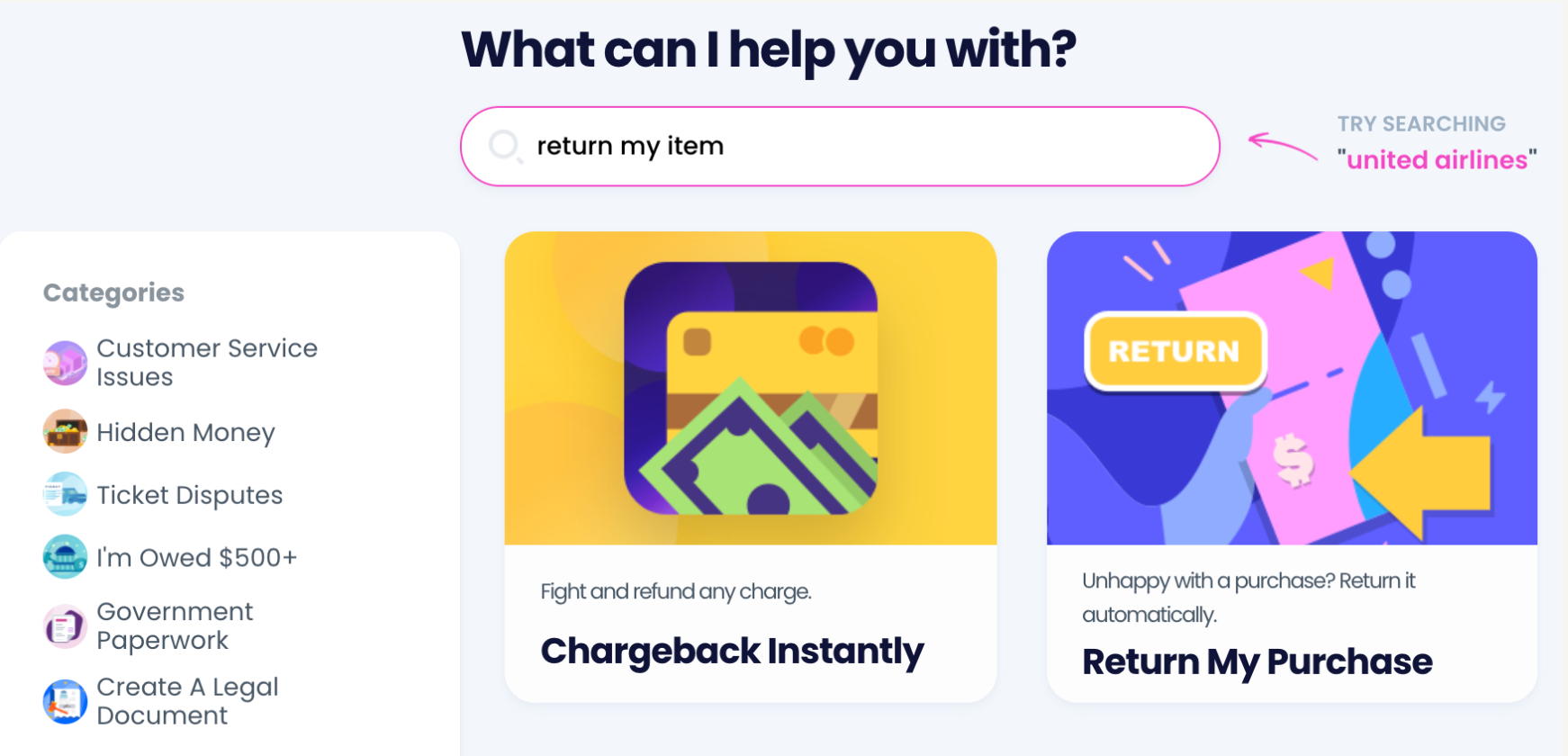 The DoNotPay app can help you bring any return request to a successful resolution—and that includes returning Apple items during the COVID-19 circumstances.
To start the Apple purchase return process, follow the steps below:
Pick the Return My Purchase feature
Answer a couple of chatbot questions
Tap Submit
This completes the entire return request submission process, after which DoNotPay fully takes over—we send the request to the company while you keep track of the progress in our app.
DoNotPay enables you to return items to a wide array of brands, including the ones in the table below.
No More Faulty Items—DoNotPay Can Send Them Back, Get You a Refund, and Resolve Any Other Issue
DoNotPay is an expert at requesting refunds from various companies and airlines! Once you return your poor-quality purchase successfully, check out how our app can:
Tired of Companies Treating You Unjustly?
With our AI-powered robot lawyer app by your side, you no longer have to tolerate corporate attitudes. Have you ever signed up for a free trial only for it to turn into a paid subscription automatically? No more—DoNotPay will cancel it on time once you get your hands on our virtual credit card! Is the company you're dealing with refusing to give you a refund for their unjust action? We'll take it to small claims court. If you need a standardized legal document but don't want to pay hefty lawyer fees, we'll create one for you in a flash. Then, you can get it notarized remotely and send it to the court with the help of our online fax tool.