Get an AP Exam Fee Waiver and Reduce Your Expenses
College Board's Advanced Placement (AP) exams help high-school students earn credits for college. If students have high AP exam scores, they may get better chances of admission, skip introductory courses, and graduate early.
Taking the AP exam doesn't come without any costs—you will have to pay a fee for taking it. If you are experiencing financial hardship, learn how to get an AP exam fee waiver.
AP Exams Explained
The AP exams are done in high schools all around the U.S. and some international centers. You should check whether your school administers the test you want to do. You can choose among different AP subjects:
Arts

English

Sciences

History and Social Sciences

Math and Computer Science

AP Capstone Diploma Program

World Languages and Cultures
Everything You Need To Know About the AP Exam Fees
No matter how many AP exams you want to take, you will have to pay the fee for each of them. The amount depends on the place where you take your AP exam:
Type of the Exam
Territory
Fee

AP Exams (AP Seminar and AP Research exams not included)

The U.S., U.S. territories, Canada, and DoDEA schools

$95

Schools outside the U.S.

$125

AP Seminar or AP Research exams

Anywhere

$143
If you don't apply for the exam on time, you will have to pay the late order fee in addition to the regular fee. The late order fee is $40.
Your AP coordinator should inform you about the methods of paying the fees. Your school might require you to pay a higher price because of the proctoring and administrative expenses.
Paying the AP Exam fees can be a great financial burden for some students. If you can't afford it, you can request an AP exam fee waiver.
AP Test Fee Waiver
You should know that you can't get a full fee waiver for the AP exam. The College Board approves a $33 fee waiver for each test you take. Your school should exempt you from paying the $9 rebate. This is how much you will need to pay if you get your fees reduced:
| | |
| --- | --- |
| Exam | Reduced Fee |
| AP Exams in the U.S., U.S. territories, Canada, and DoDEA schools | $53 |
| International | $83 |
| AP Seminar or AP Research exams | $101 |
Who Is Eligible for the
AP Fee Waiver
?
Students who can demonstrate the financial need for getting their fees reduced can get the AP exam fee waiver. You are qualified to get your AP exam expenses reduced if you:
Participate or are eligible for the National School Lunch Program (NSLP)

Come from a family that has low annual income, as determined by the

USDA Food and Nutrition Service's Income Eligibility Guidelines

Are a part of a family that receives help through the

Food Distribution Program on Indian Reservations (FDPIR)

,

Supplemental Nutrition Assistance Program (SNAP)

,

Temporary Assistance for Needy Families (TANF)

, or

Medicaid

programs

Participate in a

Head Start Program

or

Upward Bound

Reside in federally subsidized public housing

Live in a foster home or are homeless, migrant, or runaway

Are a ward of the state
Participants of the Community Eligibility Provision (CEP) can't get the AP exam fee waiver automatically. Based on the criteria above, schools that participate in CEP decide on each student's eligibility.
Fee Waiver Criteria for International Students
If you attend a school outside the U.S., you can still get the AP exam fee waiver. Your school's AP coordinator should provide the documents that demonstrate your financial hardship.
International students whose family income falls within the USDA Food and Nutrition Service's Income Eligibility Guidelines can avoid AP exam fees automatically.
How To Get an AP Exam Fee Waiver
If you think you qualify for the AP exam fee waiver, talk to your AP coordinator about it. When ordering the tests, the coordinator can indicate that you are eligible for a waiver. Make sure you can provide all the necessary documentation regarding your financial status.
Why Should You Consider Getting a Fee Waiver?
Getting an AP fee waiver can lower your expenses significantly, but AP exam charges are only one hit on your budget.
If you plan to submit your college admission application after taking the AP exam, you will need to pay college application fees. The application fees can amount to $100. In case you want to apply to several colleges, you could end up spending even $500.
If you want to save money, use DoNotPay to wave your college application fees!
Do You Want To Avoid Paying College Application Fees? Use DoNotPay!
DoNotPay is the most efficient way of requesting a college application fee waiver! With our app, you can forget about filling out complicated forms—we will do that for you. We can also mail your request to a counselor or to the admission office of the school you choose.
Thanks to our extensive database of schools throughout the U.S., you can request a fee waiver from Brown University, Columbia University, The University of Texas at Dallas, Georgetown Law School, The City University of New York, and a bunch of other schools!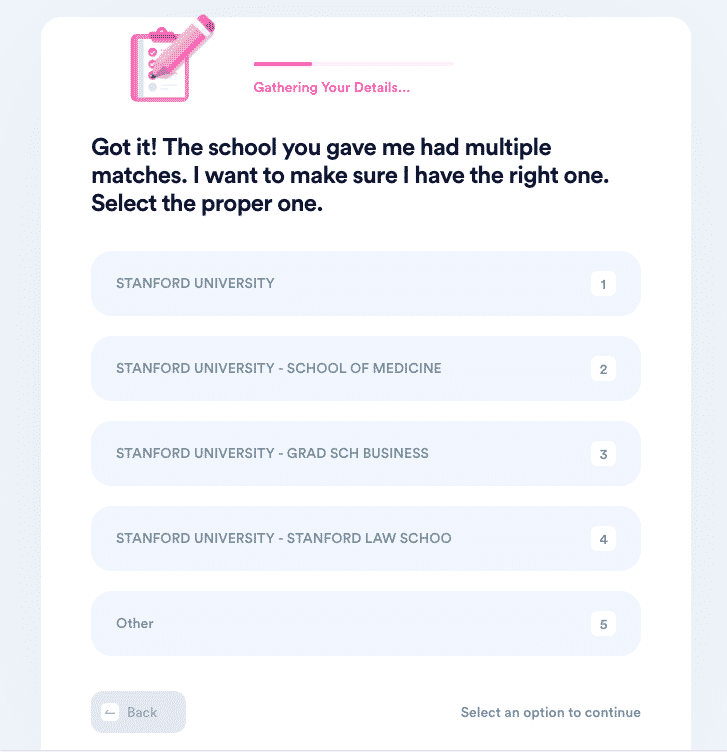 To get a college application fee waiver via DoNotPay, do the following:
Log in to DoNotPay in any

Select the

College Application Fee Waiver

option

Choose the fee you want to be exempt from

Pick the college you want to enroll in and answer a few questions regarding your financial status

Indicate whether you would like us to obtain a counselor's signature for you

We allow you to waive different kinds of fees, including:
Enrollment deposit

New applicant fees

Transfer student fees
Do you need more information on college fee waivers? Use DoNotPay to learn more about the Common App, SAT, and ACT fee waivers!
DoNotPay Is Your Salvation From Bureaucracy
DoNotPay can solve a bunch of administrative tasks for you! If Masterclass, Grammarly, or Adobe owe you a refund, use our app to request your money back in minutes.
We can help you cancel subscriptions and memberships you don't need anymore. Learn how to unsubscribe from Course Hero, Mathway, or Study Edge effortlessly.
If you want to sign up for an Amazon Prime Student free trial, take advantage of our virtual credit card! With this card, you won't have to worry about any charges after your free trial ends!
In case you are struggling with college fees, get our help with managing student loan bills.
Open DoNotPay in any and check out how we can assist you in:
Fighting traffic tickets

Appealing speeding tickets