6 Things You Must Know About the Ally Virtual Debit Card

It's always in the back of your mind when you go shopping online or in-person that if you give the vendor your debit card information that they have access to all the money in your checking account. You're pretty sure it's unlikely that someone will steal your information or make unauthorized charges, but you know it does happen to everyone at least once.
You might be hearing more and more about the from friends. However, before you commit, you have questions. How does it work? Is it safe? Do you need a checking account with Ally, or do they offer the virtual debit card to everyone who visits their app?
You can try to find the answers on your own, but it might be a hassle. DoNotPay can help you better understand virtual cards and provide you with the info you need.
What Is a Virtual Credit Card?
A virtual credit card is a representation of your real one that a vendor can use to make the charges for your purchase without having access to your real credit or debit card. These numbers are generated randomly, and you'll find that many virtual credit cards are only for single-use, which provides you with even more protection for your finances.
While some virtual credit cards require you to assign a merchant to the card at the time of creation, you might be able to find one that doesn't. However, this is a good idea because it blocks all other businesses and people from making charges on the card.
Also, you might be able to find a virtual card that requires you to list the maximum that the assigned vendor can charge to it. All of these layers help to provide better protection for your actual account information.
How Does a Virtual Credit Card Work?
When you decide to use a virtual credit card, it works by giving the merchant credit card numbers that they can use to process your purchase, but aren't your true information. The charges get processed, and your credit card gets billed, but the vendor never sees your actual info. This ensures that you're never charged hidden fees because you can designate how much can be charged on the virtual credit card.
If the business stores credit card information without your knowledge, and it's hacked, the bad actors have no access to your real credit card information. Essentially, a virtual credit card builds a wall between it and your actual financial information.
Drawbacks of Using a Virtual Card
You may find a few drawbacks of using a virtual credit card. Here's a look at the two drawbacks that most people find when using a virtual card
You'll be charged a fee if you want to take cash from your virtual card or gift cash to someone else using an app or other service.
If you plan to download an app and use the virtual credit card on your phone for most of your in-person purchases, you might discover that not all your favorite places take a virtual card, especially if they aren't part of a chain.
Benefits of Virtual Credit Cards
You'll enjoy many benefits when you use a virtual credit card in place of your real one. There are four primary benefits that most people report, such as
Sign up for a free trial and make sure there aren't any more charges even if you forget to cancel before the trial period ends.
Without your real credit card number available, no one can steal or clone your credit card and make fraudulent charges.
When you use a virtual credit card, the merchant won't be able to add hidden fees or charge you for things you didn't buy at a later time.
You don't need to search for your credit card when you use a virtual card on your mobile phone.
Are Ally Virtual Debit Cards Free?
You can use your for free at any time. However, you must have one of the Ally checking accounts or money market accounts to get one of their debit cards.
| | | |
| --- | --- | --- |
| | Interest Checking Account | Money Market Account |
| Monthly Maintenance Fee | Free | Free |
| Returned Deposit Item | $7.50 | $7.50 |
| Excessive Transactions Fee | N/A | $10/transaction |
| Expedited Delivery | $15 | $15 |
| Outgoing Domestic Wires | $20 | $20 |
| Account Research Fee | $25/hour | $25/hour |
What Is the DoNotPay Free Trial Card?

When you want to sign up for a free trial of a subscription service, you use the DoNotPay free trial card in place of your real credit card. You can avoid giving your real credit card information and avoid any additional charges in case you forget to cancel the service.
Where Can You Use DoNotPay's Free Trial Card?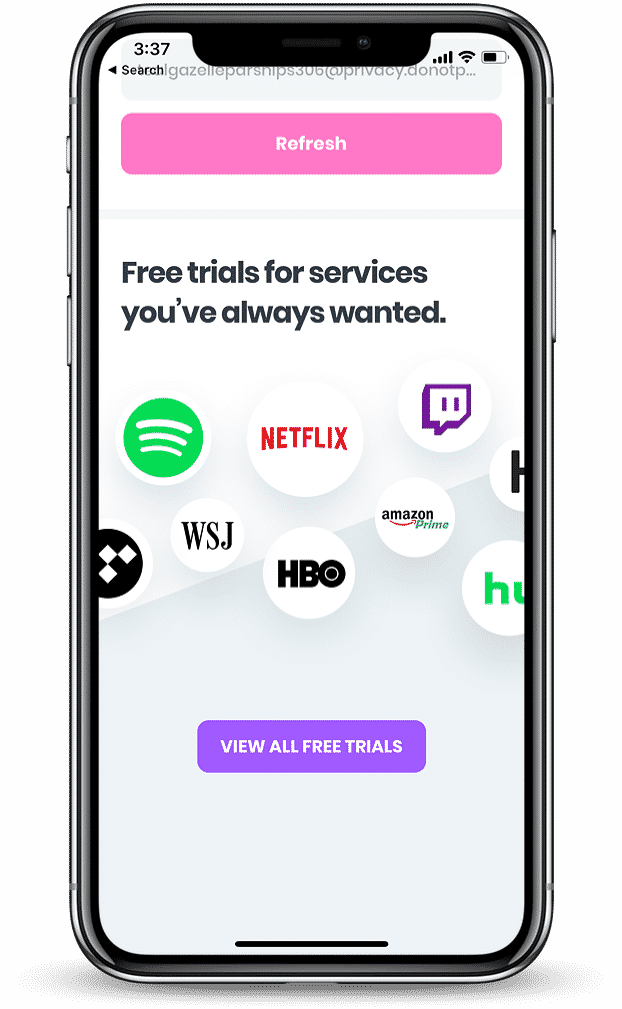 When you're ready to start trying out some free trials, you might wonder which services accept the DoNotPay free trial card. Many subscription services accept it, including
What Else Can DoNotPay Do?
DoNotPay can make your life easier in many ways, including:
Generate a virtual credit card with DoNotPay today!