Unlimited Doesn't Mean Forever—Cancel Postmates Unlimited in Just a Few Minutes
Postmates Unlimited is an on-demand delivery and loyalty program operating in the United States. Postmates is available in 400 cities all across the U.S., and it claims to have over a hundred thousand delivery workers. If you're moving from one of the cities they cover or just want to buy things on your own, you're probably checking out the ways to cancel the service.
Let DoNotPay Help You Cancel Postmates Unlimited

There's no easier way to cancel a service than with DoNotPay. The app is simple to use and effective at getting rid of unwanted paid subscriptions. Here's what you should do if you want to use the service:
Open the app in your

Click on

Find Hidden Money

Input the name of the service you want to cancel
It's as simple as that. DoNotPay will notify you when it unsubscribes you from the service. If you want to see which services you pay for but don't use, consider connecting your email or bank account with DoNotPay. You can then decide which of those services you want to get rid of.
Does a Postmates Unlimited Trial Auto-Renew Into a Paid Subscription?
Yes. Once the free trial is over, you will be automatically enrolled into a paid subscription.
Use DoNotPay's Virtual Credit Card to Prevent Free Trials From Auto-Renewing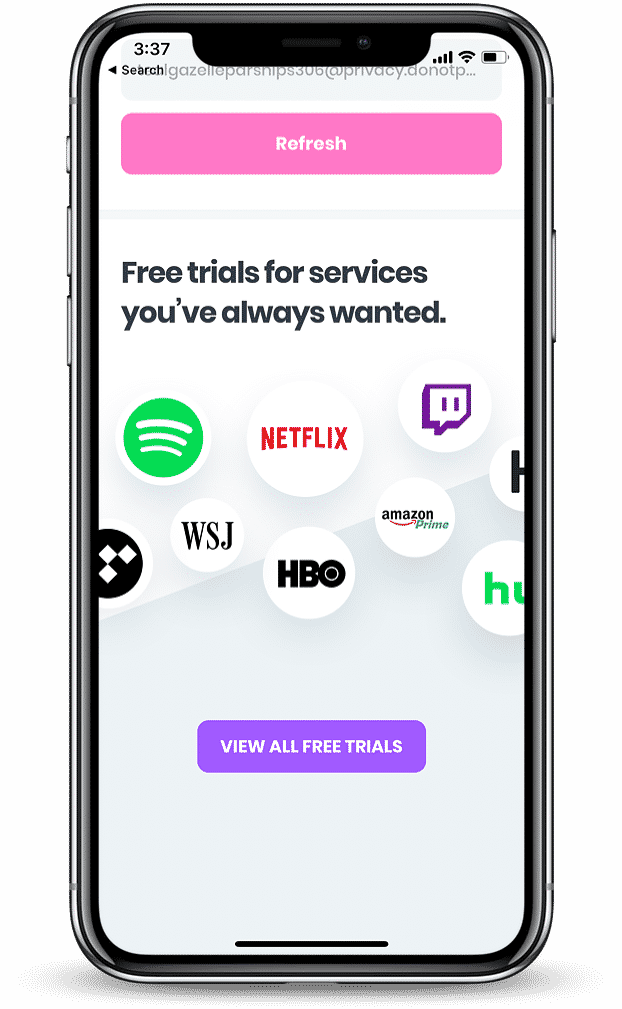 If you only want to use Postmates Unlimited for the week-long trial, you should cancel it after the week is over. People forget about their free trials all the time because they have so many of them. To avoid being charged after a renewal, use DoNotPay's virtual credit card. The card creates a temporary account that can be connected to Postmates Unlimited, but it doesn't contain any of your real information. You can use the cards generated by DoNotPay to sign up for free trials without worrying about businesses charging you after the trial is over.
How to Cancel Postmates Unlimited
You can cancel your subscription in one of two ways:
Using the mobile app

Canceling via the website
Cancel Postmates Unlimited Using the Mobile App
If you have the app installed on your android or iOS device, canceling the service should be simple. Here's how you do it:
Open the app

Tap the profile icon in the top left

Select

Manage Unlimited Membership

Click on

Manage Plan

In the list, select

Cancel Membership

Click on

Cancel Unlimited
Cancel Postmates Unlimited via the Website
To cancel your subscription on the website, you should::
Open the website on your computer

Go to

postmates.com

Click your profile icon

Go to

Account Settings

>

Postmates Unlimited

>

Cancel Automatic Renewal

Confirm by pressing

I'm sure
| | |
| --- | --- |
| Can you Cancel With | Yes/No |
| Phone | No |
| Website | Yes |
| Letter | No |
| App | Yes |
| DoNotPay | Yes |
Look for Alternatives to Postmates Unlimited
If you aren't satisfied with Postmates Unlimited, you should look for alternatives that match your needs better. There are lots of delivery services out there that might offer better coverage or more affordable prices, depending on where you live. Take a look at a few examples worth taking into consideration.
Company

Pricing

Benefits

Free, but charges $2 per delivery

$6 per month membership with free delivery

The app is free

Offers delivery for a wide variety of products

Free, but a small percentage of the delivery's total cost is charged

The app is free

The award program allows you to redeem "points" for free food and charity donations

Free, but DoorDash takes a fee from the total cost of deliveries

Dashpass—$10 per month

Available throughout the U.S.

The app is free

You can subscribe to Dashpass and minimize costs
Use DoNotPay to Save Time on Other Activities

DoNotPay helps its users cancel unwanted subscriptions, but it also does so much more. Want to claim compensation for canceled flights? You can use our app to make it easier. If you need to lower your gas bill, DoNotPay can help you with that as well. To start taking advantage of DoNotPay's benefits, open the app in your .
Take a look at some of the things DoNotPay simplifies for you:
Disputing traffic tickets

Fighting speeding tickets