Fast-Track the Process of Filing a GM Extended Warranty Claim
General Motors or GM is a vehicle manufacturing company, bringing us cars such as the GMC, Buick, Cadillac, and Chevrolet. Aside from the limited or bumper-to-bumper car warranty, GM offers an extended warranty.
This warranty is not the typical extended warranty that starts once the manufacturer warranty ends—it is an opportunity to extend the existing warranty of your car.
What Does
a General Motors Extended Warranty
Cover?
You can only get GM's extended warranty at the time of purchase of your new car. The coverage, pricing, and warranty period may vary depending on the vehicle:
Vehicle

Extended Warranty Period

Extended Warranty Covers
Extended Warranty Doesn't Cover
GMC

Five years or 60,000 miles

Three additional maintenance visits (inspection, oil change, and tire rotation) within the first two years of ownership

Replacement or repair of parts due to defects in material or workmanship

Repairs or replacements of parts authorized GM technicians didn't install

Conditions caused by misuse or collision

Buick

Five years or 60,000 miles

Additional maintenance services, such as inspection, tire rotation, and oil change during the first year of ownership

Repair or replacement of defects in material or workmanship

Cadillac

Six years or 70,000 miles

Exchange or repair of components that broke down due to material or workmanship defects

Chevrolet

Five years or 60,000 miles
How Much Does a GM Extended Warranty Cost
?
The cost of a GM extended warranty ranges between $1000 and $2000. The exact price of your warranty depends on various factors, such as:
Location

Coverage length

The year, model, and mileage of your car
How To Claim
General Motors Extended Warranties
You have a few options to file a GM extended warranty claim—use DoNotPay, call to schedule, or make an appointment in person.
If you want to reach out to local GM-authorized car service, find its address and contact information on the respective dealer locator web pages:
Submit an
Extended GM Warranty
Claim Using DoNotPay
You don't have to search for your local car service and check multiple websites. We have all you need to file a GM extended warranty claim!
Once you open DoNotPay in a , do the following:
Select our

Claim Warranty

feature

Click on

Car Warranty

Answer a few questions about your car and the warranty

Tap on

Submit My Claim
DoNotPay will contact the service, and they will reach out to you to schedule an appointment.
Even if you own a used car with an extended warranty, we'll help!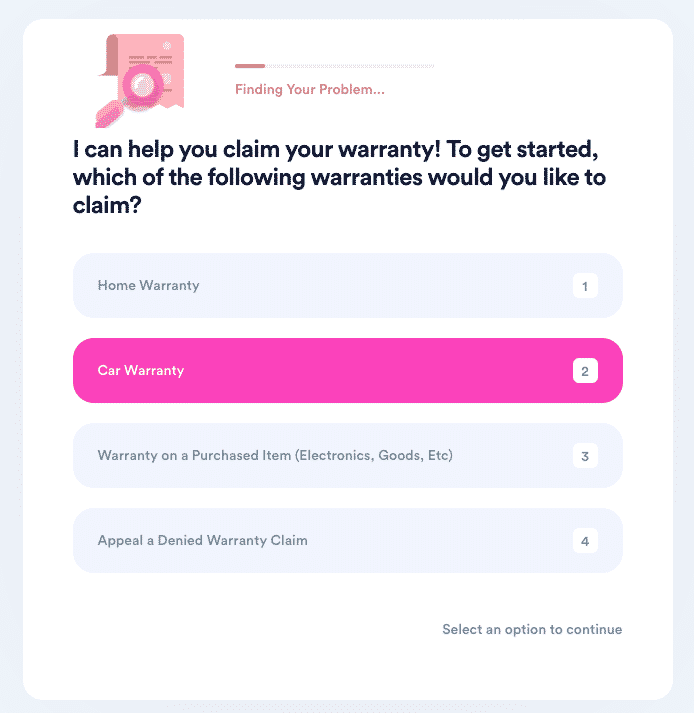 Appeal Your Denied
GM Car Warranty
Claim With DoNotPay
If GM rejects your warranty claim, you don't have to settle! Some companies deny claims the first time around. What you can do is appeal your original warranty claim, and we'll help you along the way!
Here's how to do it:
Access DoNotPay from your

Navigate to the

Claim Warranty

feature

Choose

Appeal a Denied Warranty Claim

Answer a few questions about GM and the original warranty claim

Click on

Submit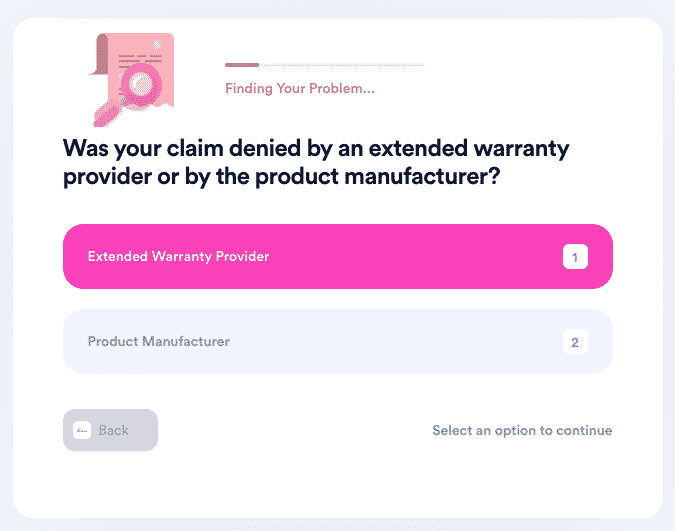 DoNotPay Keeps Numerous Issues at Bay
GM is not the only company offering extended warranties for cars—Nissan, CarMax, and Mercedes Benz also provide them.
Regardless of what car warranty you have, car warranty robocalls may bother you from time to time, and we know how to block them!
Do you want to get rid of your extended warranty? There is conflicting info online about people not being able to cancel extended warranties because they are essentially prolonged manufacturer warranties. No worries—we know how to deal with a dealer refusing to cancel your extended warranty.
Are you also considering getting a home warranty? DoNotPay's home warranty reviews will help you find the best home warranties in America and make an informed decision. We'll also assist you in claiming your home warranty in no time!
Open DoNotPay in your , and we'll be your virtual assistant for many other tasks, such as:
Contesting your traffic tickets

Appealing your speeding tickets