All You Need To Know About Warranty Laws by State
A warranty is a manufacturer's guarantee regarding the condition and quality of its product. Warranties ensure replacement or repair of issues if the product does not function as originally described or intended.
How Many Warranty Types Are There?
There are many types of warranties, but some of the common ones are:
Implied Warranty

Manufacturer Warranty

Product Warranty

Extended warranty
A crucial type is a statutory warranty. It's a warranty mandated by state or federal law, aiming to reduce fraudulent activities of sellers.
What Is an Implied Warranty?
An implied warranty is a guarantee by a seller that a product being sold is free of defects and fully functional. Implied warranties are regulated by state, not federal laws, and the two main types are:
Merchantability warranty
Fitness warranty

.
What Is a Manufacturer Warranty?
A manufacturer warranty usually covers parts and systems that break down as a result of flaws or defects in factory-installed parts.
What Is a Product Warranty
?
A product warranty is a guarantee a manufacturer gives to the customer regarding the quality of its product, including the compensation to be given if the product does not perform as initially described.
What Is an Extended Warranty?
An extended warranty is typically offered to customers on top of a standard warranty issued on new products. Extended warranties are usually state-specific and product-specific. They extend the coverage period and can include additional parts or repairs.
Implied Warranties and Lemon Laws From State to State
In some states, a seller can disclaim an implied warranty by disclosing that a product is sold "as they are" with no warranties included. In the following states, products cannot be sold "as they are":
Connecticut

Kansas

Maine

Maryland

Massachusetts

Minnesota

Mississippi

New Hampshire

Vermont

Washington

West Virginia

The District of Columbia
Lemon laws prevent the sale of defective products by manufacturers. In some states, if a problem with a product isn't resolved after a minimum period, a buyer is entitled to at least a partial refund.
In several states, "buyer beware" sales of particular products, such as cars, are illegal. These laws typically apply to dealerships. Individuals are often not bound by such regulations.
You Can Claim Any Warranty With DoNotPay
The easiest way to claim a warranty is with DoNotPay. You can use our app to claim a warranty for used cars, handle a company refusing to cancel your extended warranty, or even stop car warranty robocalls. You can claim a warranty for your car, home, or other purchases in just a few clicks with the Claim Warranty feature! This is how it works:
Open the DoNotPay in your

Access the

Claim Warranty

feature

Choose which type of warranty you wish to claim

Type in the required details

Click on

Submit my claim
That's all you have to do. We cover the rest and make sure your customer rights are properly met.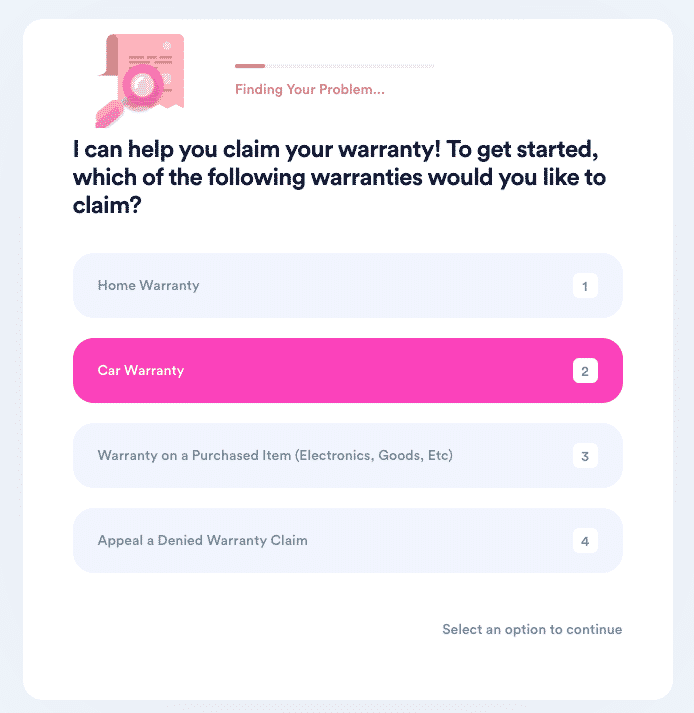 Can You Claim Warranties on Your Own?
Most companies provide you with a few ways to claim a warranty by yourself, be it over the phone, by email, or in person. Regardless of the method, the procedures are usually long, and in some cases, companies will even be unresponsive or refuse to cooperate. You can avoid going through all the inconveniences by using DoNotPay.
| | |
| --- | --- |
| Can You Claim Warranties Via | Yes/No |
| DoNotPay | Yes |
| Phone | Yes |
| In Person | Yes |
| Letter | Yes |
| Email | Yes |
| Company Website | Yes |
The available options differ from company to company. Sometimes the letter or email option isn't available for a particular company. DoNotPay is always the option.
We Can Also Help You Appeal a Denied Warranty Claim
If you filed a warranty claim and it got rejected, don't stress! DoNotPay will swoop in and help you appeal it in a matter of minutes! The steps to filing an appeal are super easy! Here's how it works:
Open the DoNotPay in your

Choose the

Claim Warranty

feature

Click

Appeal a Denied Warranty Claim

Say whether you're appealing against an extended warranty provider or a

product manufacturer

Provide the details about the company and the original warranty claim
DoNotPay will send the appeal letter in your stead. Although the implied warranty laws may vary depending on the state of residence, DoNotPay creates the letter according to the adequate legislation.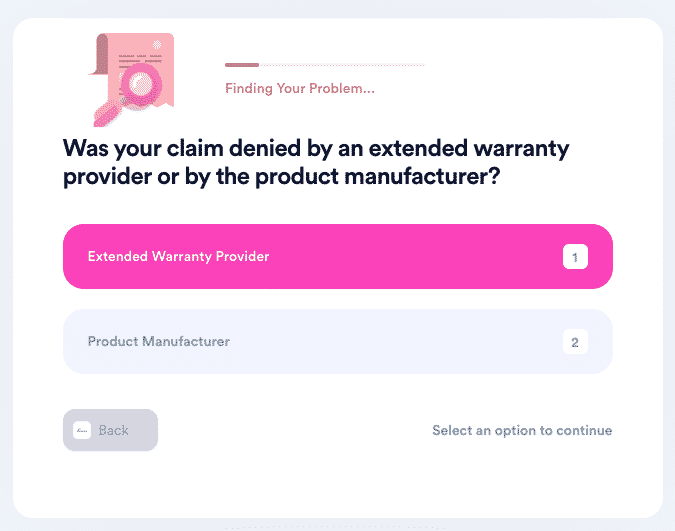 DoNotPay Helps You With Other Administrative Issues
If you are ever in need of home warranty reviews, or you need help finding the best home warranties in America, DoNotPay is here to deliver! Our app has many convenient features you can use for different purposes. DoNotPay helps with warranties for various car, phone, laptop, and clothing brands, like Toyota, Apple, Adidas, and much more. Open DoNotPay in your and see how we can help you with:
Disputing traffic tickets

Fighting speeding tickets