Discover How To Obtain a Virginia Tech Application Fee Waiver
Virginia Tech is a Virginia-based public research university offering a rich curriculum and multiple opportunities for developing leadership, communication, and other skills. That makes Virginia Tech one of the most popular Universities among freshmen, with a retention rate of about 93%.
Like so many other Universities, it requires paying an application fee. If Virginia Tech is on your wishlist, it is worth trying to apply for a fee waiver. The process doesn't have to be complicated or time-consuming. DoNotPay is here to help you establish what college application fee waivers are and offer the most practical ways of applying.
What Is an Application Fee Waiver and Why Should You Consider It?
Almost every college or university charges a certain amount for admission. The fee is supposed to cover the expenses of reviewing your application and deciding whether you meet the conditions to be admitted.
Some university application fees are more expensive than others, but the average cost is around $60. It may not seem like a significant amount, but considering that most students apply for backup colleges, the costs can mount up. Apart from the application fee, there are other college fees that parents often neglect to consider:
Travel costs—especially for students who have to pay for plane tickets or book a hotel room to visit the campus

Preparations for the test

Admission test

Sending the test scores to desired colleges

Postal expenses, in case you decide to mail in the application
Getting a fee waiver will help you save hundreds of dollars and allow you to apply to more schools. Every school has its set of rules for applying, and they tend to overlap in many areas.
We are here to give you a breakdown of the criteria you should meet when applying for a Virginia Tech fee waiver and the fastest way of doing it.
How Much Is the
VA Tech Application Fee
?
The application fee for Virginia Tech is $60 for freshmen and transfer students and $70 for international students. The deadline for applying is the 15th of January. The application fee is non-refundable, which means you have to apply for a fee waiver before you submit your admittance application for review.
Who Is Eligible for the
Virginia Tech Application Fee Waiver
Virginia Tech allows students with financial difficulties to avoid paying the application fee under certain circumstances. Those include:
If you already got an SAT or ACT fee waiver, you are automatically eligible for an application fee waiver. Talk to your guidance counselor before applying for a fee waiver because Virginia Tech will ask for a confirmation that you need financial aid and meet the required criteria.
How To Apply for the
Virginia Tech Fee Waiver
on Your Own
Virginia Tech offers the possibility of applying for a fee waiver by accessing the Common App and the Coalition App. The questions on these apps will determine whether you are eligible for a fee waiver at Virginia Tech.
If you have any additional concerns regarding the application fee waiver or fail to meet the criteria provided on these apps, you can contact the university at admissions@vt.edu. Here are all the ways of applying for a fee waiver at Virginia Tech:
Means of Applying
Is It Possible To Apply

Sending an email

No

Using the

Common App

Yes

Accessing the Coalition App

Yes

Over the phone

No

With DoNotPay

Yes
How To Request a Virginia Tech Application Fee Waiver With the Common App
Here is how to apply using the Common App:
Access the website

Click on

Create an Account

Type in the necessary information to create your profile

Click on the

Profile Section

Check

Yes

under the

Common App Fee Waiver

section

Check all the boxes next to statements that apply to your situation

Provide your e-signature in the required field
If you got an SAT or ACT fee waiver, your counselor will give his or her confirmation automatically. If not, you will be required to provide some additional information to prove that you qualify for a fee waiver.
How To Apply for a Virginia Tech Fee Waiver Using the Coalition App
These are the steps for applying for a fee waiver using the Coalition App:
Open the website

Click on

MyCoalition Login

Hit the

Create an Account

button

Follow the steps to create an account

Click on the

Profile

section of your account

Check the fields that apply to you under the

Fee Waiver

section

Hit the

Add to List button

next to all colleges that you are interested in
The last step is for your counselor to approve your application for a fee waiver. They will receive the request, and once they sign it, it will be sent to Virginia Tech.
Use DoNotPay To Get the
VT Application Fee
Waiver in No Time
DoNotPay is here to make the process of applying for a fee waiver simple and quick. With so many guidance counselors burdened with other tasks, we provide much-needed relief with our straightforward and easy way of getting your fees waived.
Our app automatically fills out the application form and even mails it directly to the university's financial aid office.
You are only required to perform a few simple steps before we take care of the rest:
Access DoNotPay from your

Open the

College Application Fee Waiver

feature

Select the type of fee you would like to waive

Choose the college or university you want to apply to and answer some questions about your economic situation

Point out if you need your counselor's signature
If you opt for getting your counselor's signature, we will mail the form to them first. If not, we will send it directly to the university of your choice.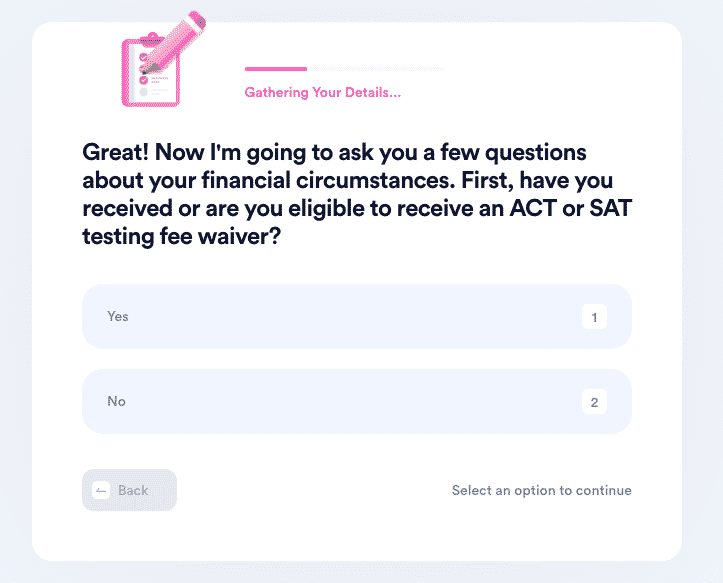 Let DoNotPay Tackle Other Administrative Tasks on Your Behalf
DoNotPay will help you learn more about harassment laws in Virginia and ways to protect yourself. If you want to get a refund from WorldVentures or NOVA, we will tell you how to do it with zero effort.
In case you wish to get your application fees waived in other universities, such as the University of Chicago, Alabama, or Florida State University, we can help.
Access DoNotPay from your and sit back while we help you to:
Fight speeding tickets

Dispute traffic tickets