Disputing Philadelphia parking tickets in under two minutes
Philadelphia parking tickets are expensive. Fortunately, you can almost definitely get the fine reduced by merely disputing the ticket.
Dispute Philly parking tickets in 120 seconds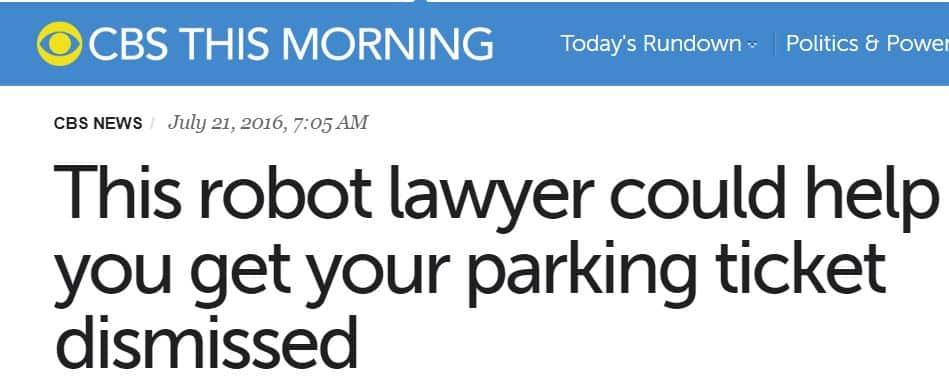 Through the DoNotPay app, you can dispute parking tickets in the city of Philadelphia, conveniently and efficiently. It is the first robot lawyer that helps people win their legal battles. CBS Philly reports that some residents of Philly have received scam parking tickets. These residents complain that they erroneously received infractions for parking in a handicapped spot.
DoNotPay has been successful at disputing parking tickets in a convenient, efficient, and quick manner. DoNotPay has helped hundreds of thousands of people fight and beat their parking tickets.
If you're looking at disputing a parking ticket in Philadelphia, this Tumblr user will enlighten you on how to do it the old fashioned way. But are you willing to go through the lengthy process? Instead, why not challenge your ticket with no hassle?
Here are the steps involved:
DoNotPay app is available directly in your web browser

.

It will ask you a few questions regarding your ticket. You have to indicate how it happened, and why you're disputing it. Be as detailed as possible to help the AI give you the best possible solution.

Make sure to keep your ticket and send a photo of it through the app.

After accomplishing these preliminary steps, DoNotPay will provide you the exact template you need to dispute and win (or lower) your parking infraction.
Watch how to dispute and win parking tickets in any city:
Is disputing a parking ticket in Philadelphia worth the hassle? Can I win?

Don't be afraid to dispute parking tickets. It is always worth a try. A Reddit user narrates how a parking violation came with a $301 fine. The user fell victim to the "handicapped scam," being wrongly fined for parking in the handicapped space.
Users can receive advice on disputing their parking ticket from DoNotPay immediately. The AI-powered technology can offer suggestions on what arguments to use when you appeal your ticket, including:
Lack of appropriate signage

Missing or incorrect details on the ticket

Faded paint on street signage

You weren't driving

Lack of clarity of the street restrictions

An illegible citation
How much time does DoNotPay save?

DoNotPay can help you dispute and beat your ticket in 2 minutes. You don't have to hire a lawyer to help you with your case.
The app provides all the necessary steps you have to take to settle your infraction. Using the app, you don't have to miss a day of work or sacrifice precious time with your family. You only need to answer a few questions, upload a photo of your ticket, and you'll receive a detailed script of what to say when the big day comes.
Will DoNotPay help me fight parking infractions from private companies in Philadelphia?

DoNotPay will help you fight the parking tickets you receive from both the government and any private parking company, like:
ABM Parking Services

Ace Parking

Douglas Parking

Imperial Parking, aka Impark

Lanier Parking

Laz Parking

SP+, aka Standard Parking

Towne Park
Regardless of where you got your parking tickets from, DoNotPay can help you.
Do I need a lawyer to dispute a parking ticket?

You do not need a lawyer to dispute your Philadelphia pay parking ticket. DoNotPay will do the same job in less time. In the event that you decide to look for a lawyer, be mindful that it takes some time and effort to find the most suitable one for your needs. Consider these tips:
Do your research

Make sure they have great credentials

Ask for referrals from friends or colleagues

Make sure they offer a reasonable service fee up-front

Get to know them and their work before signing them as your lawyer.
Research is the first step you need to take before hiring a lawyer. The best place to start is asking for recommendations from your friends and colleagues. Look for customer reviews to see if they have a good success rate.
Hiring a lawyer can cost a lot. Avoid the extra expense and use DoNotPay. Access DoNotPay through any .
How much does a parking ticket lawyer in Philadelphia cost?
If you want to pay your parking ticket with the help of a lawyer, brace yourself for a lawyer's fee that can range from $200 to $1000. Hiring a lawyer is expensive. It can cost more than your parking ticket.
In most cases, disputing a ticket you received in Philadelphia through DoNotPay will get it dismissed or reduced.
Dispute or Pay?
Ease
Time it takes
Cost
Benefits
Dispute

Easier with the DoNotPay App

A minute

$18/month

Winning a parking ticket dispute

Pay

Easier to pay in person

2 hours if done in-person;

Two days if paid online; and

Two weeks if paid via mail.

Cost of the ticket + transportation cost

You won't need to wonder what to spend that money on
Can I get my parking ticket reduced?
Some cities have better outcomes than others. For example, San Francisco lets low-income residents enroll in a low-income payment plan that can get late fees waived for parking tickets issued within the last 60 days. In New York, the Department of Finance will reduce a parking ticket fee for drivers who dispute their tickets online, in person, or via mail within 30 days.
You can probably get your Philadelphia parking authority parking ticket reduced by merely disputing the infraction. So appeal it with DoNotPay in just a few minutes. Access DoNotPay through any .
What happens if I don't pay my parking citation in Philadelphia?
If your appeal is in the minority of those that aren't successful, it's time you accept your fate and prevent yourself from receiving further consequences like:
Increases in the fine

They impound your vehicle

A downgrade in your credit score

The money you owe gets taken out of your tax refund

The DMV refuses to renew your car's registration
Do infractions go on my record?
Fortunately, parking infractions do not go on your record. But if you keep ignoring your tickets, the DMV may take note of your violations, and this can lead to other consequences. Failing to pay your tickets can lead to the suspension of your driver's license or rejection of your vehicle registration renewal.
What if I got an infraction and the wind blew it away, or someone took it off my car?
Authorities will notify you via mail to the car's registered address. If that fails, your case will be transferred to a collecting agency, damaging your credit score. Find more advice about this issue here.
Can parking tickets make my car insurance go up?
Your car insurance won't go up, because there's no relation between receiving parking tickets and your coverage. Insurance companies like Liberty Mutual never know if you received any parking tickets. However, this doesn't mean you can escape paying your parking fines. Failing to pay might lead to the DMV denying your vehicle registration renewal request, which may prevent you from getting insurance.
Do I need to pay Philly parking infractions if I'm a driver residing in another state?
Even if you're from another state, you still need to pay.
You can conveniently pay your Philadelphia parking ticket online. You may also appeal the citation. You can use DoNotPay to do so even if you're not from Philadelphia.
DoNotPay will help you dispute your citation by giving you a detailed script of what to say in your hearing. Here is more information on what to do if you receive a parking ticket while you are driving out of state. Access DoNotPay through any .
Can I be ticketed if I'm in the car?
There are many reasons why you could get a ticket in Philadelphia, besides the handicapped scam. This Quora user says that failure to feed the parking meter can lead to a hefty fine. You have to pay close attention to what the parking rules are to avoid paying a fine. Don't worry, though, because DoNotPay has your back in case you want to dispute your ticket.
If you are illegally parked while trying to answer a call, you can get a ticket. You might also just be standing outside your car when all of a sudden, you're given a citation.
If you do get ticketed while seated in your car, DoNotPay is there to help you appeal it. Access DoNotPay through any .
What if I'm driving a rental car? Do I still have to pay off parking tickets?
Renting a car carries with it the obligation of paying any parking fines you receive while driving it. Car rental companies like Alamo may ask you to pay the amount of the parking fine, plus additional fees that you might have incurred during the violation. They will probably take the fine and their fee straight from your credit card.
How much does Philadelphia make from parking tickets?
Paying parking tickets in Philadelphia can be expensive. The average parking fine in the US is $44 to $200. Some cities earn huge amounts of money from these citations. Philadelphia alone earns approximately $99 million a year, just from parking violations. New York stands as the city which makes the most from parking violations, with an estimate of $500 million a year.
DoNotPay helps users fight and beat tickets in any city
DoNotPay helps users fight parking tickets in every city in the US and UK. Here are a few cities we've helped users dispute the most tickets in:
What else can DoNotPay do?
Besides settling parking ticket disputes, DoNotPay can also provide the following services:
Downloading DoNotPay's app can help you save time, money, and the stress of fighting all of your legal battles. According to The Verge, DoNotPay's services highlight "a big problem with the justice system. It doesn't matter how much protection the law gives you if you're not aware of it." Access DoNotPay through any .
To summarize Philly parking tickets:
| | |
| --- | --- |
| Appeal your parking tickets without the hassle. | DoNotPay is a one-stop-shop for any ticket related disputes. |
| Contest your parking citations immediately. | DoNotPay has helped hundreds of thousands of people dispute their parking tickets. |
| DoNotPay will help you win your parking tickets against the government and even private companies | No need to worry from whence you were issued your parking tickets because DoNotPay has you covered. |
| Make sure to pay your parking tickets, so you don't have to suffer any consequences. | At least you won't have to go to jail, and you can beat fines with DoNotPay's service. |
| Dispute your parking ticket isn't difficult with DoNotPay. You can often dispute online | Especially when you win the dispute, and you did not spend anything because you used DoNotPay. |
| Know how to dispute your parking ticket so you can pay little to no fine at all. | There's a big chance that you don't have to pay anything if you process using DoNotPay |
| Look for ways to reduce your parking ticket. | You can probably get a reduction in your fine if not dismissal just because you dispute it. |
| Don't worry. Your parking tickets will not show on your driving record. | Nevertheless, you shouldn't ignore your liabilities. |
| If someone takes the ticket off your windshield, that doesn't excuse you from paying your infractions. | Local authorities will do their best to contact you, and it's a mistake to try to avoid them. If you do, brace yourself for the consequences. |
| Receiving a parking ticket won't affect your insurance coverage. | But that doesn't mean you shouldn't pay your parking tickets. |
| Whether you think you have a good case or not, don't be afraid to appeal. | Before rushing to pay off your violation, use DoNotPay to settle your dispute first. |
| You'll have to pay your parking tickets even if you're from out of state. | You need to respect the driving regulations of any jurisdiction you visit. |
| Avoid receiving parking tickets in the future. | Familiarize yourself with the rules of any city where you drive. |
| Being behind the wheel doesn't lessen your likelihood of receiving a ticket. | Avoid this with knowledge of local rules. |
| You'd have to pay off any parking ticket you get in a rental car. | The rental company will deduct the parking fine straight from your credit card. |
| Parking tickets generate millions for cities every year. | Don't be another statistic. |
| Check out the other services DoNotPay can offer you. | There are over 150+ features available. |