Get an Ohio State University Application Fee Waived in No Time
Ohio State University (OSU) is a public research university that is located in Columbus, Ohio. OSU was first known as the Ohio Agricultural and Mechanical College, and it originally focused on agricultural and mechanical disciplines, but it later developed into the comprehensive university that it is today.
If you applied to Ohio State University, you might want to learn more about their application process and what options they offer for getting your Ohio State application fee waived.
What Are College Application Fee Waivers, and How Do They Help Me?
Applying to any college or university includes certain expenses to cover the costs of the application fees, and those can be quite pricey. If you apply for more than one school, these prices multiply and end up costing you hundreds of dollars. You can avoid this by applying for fee waivers and requesting from schools to decrease the cost of application fees or remove them altogether.
Fee waivers are a convenient way to avoid wasting money that you can use for additional expenses you will encounter, such as tuition fees or transportation and accommodation costs when visiting campuses. The common fee for college applications is around $60, but more popular schools like Duke, Columbia, and Stanford charge from $80 to $90 for their applications.
The Common Fee Waiver Qualifying Criteria
If you do not know whether you are eligible for fee waivers or not, look at the list of general criteria for obtaining one down below. You can get your application fee waived if you:
Get public assistance

Are a ward of the state, homeless, or an orphan

Meet the

Income Eligibility Guidelines

Are getting help from programs for students from low-income families, or you're eligible for the

Federal Free or Reduced Price Lunch program

Live in a foster home
Check out the table below for more details on Income Eligibility Guidelines:
| | |
| --- | --- |
| Household Members | Annual Income |
| One | $23,606 |
| Two | $31,894 |
| Three | $40,182 |
| Four | $48,470 |
| Five | $56,758 |
| Six | $65,046 |
How Much Money Do I Need for the Ohio State University Application Fee?
Ohio State University charges $60 for their application fee. You can try to waive the OSU application fee using ACT, SAT, and NACAC application fee waivers.
Am I Qualified for an Ohio State University Application Fee Waiver?
Ohio State University has clear application fee waiver guidelines for freshman or transfer students who are residents of the United States. You can qualify for an OSU application fee waiver based on financial need. If any of the following apply to you, you are qualified for an OSU fee waiver:
You are an orphan or an adult dependent on the state

Your family or you have suffered financial calamity or are on public assistance
You can also get your OSU application fee waived if you got the ACT or the SAT fee waiver within 12 months of the application date.
Who Is Eligible for an Automatic College Fee Waiver?
Automatic college application fee waivers are given to the students who already got an SAT or ACT fee waiver. Using Coalition App or Common App will make you an eligible candidate as well. The fastest way you can apply for fee waivers is with DoNotPay. We simplified the procedure so that you can get a waiver with minimal effort each time when you apply to a college.
How Can I Get an Ohio State Application Fee Waiver?
Ohio State University offers two ways to get an application fee waiver:
Together with your admission application

With Common App
Requesting an OSU Fee Waiver Along With Your Admission Application
To apply for your Ohio State University application fee waiver along with your admission application, follow the next three steps:
Click on the

Application Fee Waiver

section of your admissions application selecting the program you qualify for

Complete the rest of your application

Submit
Processing time may vary, but someone should contact you by email regarding your request in three to five business days.
Get an Ohio State University Application Fee Waiver With Common App
Another way to apply for an OSU fee waiver is through the Common Application. Follow the next two steps to get it done:
State whether you qualify for a fee waiver in your

Profile section

Click on the reason why and

sign it
Your school counselor will have to attest to your answer regarding your qualification for a fee waiver. It will take seven to ten business days for the Common App to process your request.
Get Your Ohio State University Application Fee Waived With DoNotPay Without Hassle
Getting a school counselor to fill out fee waiver forms for you isn't the only option! DoNotPay can assist you in waiving college fees and save you a lot of time and money by sending the forms on your behalf!
You can also request application fee waivers for Ohio State University with our app, as well as for other schools, such as CUNY, Brown, Fordham, and Rice University.
All you need to do is access DoNotPay in your and follow the next steps to apply for fee waivers:
Click on

College Application Fee Waiver

Choose the fee you want to waive and the school you're applying to

Provide a few short answers and say whether you want to get a counselor's signature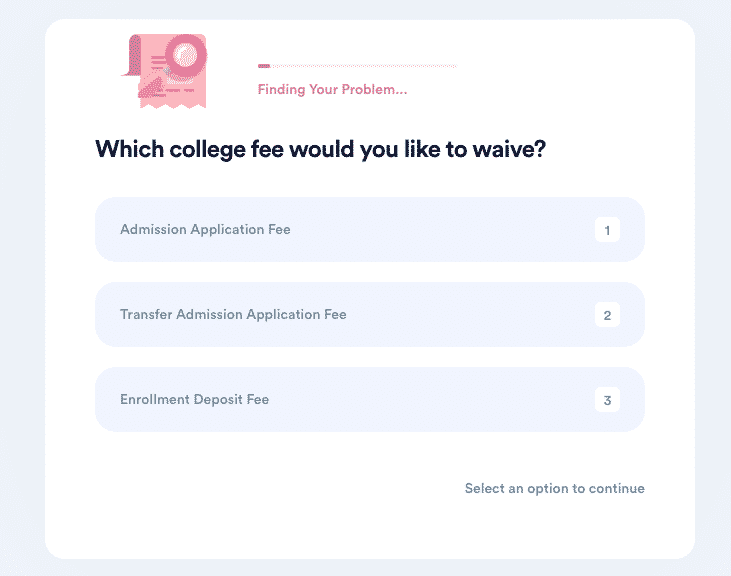 DoNotPay offers you three types of fee waivers regardless of your college choice:
Transfer Student Fee Waiver

New Student Application Fee Waiver

Enrollment Deposit Fee Waiver
Our app can waive college application fees for both undergrad and grad studies, as well as test fees (with the exception of the SAT and the ACT).
You can strengthen your application by using DoNotPay to get a school counselor's signature. We will complete the form and email it to either your counselor or the Ohio State University's financial aid office. With a school counselor confirming your financial situation, you have much better chances to get a fee waiver.
What Else Can DoNotPay Help You With?
DoNotPay has a multitude of features you can use to deal with any bureaucratic issue you come across!
If you keep getting charged for memberships and subscriptions you don't use anymore, cancel them with DoNotPay in a few clicks! Grammarly, Study Edge, Netflix, and HBO are some of the services we can help you with. Oh, and did we mention that, in our app, you can sign up for free trials with a virtual credit card and request refunds as well? With our help, there is nothing you can't do!
Open your and shuffle through our nifty tools to see how you can easily:
Fight speeding tickets

Dispute traffic tickets