A Walkthrough of the University of Arizona Scholarships
The University of Arizona is popular among prospective students because it offers numerous undergraduate and graduate programs across:
29 fields of study
20 colleges
12 schools
Four campuses
All of those facilities share one common feature—having not-so-cheap tuition costs. Providing numerous options to its students seems like a signature trait of the University, and it reflects on its financial aid program as well. Unfortunately, having many scholarships and grants to choose from makes it harder to navigate through them.
We have analyzed all University of Arizona scholarships so you don't have to! Find out which ones you qualify for and how to apply! You will also learn how to find external scholarship opportunities for your studies at the University of Arizona using DoNotPay.
Types of Scholarships the University of Arizona Offers
Like most schools, the University of Arizona rewards students based on financial need and academic merit. It divides its scholarship programs into the following categories:
Incoming first-year and transfer tuition awards
Dorrance scholarship program
Arizona Flinn scholars
Funding for indigenous Wildcats
Other scholarships
Incoming First Years and Transfer Tuition Awards
Check the following table to learn more about University of Arizona scholarships for incoming freshmen and transfer students:
Scholarship Category
Scholarships
Eligible Students
Prize
Academic scholarships
Wildcat Tuition Award
Arizona residents and out-of-state students
$2,000 to $15,000
Arizona Tuition Award
$2,000 to $35,000
National Scholars Tuition Award

Arizona scholars: $18,000
Non-Arizona scholars: original Arizona Tuition Award + $5,000

Dean's Exemplary Award
$1,000
All-Arizona Academic Team Tuition Award
Arizona residents
$2,500–$10,000
Transfer scholarships
Phi Theta Kappa Scholarship
Transfer students

Resident: $5,000
Non-resident: $12,000

Transfer Tuition Scholarship

Resident: $3,000
Non-resident: $5,000–$10,000

Bridge Tuition Scholarship
$2,000
Global first-year and transfer scholarships
Global Wildcat First-Year Tuition Award
International freshmen and transfer students
$2,000–$20,000
Global Wildcat Transfer Tuition Award
$5,000–$10,000
Dorrance Scholarship Program
The Dorrance Scholarship Program rewards promising first-generation students at the University of Arizona with $12,000 if they:
Have a minimum grade point average (GPA) of 3.00
Are able to complete the summer bridge program in Flagstaff, Arizona
Are Arizona residents
Are involved in leadership and community service
Can travel internationally
Are able to live on campus during their freshman and sophomore years
Candidates should also have the following minimum standardized test scores:
SAT—1,110
ACT—22 (excluding writing)
CLT—72
PSAT—1,050
Arizona Flinn Scholars
Academically brilliant Arizona students enrolling in any of the three state universities can qualify for the Flinn Scholarship Program.
The prize consists of two parts:
Flinn Semi-Finalist Tuition Scholarship
Flinn Foundation Scholarship
Flinn semi-finalists receive $15,000 to cover tuition expenses. Flinn Designated Scholars get the Flinn Semi-Finalist Tuition Scholarship and an additional $13,500 if they:
Remain a Designated Scholar
Maintain a 3.20 GPA
Complete 12 units each semester
Funding for Indigenous Wildcats
Indigenous students can receive the following awards while enrolled in the University of Arizona:
Federal grants
Scholarships from their tribes, communities, and organizations
Other Scholarships
The Children of the Fallen Heroes Scholarship provides funding for Pell-eligible students whose parents or guardians died in the line of duty while serving as public safety officers.
Children of public safety officers—including firefighters and law enforcement officers—are eligible for the award if they:
Are less than 24 years old
Were enrolled at a higher education institution at the time of the parent's or guardian's passing
The Foster Care Success Tuition award helps former foster children and students who were adopted before the age of 14 afford tuition at the University of Arizona. This award covers the recipient's entire tuition cost and mandatory fees. The Foster Care Success Tuition award is not available to students enrolled in a University of Arizona online program. Recipients will continue to receive the award as long as they:
Don't receive their baccalaureate degree
Obtain 144 credit hours
Are younger than 23
How To Apply for University of Arizona Scholarships
Follow these steps to apply for University of Arizona scholarships:
Complete the Free Application for Federal Student Aid (FAFSA) and include the federal school code, which is 001083
Check your email for instructions regarding additional documents you may have to submit or information you need to correct
If you're a prospective student, you will have to apply for admission at the University of Arizona before commencing the scholarship application process. Online and international students and Deferred Action for Childhood Arrivals (DACA) recipients need to follow all standard steps and use the University of Arizona Scholarship Universe portal to submit individual applications.
Need Extra Help? Find Additional Scholarship Opportunities With DoNotPay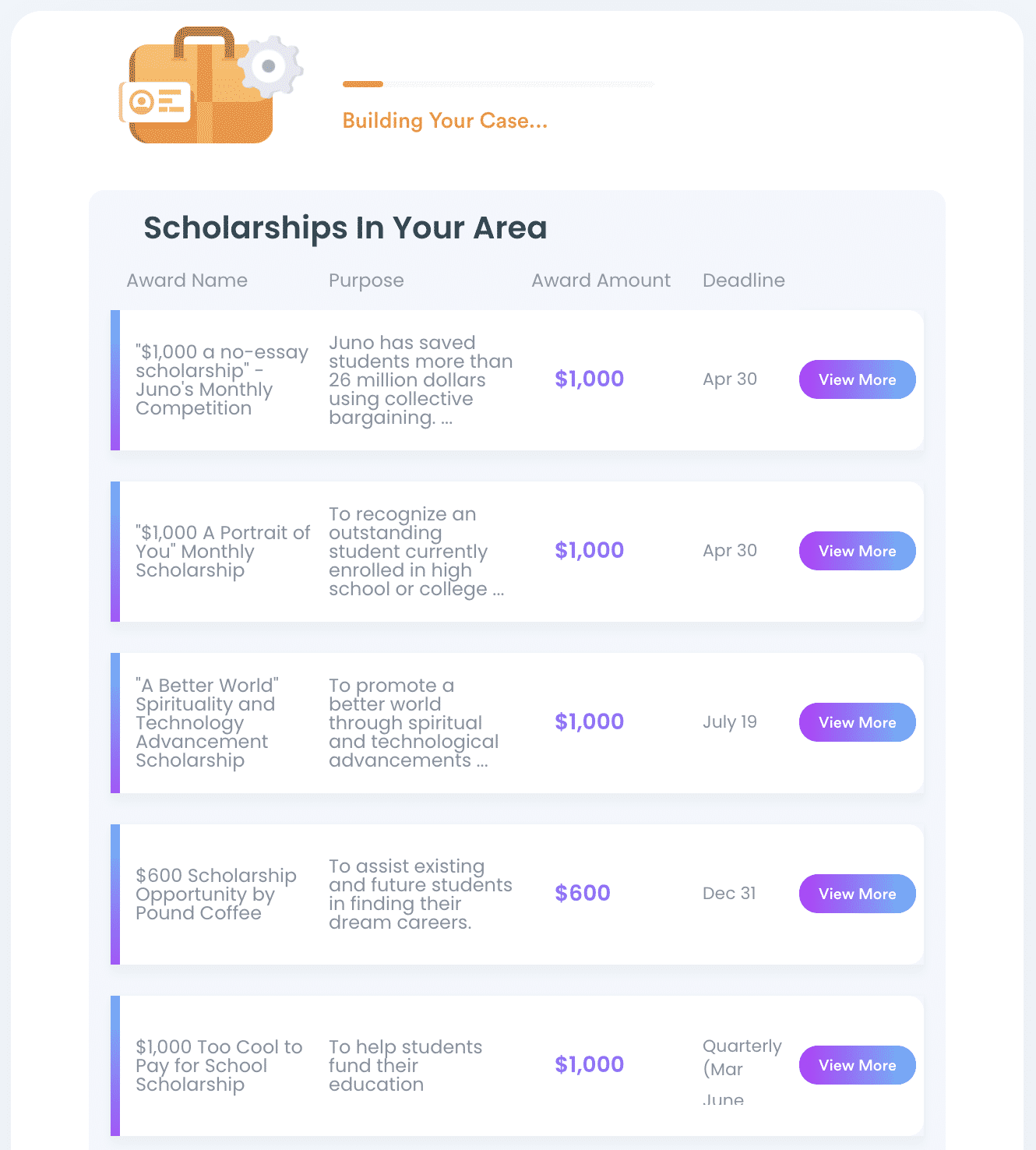 If the University of Arizona denies you financial aid or offers an insufficient amount, you can use DoNotPay to search for external opportunities. The process takes only a few moments of your time and ensures you find scholarships tailored to your qualifications.
To get started:
Access the Apply for Scholarships feature
Answer some questions about your:

Year of study—for example, high school junior or senior
Study program
Did you find no-essay scholarships you want to apply for? Our app can use your student details to submit applications for as many scholarships as you want on your behalf!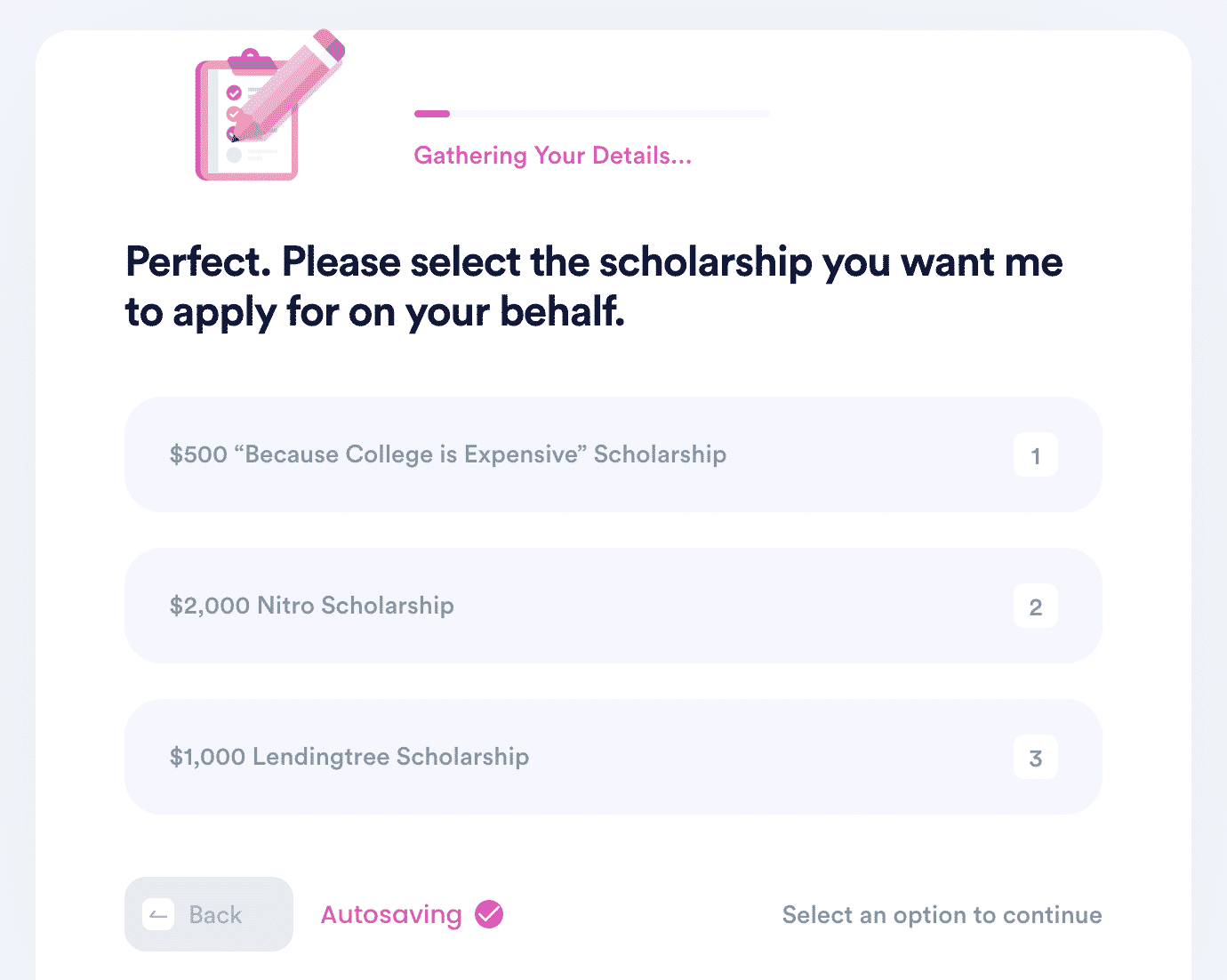 Prepare for External Scholarship Applications
Although the application process for the University of Arizona scholarships is simple, that isn't the case for most external awards. To ensure you don't miss out on valuable funding, you should prepare the following documents:
What's Next?
Once you complete the task at hand, you don't have to stop there—we offer a myriad of products that can relieve you of the stress that comes with dealing with admin and legal hurdles.
DoNotPay can assist you in drawing up a divorce settlement agreement, child travel consent form, power of attorney, and other legal documents, contacting government representatives, getting tourist visas, fighting workplace discrimination, getting a burner number, appealing banned accounts, getting access to public records, scheduling a DMV appointment, and much more.
Tackle Any Energy-Draining Task With DoNotPay
With DoNotPay by your side, you don't have to worry about how you'll cover your utility bills at the end of the month—we'll provide swift assistance as soon as you sign up!
Wondering what else our app is capable of? Check out how we can: