Everything You Should Know About the Tulane Application Fee
Tulane University is a private research university in New Orleans, Louisiana. It was a medical college originally, but later Tulane became a comprehensive university with over 1,700 classes in five schools, including:
Science and engineering

Liberal arts

Architecture

Business

Public health
If Tulane University is one of your college options, you probably want to learn more about its application fee and fee waiver procedures. DoNotPay can help you get all the information you need.
Does Tulane Have an Application Fee?
Like most colleges, up until 2006, Tulane had a $50 application fee, which is slightly above the average. If you are considering applying to Tulane, you will be happy to hear that the application is now free of charge.
While paying one application fee less is outstanding, you still have to deal with application fees for other colleges.
What Are the Universities With the Highest Application Fees?
Many other colleges don't charge for the application process. According to a study by U.S. News, the average college application fee for American universities is approximately $44. The same study gave us insight into the universities with the highest application fees in the States, and you can check it out in the following table:
Most universities offer application fee waivers for eligible students enduring financial hardship.
What Are College Application Fee Waivers?
Paying one college application fee does not seem like the biggest expense. According to a research by CollegeVine, an average American student applies to seven to ten colleges at once. While this strategy improves the student's chances of enrollment, it also increases the costs.
For anyone applying to college, the biggest expense is the potential tuition, but other college-related costs can also cause significant damage to your finances. Additional college expenses include:
Taking the SAT and ACT exams

Traveling costs when visiting college campuses

Registering for Advanced Placement tests for those trying to gain college credits
Fortunately, colleges that have application fees usually have fee waiver policies.
Not everyone is eligible for a fee waiver—only the students experiencing financial difficulties. Each university decides on its fee waiver approach. You should consider that when trying to get your application fees waived. The rules vary from one college to another.
If you want to avoid paying the application fee, check whether you qualify for an automatic fee waiver or need to apply for one, based on the eligibility criteria.
Am I Eligible for an Automatic College Fee Waiver?
Most universities will automatically consider prospective students for a college application fee waiver if they already got the waiver for the SAT or ACT registration fee. If you fall under one of these categories, you should confirm with the admissions office of the desired university whether you can avoid their application fee.
Eligibility Criteria for Getting a College Application Fee Waiver
To request an application fee waiver, you have to meet at least one of the following requirements:
Keep in mind that some universities have additional requirements for waiving application fees, so you should always consult official websites to be sure.
How To Get a College Application Fee Waiver Using DoNotPay
Applying to multiple colleges means having to collect information and check requirements for each of them separately. The process can be demanding and take a lot of time. To help you avoid this process, DoNotPay created the College Application Fee Waiver—a feature that helps you avoid an unlimited number of college application fees hassle-free.
How Does the College Application Fee Waiver Feature Works?
By using the most comprehensive university database, we enable you to request college application fee waivers for numerous schools across the States.
If you opt for our College Application Fee Waiver, you can find your way around three types of college fees:
Transfer Student Fee

Enrollment Deposit Fee

New Student Application Fee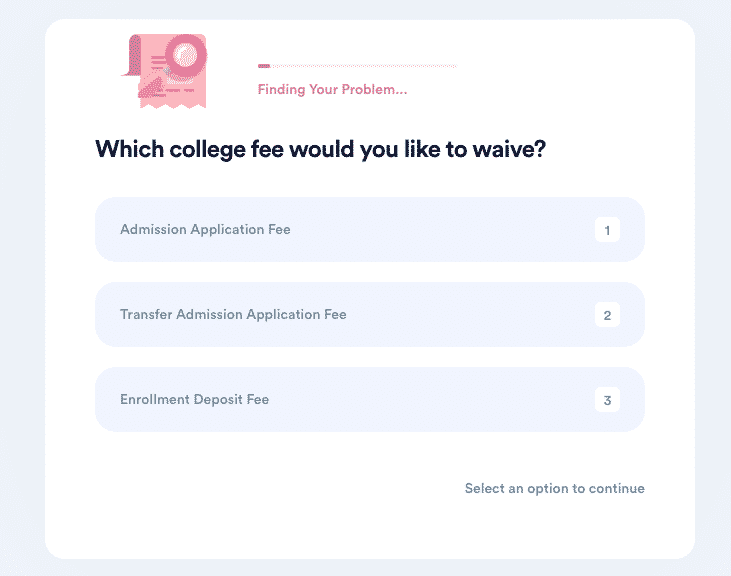 Besides that, DoNotPay can help you improve the chances of getting a fee waiver. We can strengthen your fee waiver request by obtaining a signature from your high school counselor or other assigned school official.
We do that by sending an email with a fee waiver form on your behalf, including the mandatory information regarding your financial difficulties. The signature from the counselor will prove your financial hardship and nudge the university's admissions office to make a decision in your favor.
Requesting College Fee Waivers With DoNotPay
We offer the simplest and fastest fee waiver process. To get a fee waiver, access DoNotPay from any and follow these steps:
Click on the

College Application Fee Waiver

feature

Choose the type of college fee you would like to avoid

Select the desired university

Answer the questions about your financial situation

Specify whether you want to obtain a signature from your high school counselor or another school official
How Can We Help You With Fee Waiver Requests?
Our goal is to help you avoid paying the application fee without the hard work. We do this by:
Gathering all the information

Filling out the necessary form on your behalf

Getting your counselor's signature provided you need it

Mailing the fee waiver request directly to the admissions office of the selected university

Informing you once the admissions office reviews your request form and makes a decision
Get DoNotPay To Handle Your Daily Tasks
Do you need help with writing a fee waiver request? Take a look at the letter sample to get more ideas. With our assistance, you can get a fee waiver for the GRE tests and graduate school applications. Use our College Application Fee Waiver feature to get rid of application fees for Ivy League colleges, like Harvard Law or Brown University. We can teach you how to have application fees waived with the Common App or obtain a BOG fee waiver if you are applying to one of many community colleges in California.
Access DoNotPay from any if you need help with:
Disputing infuriating traffic tickets

Contesting speeding tickets