Find Out How To Avoid Paying for the USC Application Fee
The University of Southern California—also known as SC, USC, or Southern Cal—is one of the most popular universities in Los Angeles. It is a large private university with more than 40,000 graduate and undergraduate students.
The acceptance rate is 13%, and you will have to pay almost $60,000 for tuition and college fees if you get in. Being a college student isn't cheap, but there are ways to lower your expenses. The best students may receive scholarships to handle the tuition costs, but application fee waivers are there to help you save some money from the start.
What Are Fee Waivers and How Can You Avoid Paying for the Application?
If you want to apply to a certain university, you will need to pay an application fee. There may be some exceptions, but most schools have this requirement. The fee is not cheap—you may need to cash out between $50 and $100.
This amount multiplied by the number of schools you're applying to equals several hundred dollars. Can you spare that much only to be considered as an applicant? If not, there is a way to skip this fee payment—application fee waivers!
It is a process available to some students who are in difficult financial situations. You need to meet the requirements set by the school you want to be a part of.
You can also avoid paying college application fees if you already got the SAT or ACT waiver. This makes you eligible for such aid automatically. In all other cases, you need to request one. DoNotPay is the easiest way to achieve this!
DoNotPay the
University of Southern California Application Fee
DoNotPay is the app you'll want to use when requesting fee waivers from Southern Cal. We make an otherwise dull administrative task seamless. You can count on your virtual assistant to deal with the application fees of any other school of your interest since we have the most extensive database.
This is what the fee waiver requesting process consists of:
Open your DoNotPay account in any

Scroll down to and select the

College Application Fee Waiver

feature

Choose the fee you wish to get rid of

Pick

University of Southern California

from the list of universities

Provide the necessary information regarding your financial situation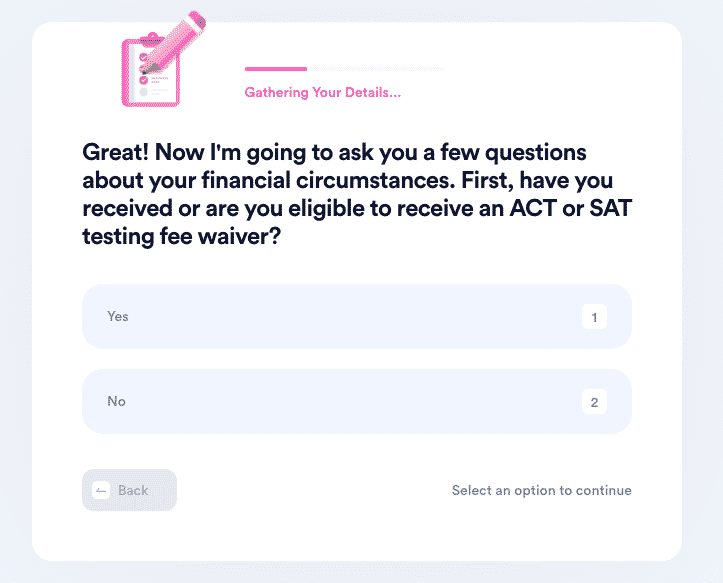 You will be done with the process in a few minutes, and DoNotPay will deal with the rest. We can send the form to your school counselor if you need their signature. If the school you're applying to allows you to skip this step, we can also mail your documents straight to the financial aid office.
DoNotPay can help you waive three types of fees:
New Student Application Fee

Enrollment Deposit Fee

Transfer Student Application Fee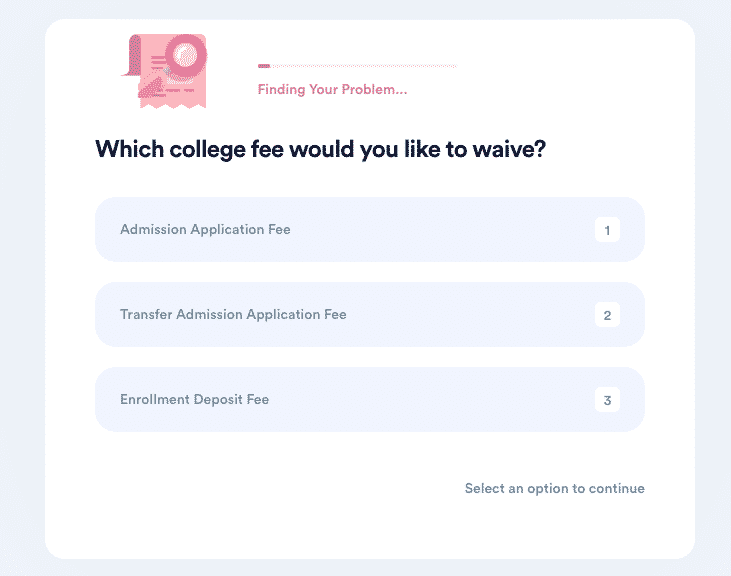 How Much Is the
Application Fee for USC
?
The price of the application fee for USC depends on the type of student you are. This is a brief overview of how much money you'll need to cover the costs:
| | |
| --- | --- |
| Type of Student | Application Fee Cost |
| Undergraduate students | $85 |
| Transfer students | $85 |
| Most graduate students | $90 |
| Students who want to attend the Marshall School of Business | $155 |
| USC International Academy students | $175 |
The good news is that you may request a fee waiver for all these cases. SC does not offer the option to remove application fees for international students.
Who Is Eligible for an
Application Fee Waiver at USC
?
You are eligible for an application fee waiver at USC if you:
Would be financially burdened by the fee

Are a part of a certain program listed by the school
Both undergraduate and graduate students may ask for an application fee waiver if their financial status proves they can't afford to pay for it. You can ask for your fee to be waived if you are:
An orphan or homeless

A ward of the state

In alignment with the eligibility guidelines set by the

USDA Food and Nutrition Service

A recipient of public assistance

A part of a certain program that aids the less-fortunate students
Who Is Eligible for the
USC Graduate Application Fee Waiver?
Apart from the financial hardship, if you are a graduate student at USC, you may request a fee waiver if you meet other requirements. This is who can bypass paying for the application fee waiver:
How To Request a
Fee Waiver from USC
on Your Own
Graduate and undergraduate students can request fee waivers from Southern Cal in different ways. Undergraduates may apply via the Common App and ask for a waiver that way, while grads have to send an online application via USC's website.
How To Request an Application Fee Waiver via the Common App
You will need to heed these instructions to get a fee waiver if you are applying via the Common App:
Access your account or make a new one

Navigate to and click on

Profile

Choose the

Common App Fee Waiver

option

List all the reasons you should get an application fee waiver

Name the economic factors that have to do with your financial situation

Answer all additional questions

Finalize the process by providing a signature
You should know that the Common App has only 900 schools in its database, which is why it's better to use DoNotPay. Our app provides more options and saves you time and money!
How To Request an Application Fee Waiver via an Online Form
If you are a grad student, you will need to send in your fee waiver request by completing an online form on USC's website. Proceed as follows:
Create an account or

log in

Choose the program you wish to be a part of

Pick the correct fee waiver category

Attach the relevant documentation for the fee waiver you are asking for
USC will send you an email if your fee waiver is approved. You must wait for this confirmation to bypass the payment when submitting your application.
DoNotPay Takes Your Bureaucratic Troubles Away
DoNotPay is a useful virtual assistant to have in the Golden State. If you are about to become a driver, you can count on our help to get a driver's license with ease. We may also boost your chances of passing your DMV permit test on the first try. For experienced drivers, DoNotPay offers assistance in contesting parking tickets in CA.
Open DoNotPay in your , and let us help you with other tasks, such as:
Fighting traffic tickets

Disputing speeding tickets