Get a UNC Chapel Hill Application Fee Waiver in a Few Easy Steps
The University of North Carolina at Chapel Hill is one of the most prestigious public universities in the country. It ranks nationally in the top 20 public and private institutions and guarantees excellent education. To apply, you have to pay a fee, but it can be waived under certain circumstances. 
Read on to see if you can apply for the University of North Carolina at Chapel Hill application fee waiver or even tuition assistance. DoNotPay will make the process quick and easy. 
Applying to UNC Chapel Hill
To apply to UNC at Chapel Hill, you have to have a high GPA, and your scores for the SATs or ACTs must be above 50%. Getting into the University of North Carolina at Chapel Hill is a bit harder than the other North Carolina schools. The school is looking for talented young people who can inspire each other, and only 23% of applicants are accepted each year. 
Historically, students with a GPA of 4.0 and higher have been accepted to the college. The school doesn't list any specific requirements that you need to meet, but it does state that it insists on building a team that can be stronger than the sum of its parts. Individual talent is important to achieve that goal. 
The admissions team reads every application the school receives to see which students to accept to build the strong team that they're looking for.
The University of North Carolina at Chapel Hill Application Fee
Since the University of North Carolina at Chapel Hill is a prestigious school, you can expect the application fee to be high. It's just under $100 and required before the admissions committee looks at your application. 
Since the application fees for most schools range between $20-$100, if you apply to multiple schools, the costs add up quickly. These fees often hinder prospective students from applying to multiple colleges, but most universities in the U.S. are dedicated to letting students get top-notch education regardless of their financial situation.   
What if You Can't Afford the Application Fee?
The University of North Carolina application fee can be waived if you can't afford to pay it. You can speak to your guidance counselor and seek their advice. The university also offers short-term loans for students who need emergency funding and don't have the resources available immediately. 
Applying For a Fee Waiver on Your Own
Each college has specific criteria that you have to meet to be eligible for an application fee waiver. You'll find the requirements on the website of the college that you want to apply to. To request a fee waiver at any school, you have to prove that you're in financial need by meeting at least one of the following requirements:
Criteria
Explanation

Your family meets the criteria according to the USDA Food and Nutrition Service

You're either eligible for or enrolled in a lunch program

Public Assistance

Your family receives:

housing assistance

nutrition assistance 

supplemental security income

Child care assistance

Foster Care

You're in foster care or live in federally subsidized housing

U.S. Army

You're a veteran or on active duty
If you had your fees waived for the SAT or ACT, you will automatically be eligible for a UCN application fee waiver. 
If you're not currently enrolled in school, you can request the UNC application fee waiver directly from the school's admissions office. You'll be required to submit tax reports and other financial documentation, and once the school receives your application, it will let you know where to send the forms.
If you don't fit any of the criteria mentioned above, you should still apply for an application fee waiver. Your financial situation might have changed recently, leaving you in need of financial assistance. 
Usually, a recent financial change is the passing or unemployment of a primary breadwinner in the family. The school will honor the application fee waiver if you show that you need it. 
The University of North Carolina at Chapel Hill Tuition Fees
It's no secret that college fees are pricey, and many people can't afford to attend a good school. The University of North Carolina assists students who show great potential but don't have the means to get a proper education. If you need assistance with the tuition fees, you can apply for financial aid such as:
FAFSA 

CSS 
You should apply for financial aid through the admissions office of the school. If you have exceptional grades or are outstanding in sports, you can apply for a scholarship. There are deadlines for each application, so make sure you get your applications in on time. 
Let DoNotPay Help With Your Application Fee Waivers
DoNotPay is the easiest way to apply for a college application fee waiver. You can request waivers from multiple colleges, and our app allows you to do it all in one place. If you need your guidance counselor to sign the application, DoNotPay can take care of that, too! 
Follow these easy steps to apply for your application fee waiver:
Open DoNotPay in your

web browser

Choose

College Application Fee Waiver

from the menu

Select which fee you would like to get waived

Choose the University of North Carolina at Chapel Hill as the college you're applying to 

Answer a few questions about your financial situation

Indicate if you'd like your counselor's signature on the application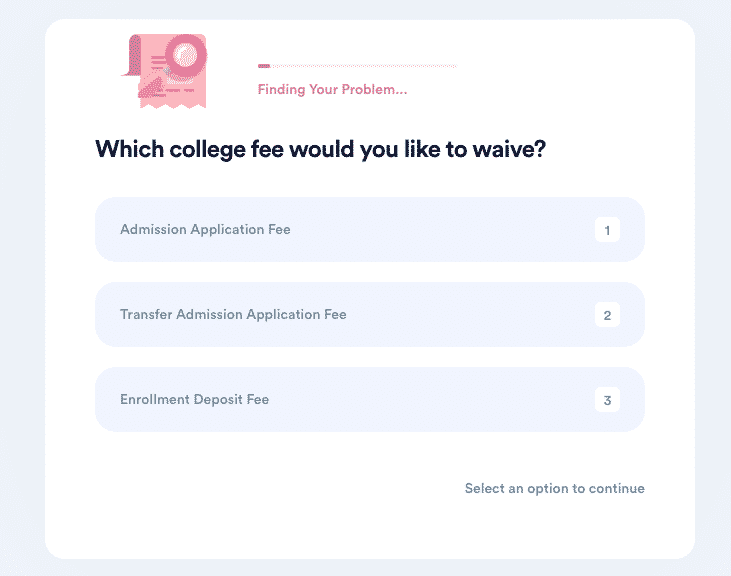 Due to the Covid-19 pandemic, many colleges have altered their terms and conditions for application. Most schools no longer require a signature from your guidance counselor. Make sure that you're aware of all the requirements before starting the application process. 
Some schools require application through the Common App, and we can assist you with the process. 
What Else Can DoNotPay Do For You?
We can help you get application fee waivers from different colleges, like the University of North Carolina State, Harvard, and the University of California. 
DoNotPay offers various features to make your life easier and to save you time and money. If you need help with your student loans, you can read some of the tips and tricks that DoNotPay offers. Your AI-powered virtual sidekick can help with other bills, like your utilities. 
Log on to DoNotPay in your web browser to get access to numerous features that make mundane chores easier. We successfully assist in:
Disputing traffic tickets

Contesting speeding tickets