Subaru CVT Warranty Extension
Explained
Subaru of America—or Subaru—is a U.S.-based vehicle distributor. It has over 600 dealers across the U.S.
Subaru faced a backlash from numerous owners regarding its continuously variable transmission (CVT). Issues included stalling, shuddering, and even the engine shutting off. While Subaru didn't face the problems head-on or issue a recall, its solution was to extend the CVT warranty.
Is the
Subaru CVT Transmission Warranty Extension
Subpar?
With its warranty extension, Subaru only has to deal with vehicles that exhibit CVT failures during the proclaimed warranty period. This means that even with a high chance of the CVT malfunctioning, Subaru won't fix it until it happens. Your car may not even be under the extended warranty when an issue occurs, in which case Subaru won't cover the cost of the repairs.
Here are the vehicles that have an extended warranty for their CVTs:
2010-2015 Legacy and Outback

2012-15 Impreza

2013-15 Crosstrek

2014-15 Crosstrek Hybrid

2014-15 Forester with 2.5-liter four-cylinder

2014-2015 Forester with turbocharged 2.0-liter four-cylinder

2015 Legacy and Outback with 3.6-liter V-6

2015 WRX 2.0
What Does the
Subaru CVT Extended Warranty
Cover?
Subaru extended CVT warranty covers the repairs and replacement of original CVT components under the extended warranty period, which was originally five years/60,000 miles. Check out what to expect if your CVT fails:
Subaru CVT Extended Warranty Covers
Subaru CVT Extended Warranty Doesn't Cover
Warranty Period

All CVT components, including:

Sensors

Switches

Torque converter

Control valve body harness

Remanufactured CVT assemblies

Rebuilt salvage vehicles

CVT components rebuilt by other companies than Subaru

Ten years/100,000 miles
How To File a
Subaru CVT Warranty
Claim
Subaru advises owners to file a CVT or a car warranty claim as soon as possible. You should do it for your safety and so that you don't surpass the warranty period. You can reach out to:
The authorized Subaru retailer where you purchased your vehicle

All authorized Subaru retailers in the U.S.

Any service facility if you need an emergency repair and an authorized service is not within 75 miles
If you go with option three, you may qualify for reimbursement if the cost isn't higher than Subaru's suggested price.
Here are all the methods to file a Subaru CVT extended warranty claim:
| | |
| --- | --- |
| Can You Claim Your Warranty With | Yes/No |
| DoNotPay | Yes |
| Email | No |
| Phone | Yes |
| Letter | No |
| In Person | Yes |
Submit a CVT Extended Warranty Claim Over the Phone
You can call a Subaru service to file a warranty claim and schedule a service appointment. To find the contact info for the service of your choice, do the following:
Visit Subaru's website

Click on

Your Location

in the upper part of your screen

Enter your ZIP code or tap on

Use My Current Location

Select a Subaru retailer

Call the listed phone number, explain your issue, and schedule an appointment
Submit a CVT Extended Warranty Claim in Person
When you find the contact info of a Subaru retailer in your area, you'll see its address and phone number. You can go to the service, file a warranty claim, and request or schedule a service.
Submit a
Subaru Transmission Extended Warranty
Claim Using DoNotPay
DoNotPay can help you file any warranty claim. You can claim home, manufacturer, product, or extended used-car warranties.
Click a few times, and we'll submit a warranty claim and schedule your appointment. Here's how it works:
Access DoNotPay from a

Select

Claim Warranty

Click

Car Warranty

Answer a few questions from our chatbot

Tap on

Submit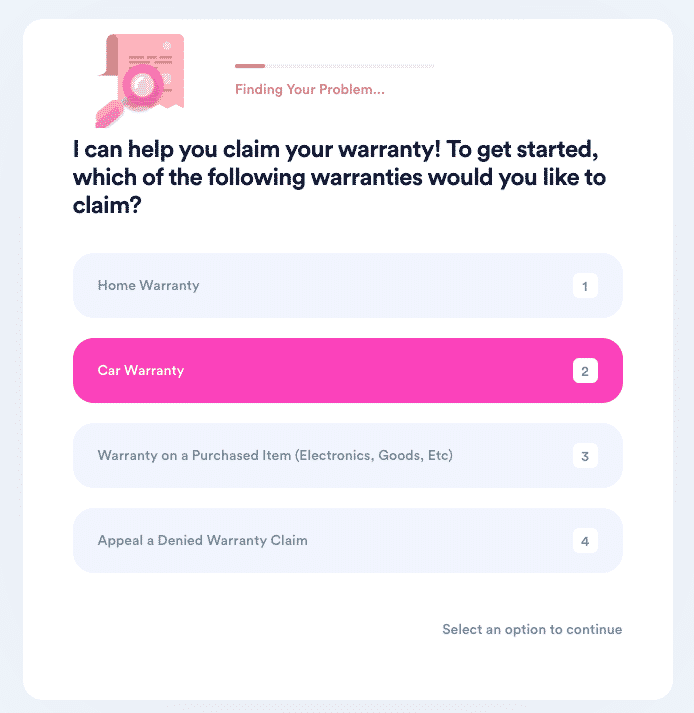 Did Subaru Deny Your Warranty Claim? You Can Appeal It With DoNotPay's Help!
Subaru might reject your CVT extended warranty claim. If this happens, you'll be prepared to fight back with DoNotPay's AI-powered technology.
Check out what you need to do:
Open DoNotPay in a

Choose the

Claim Warranty

feature

Hit

Appeal a Denied Warranty Claim

Enter the details about your original claim

Tap on

Submit
By combining the info you give us with the relevant warranty laws, we'll compose an outstanding appeal letter and send it to Subaru.
We can also be your sidekick if a dealer refuses to cancel your extended warranty.
Use DoNotPay To Solve Any Problem That Comes Your Way
DoNotPay is all about easy-breezy methods of resolving warranty issues. Even if you don't have one and you want to skim through home warranty reviews in search of home warranties in the U.S., we've got it covered!
DoNotPay can also be your go-to if you want to dispute parking tickets, get a Zipcar refund, or cancel Protect My Car.
Open DoNotPay in a , and discover other life-changing features, such as:
Contesting speeding tickets

Fighting traffic tickets