DoNotPay Shows You How To Contact the SLC Airport Lost and Found Office
Losing items before or after a flight is never a pleasant experience, especially if you don't know how to start your search. Lost and Found offices are usually the first places you should contact if you want to find your lost belongings. Our article will show you how you can contact the SLC Airport Lost and Found department and retrieve your items without an effort.
What To Do if You Lose an Item at the Salt Lake City International Airport?
Lost an item at the SLC Airport? If you already retraced your steps but didn't have any luck finding the item in question, you can try one of the following solutions:
Check the SLC Airport visual lost and found inventory
File a lost and found claim
Contact the SLC Airport Lost and Found office
Check the SLC Airport Visual Lost and Found Inventory
Head over to the SLC Airport Lost and Found page and check whether your missing belongings are listed among over one thousand unclaimed items. To browse through the vast amount of items more easily, you should:
Select an item category from the dropdown menu (e.g., keys, mobile devices, wallets, purses, and similar)
Search by the date when the incident occurred
Type in exactly what you've lost in the search bar
In case you find your missing item in the SLC Airport catalog, you will have to help the company's customer service representatives verify that the object is yours. To do so, click on Details under the item's image and answer some of the following questions:
When do you think you lost your item?
Where did you leave the item?
What is your contact phone number?
What is the passcode for the device? (if you lost an electronic device)
What is your name and email address?
Are there any serial numbers, engravings, or anything specific about the item?
File a Lost and Found Claim
If you can't find your item in the SLC Airport visual inventory, go to the company's Lost and Found claim webpage and:
Enter the date you were at the SLC Airport
Provide your contact phone number
Specify where you left the item
Describe your item in details
Enter your email address and your name
Hit Submit
Contact the SLC Airport Lost and Found Office
Don't want to bother filling out online forms or going through the virtual inventory to find your missing belongings? You can contact the SLC Airport customer support instead. Check out the table below for contact information:
| Phone Number | Email Address |
| --- | --- |
| 801-575-2427 | Airport.LostFound@slcgov.com |
Keep in mind that the SLC Airport Lost and Found office works from 8 a.m. to 4:30 p.m. during the weekdays. If you send an email, you should receive a response within 24 business hours.
How To Use DoNotPay and Reach Out to the SLC Airport Lost and Found Office Hassle-Free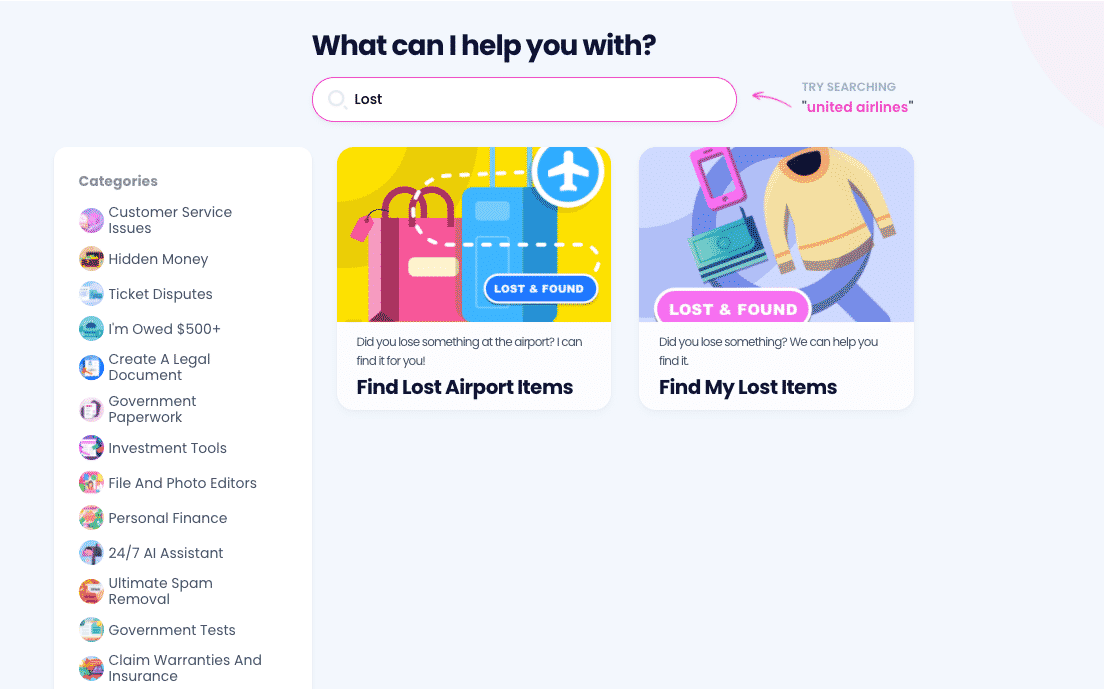 Reporting a missing item on time is crucial if you want to increase your chances of finding it. Talking to Lost and Found office representatives or filling out online forms can draw out your search—that's why you should use DoNotPay to ensure your search is as efficient as possible!
Our AI-powered app will contact the SLC Airport Lost and Found department for you and inquire about your missing belongings. Here's how it works:
Select our Find Lost Airport Items tool
Give us details about the incident (e.g., where and when you think you lost the item)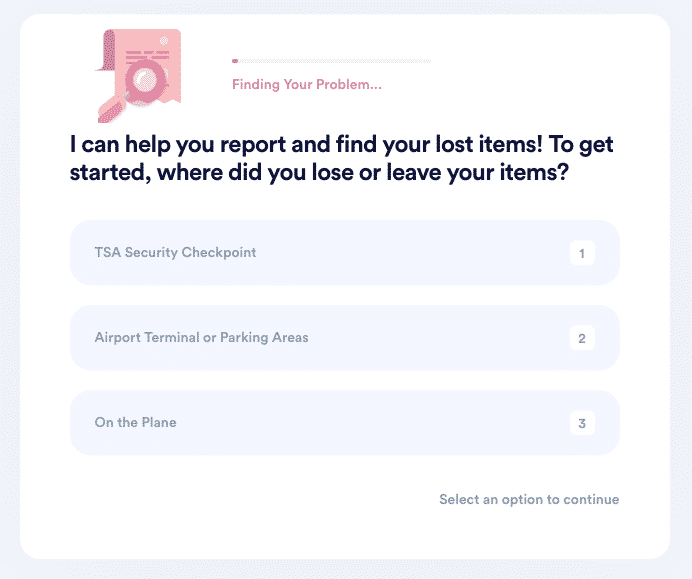 DoNotPay's help doesn't end here! We can also tell you how to track your lost luggage or help you get compensated for any delayed or canceled flights stress-free.
We Have Even More To Offer!
Find more information about the perks we offer in the table below:
Stay Safe by Relying on DoNotPay
One of the primary purposes of our app is to improve your safety. We help you stay secure and avoid incidents or privacy issues by:
Blocking:
Fighting against:
DoNotPay will also help you avoid unwanted personal info disclosure with single-use burner phone numbers. Our app can create a virtual credit card with a fake name and card details and prevent you from getting charged once your free trials expire!