How To Get Your RIT Application Fee Waiver Without Wasting Time
Rochester Institute of Technology (RIT) is a private research university located in the New York metropolitan area. It has around 19,047 students and offers both undergraduate and graduate programs. The RIT most popular majors are:
Engineering

Business Management and Related Support Services

Visual and Performing Arts

Computer and Information Sciences and Support Services
College fees and college application fees aren't cheap, which might discourage many students from applying to colleges. Don't let your financial situation stand in the way of your education—use DoNotPay's help to get a fee waiver from any college in the USA!
What Are College Application Fee Waivers?
Since universities require a college application fee, a student might end up spending a lot of money solely on their applications. The expenses might be challenging for some people, and it can stop them from applying.
Most colleges offer to waive application fees for students whose financial hardships stand in the way of education. To get a fee waiver, you need to be eligible according to the eligibility criteria set by the college in question. If the university allows applications through the Common App, you'll qualify for the fee waiver by the standards of the Common App.
In most cases, the college will require you to get a counselor's signature on your fee waiver request form. The signature will attest to your financial hardship and to the fact that you need a fee waiver.
How Much Does the RIT Application Fee Cost?
The application fee for the Rochester Institute of Technology is $65. The RIT application fee can be quite expensive for some students—especially if they're applying to multiple colleges. The good news is that RIT offers a fee waiver.
Are You Eligible for the RIT Application Fee Waiver?
When it comes to RIT, you must meet the Common App eligibility criteria to receive a fee waiver. The Common App eligibility criteria are that you:
Have a yearly income that meets the

USDA Food and Nutrition Service

eligibility criteria

Receive public assistance, together with your family

Have or are eligible to receive the

SAT

or

ACT fee waiver

Are eligible for or already receive the federal free or reduced-price lunch program (FRPL)

Are enrolled in any of the state, local, or federal programs that aid low-income families

Can obtain proof of your financial need from your high school counselor

Are homeless or live in public housing or foster home

Are an orphan or a ward of the state
How Can You Apply for RIT Fee Waivers?
You can apply for an RIT application fee waiver via:
The Common App

Alumni Fee Waiver

Yocket
How To Apply for a Fee Waiver Through the Common App
To use the Common App to get a fee waiver, follow the steps below:
Go to the Common App

application page

Create an account and sign in

Open your profile

Go to the Common App fee waiver section

Request a fee waiver
How To Get a Fee Waiver from an RIT Alumni
The Student Referral Form is available only to hard-of-hearing students or students with hearing loss. If you meet this criterion and know someone who is an alumnus of the Rochester Institute of Technology, you may be able to get a fee waiver with their help. There is a special form that you need to fill out to request the alumni application fee waiver.
You can find the Student Referral Form on the RIT website. Ask the alumnus to fill it out for you.
For other prospective students, the form for an alumni fee waiver is different.
How To Request a Fee Waiver on Yocket
Yocket is an application that helps foreign students apply to colleges in the U.S. You can get a fee waiver through Yocket. Go to the application page, and follow the required steps.
| | |
| --- | --- |
| Can You Apply for a Fee Waiver Via | Yes/No |
| DoNotPay | Yes |
| ACT/SAT Fee Waiver | No |
| School Visit | No |
| Common App | Yes |
| Alumni Fee Waiver | Yes |
| Yocket | Yes |
Avoid the RIT Application Fee With DoNotPay
DoNotPay can help you save some money—you can use our platform to get your overly expensive college application fees waived.
DoNotPay will give you a swift process to obtain a fee waiver because we'll do most of the work for you. We will fill out your fee waiver request form and mail it directly to the university's financial aid office. We can also send it to your high school counselor before we send it to your college if you want to obtain their signature.
There are three fee waivers DoNotPay can help you with:
New Student Fee Waiver

Transfer Student Fee Waiver

Enrollment Deposit Fee Waiver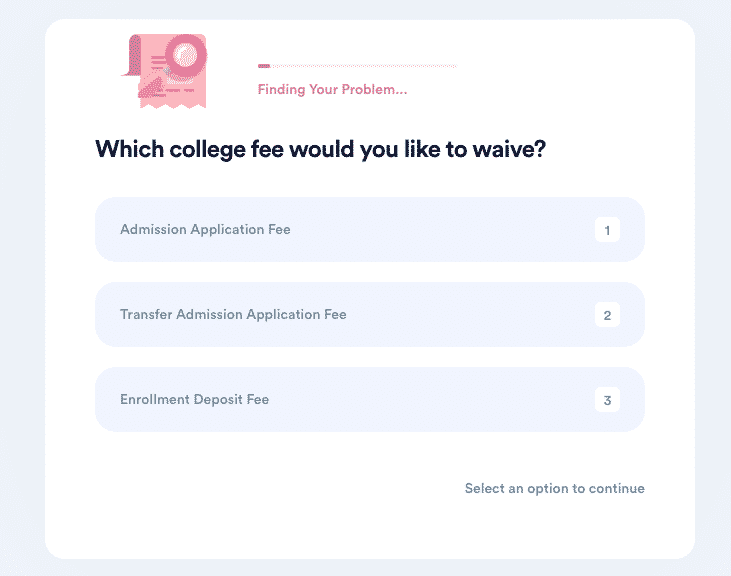 How To Get Your RIT Application Fee Waived With DoNotPay
Open DoNotPay in your to obtain a college application fee waiver from RIT. Follow the steps below to complete your request:
Open

College Application Fee Waiver

Choose one of three types of waivers

Type in

RIT

to let us know that's the college you're applying to, and provide information about your financial situation

Indicate if you need your counselor's signature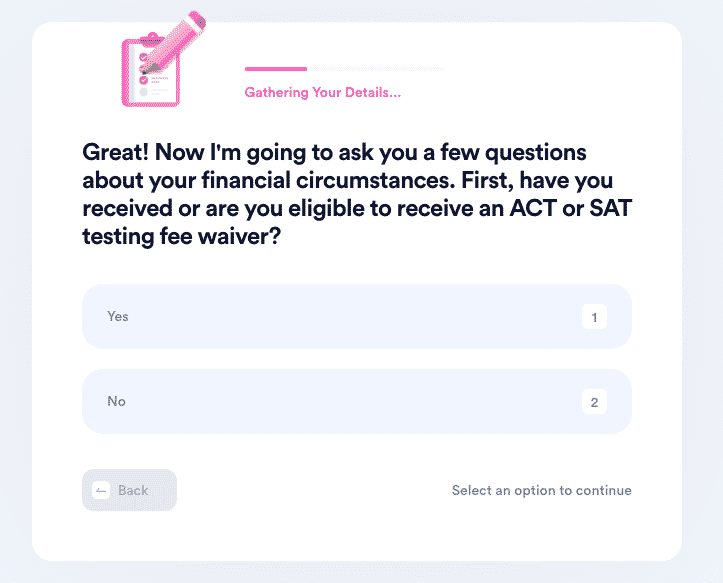 If you decide you want your high school official's signature, DoNotPay will send your fee waiver request to them first. After we obtain the signature, we'll forward your request form to the college of your choice.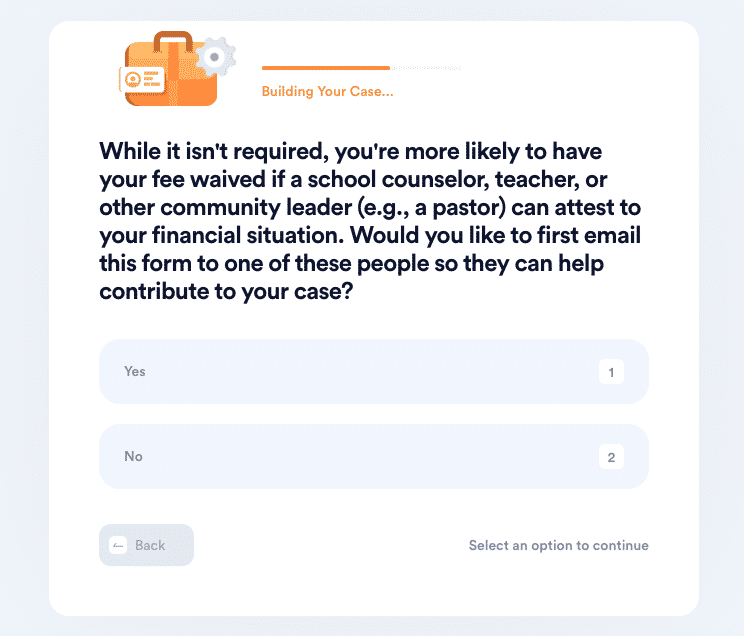 How Else Can DoNotPay Be of Service?
DoNotPay can help you get a fee waiver for various other colleges, such as NYU, CUNY, SUNY, Columbia, and many others. New students could always use some extra cash, and DoNotPay can help you find the best paid clinical trials in New York City.
If you are a resident of New York, we can help you claim any unclaimed money you may have under your name. You can also avoid NYC parking tickets with our app. If you need to renew your driver's license in New York or need to pass the DMV road test, DoNotPay can assist you.
Our platform enables you to cancel any subscription you can think of, like New York Life, New York Times, New York Daily News, New York Sports Club, and various other services.
DoNotPay can do much more—to find out what, open our app in your . We'll show you how to:
Avoid traffic fines

Fight speeding citations in any city