How To Locate
Unclaimed Money in NY
in a Few Steps
You could be the rightful owner of a substantial amount of money that is currently considered abandoned without even knowing it. We are talking about billions of dollars. Considering there were cases of people claiming millions of dollars, you should spare a few minutes of your time to check if you're the rightful owner of abandoned funds in New York. DoNotPay can help you!
Unclaimed Money in New York
—What Is It Exactly?
Unclaimed money represents funds that have been left without an owner for a certain period. This money is turned to the New York State Office of the State Comptroller. This institution serves as a custodian of the assets until the rightful owner or heir comes forth and claims them. 
There is more than 16 billion dollars of unclaimed money in the Empire State. Every day one million goes to rightful owners who have filed a claim. Maybe you are among them—use DoNotPay to find out!
Use DoNotPay To
Find Unclaimed Money in NY
Under Your Name

DoNotPay is the fastest way of finding unclaimed assets in any state, including New York. We offer the resources, simple instructions, and fast results. To find out if you have the right to claim the money in NY, follow these steps:
Open DoNotPay in a

web browser

Find and choose the

Missing Money

feature

Enter all the requested personal information

Include your middle name and previous addresses for a more detailed search
In case a match with your info pops up, we will send the claim in your stead.
DoNotPay also knows how looking for unclaimed money with a Social Security number works. If you want to know everything about the unclaimed insurance money or claiming funds from a deceased relative, you may turn to your virtual assistant for answers as well. 
We can also help you locate assets from old bank accounts, like Western Union, Wells Fargo, or Bank of America.
How To
Find Lost Money in New York
by Yourself

If you prefer complicating tasks more than necessary, you can opt to look for unclaimed money in New York on your own. You may do so in two ways:
How To Find Unclaimed Money in New York Online
You have the option of searching for unclaimed funds in NY online. These are the instructions you'll have to heed:
Go to the New York State Office of the State Comptroller's website

Find and open the

Search for Lost Money

page

Enter your first and last name

Click on the

Search

button
If any matches show up, you may file a claim.
How To Find Unclaimed Money in New York Over the Phone
This is an alternative way of looking for unclaimed money in New York. In case you do the online search and don't find your name anywhere, you can check again over the phone. If you are certain some funds belong to you, follow these steps:
Call the Office of Unclaimed Funds Communication Center at

1-800-221-9311

Explain the reason for calling to the rep

Provide them with all the necessary info

Follow any further instructions
Neither of these options—phone or online—provides a solution nearly as simple as the one you get with DoNotPay.
What Is the Required Documentation for Claiming Money in NY?
If you wish to file a claim successfully, you'll need to send the required documentation with it. The state of New York needs people to show proof of:
Current address

—driver's license, passport

Ownership

—bank books, stocks, or bonds

Name change

—marriage certificate, adoption papers, or court papers
How To File a Claim for
NYS Unclaimed Money
?
After you've done your search and found out you have the right to some funds, you'll need to file a claim. You may do so online on the New York State Office of the State Comptroller's website. Heed these directions:
Submit all the required documentation

Enter the

Claim Reference Number

Type in the

Confirmation Number

Follow further instructions
You can also submit a claim via mail. This is what you'll need to do:
Complete the

Mail Claim

form

Type in your full name and current address

Print the form

Sign the form

Have your signature notarized by a licensed notary public

Attach the necessary documentation

Send it to

Office of the State Comptroller, Office of Unclaimed Funds, 110 State Street, Albany, New York 12236
What Is Considered
Unclaimed Money in New York
?
In case you don't know what falls into the category of unclaimed money in New York, you should check out the table below to clarify your confusions:
Is It Considered Unclaimed Money in New York

?

Yes/No

Savings accounts and checking accounts

Yes

Uncashed checks

Yes

Telephone/utility deposits

Yes

Rental security deposits

Yes

Wages

Yes

Insurance benefits/policies

Yes

Safe deposit box contents

Yes

Mortgage insurance refunds

Yes

Stocks and dividends

Yes

Mutual funds

Yes

Trust funds

Yes

Estate proceeds

Yes

Cars and boats

No

Land

No 

Real estate

No
DoNotPay Is the Champion of Customer Advocacy

If you've never experienced an issue with a purchased item, you should consider yourself extremely lucky. When shopping goes wrong, you usually have to brace yourself for unpleasant and annoying exchanges with customer support centers. 
DoNotPay is here to make exercising your consumer rights easy. Long holds when calling customer service reps and incessant marketing spam emails can stay in the past. We will help you avoid irritating text messages from online retailers by teaching you how to bypass phone verification when signing up. 
Ask for refunds, claim warranties, fix credit card issues, or sue retailers in small claims court—these are just some of the services our platform provides. 
With DoNotPay, you can start free trials for new services risk-free. If you want to get out existing subscriptions, canceling them has never been easier!
Wait, There's More!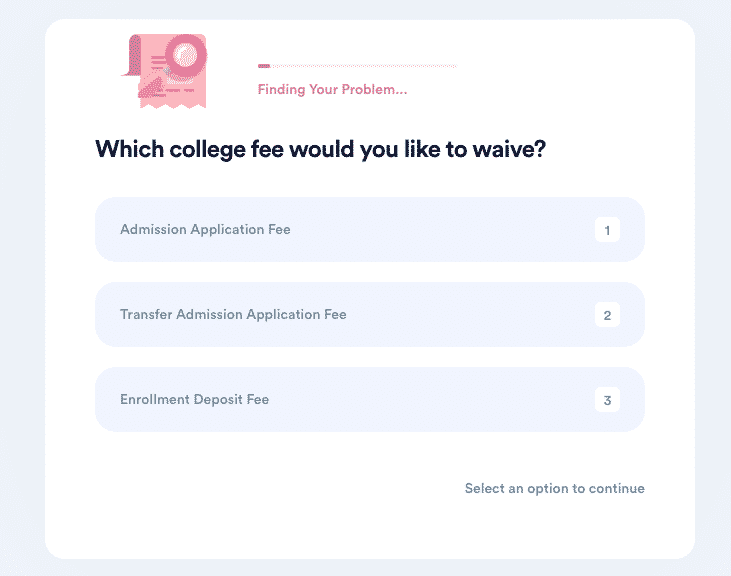 Our full portfolio includes features as diverse as contacting inmates and requesting college application fee waivers for students from low-income families. 
If you have a problem with bureaucracy, the chances are DoNotPay knows how to fix it with your minimal involvement. 
Leave the grunt work and unnecessary expenses behind. We will help you pass various government tests with flying colors, find unclaimed money in all states, or get out of parking tickets before you know it!