A Step-by-Step Guide to the Petco Return Policy—COVID-19 Edition
Did you get a faulty product from Petco and want to return it? We understand how hard it can be to return items during a pandemic. Read this easy-to-follow guide and learn all you need to know about the Petco return policy in times of COVID-19.
If you register for DoNotPay, we will make the process of returning the items you bought from Petco both quick and stress-free!
Everything You Need To Know About the Petco Return Policy During COVID-19
The only change to the Petco return policy during COVID-19 is the extended 80-day return deadline. Depending on your method of payment, the company will refund you with cash, a corporate check, or a gift card.
If you return your item without a receipt or after the 80-day deadline, Petco won't refund you with money. The company will provide you with in-store credit instead, which you can spend on their merchandise.
How To Return Your Products to Petco During COVID-19
You can return your item to any of the 1,500 Petco shop locations. As per the standard return policy, Petco requires you to have one of the following proofs of purchase:
Store return receipt
Purchase confirmation email
To return the item in person, follow these steps:
Go to the Petco website and use their Pet Store Locator
Visit your nearest store
Show an employee the receipt or the confirmation email along with your ID
You can also return the products you've bought in-store or online by shipping them by:
Finding your item's original container
Looking for the address on the packaging slip
Shipping off your item to that address
If you can't find the original packaging slip, you can ship off your item to the following address:
Petco.com
257 Prospect Plains Road, Ste. B
Cranbury, NJ 08512
Keep in mind that if you return your item in-store, you will get a refund immediately. Should you choose to ship it, you can expect your refund in 7–10 days.
Exceptions to the Standard Petco Return Policy
Not all products purchased at Petco can be returned according to the store's standard return policy. The exceptions include:
Prescription food
Pharmacy products
Cali Vinyl Pet Flooring
Pet animals
Each item is subject to different criteria. Check out the table below for more details:
| Item | Method |
| --- | --- |
| Prescription food | Ship to Petco.com distribution center |
| Pharmacy products | Non-returnable in store or by mail. Contact customer service at 1-877-738-6742 |
| Cali Vinyl Pet Flooring | Submit a request to Cali Vinyl at (888)788-2254 |
| Pet animals | Inform Petco Customer Service at 1-877-738-6742 |
If the Petco return policy seems too complicated, avoid the needless hassle and sign up for DoNotPay! Our app will create and send a professional return request letter in your stead!
Initiate a Return Request to Petco Problem-Free
Dealing with any company when returning an item is tiresome and stressful. You don't need to bother with the pesky Petco return policy during COVID-19.
DoNotPay will create a personalized return letter according to the information you provide and send it to Petco on your behalf. The letter will include a deadline during which the company is expected to process your request, as well as a shipping label allowing you to return your goods free of charge!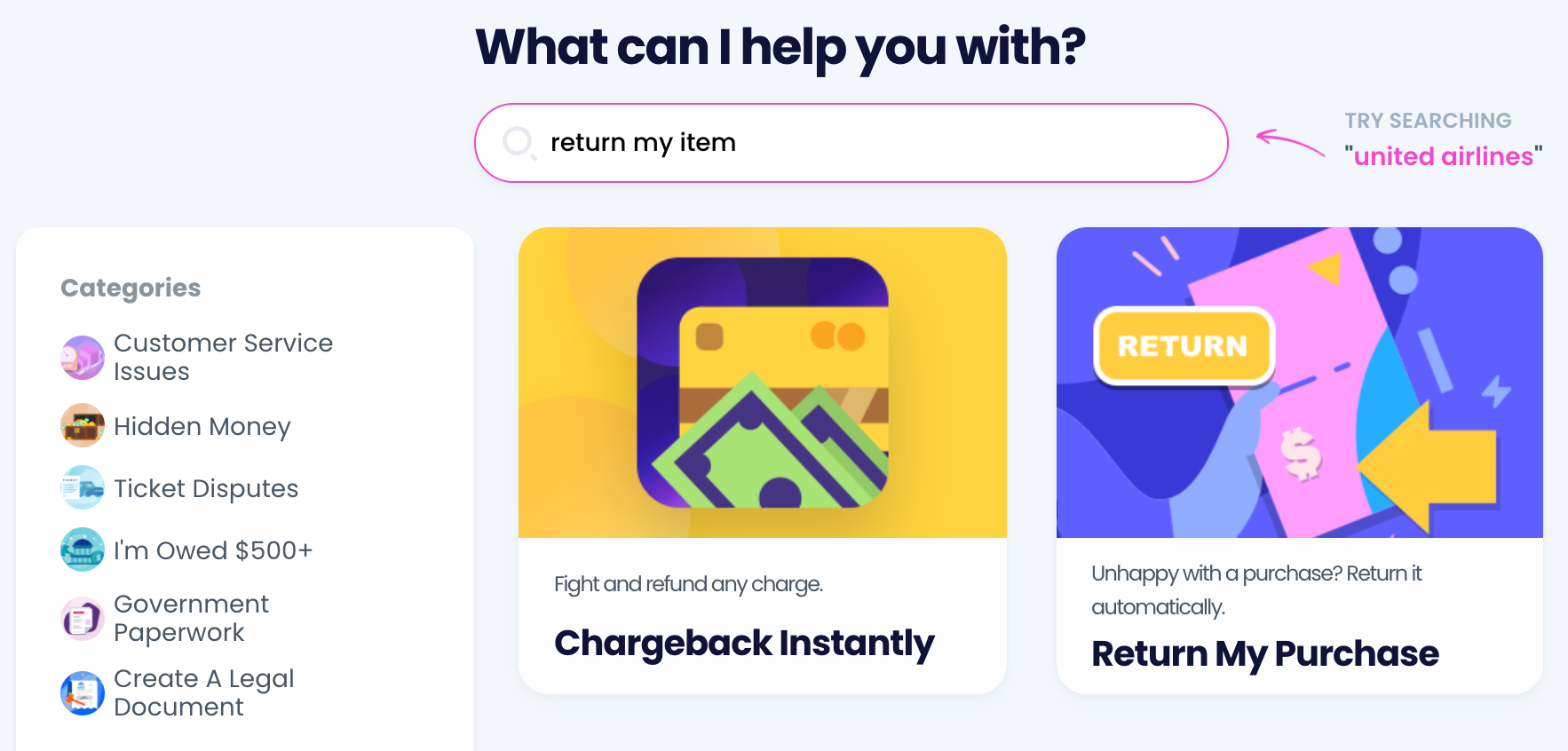 Here's what you have to do to return your items the simple way:
Choose the Return My Purchase product
Enter the specifics of your return request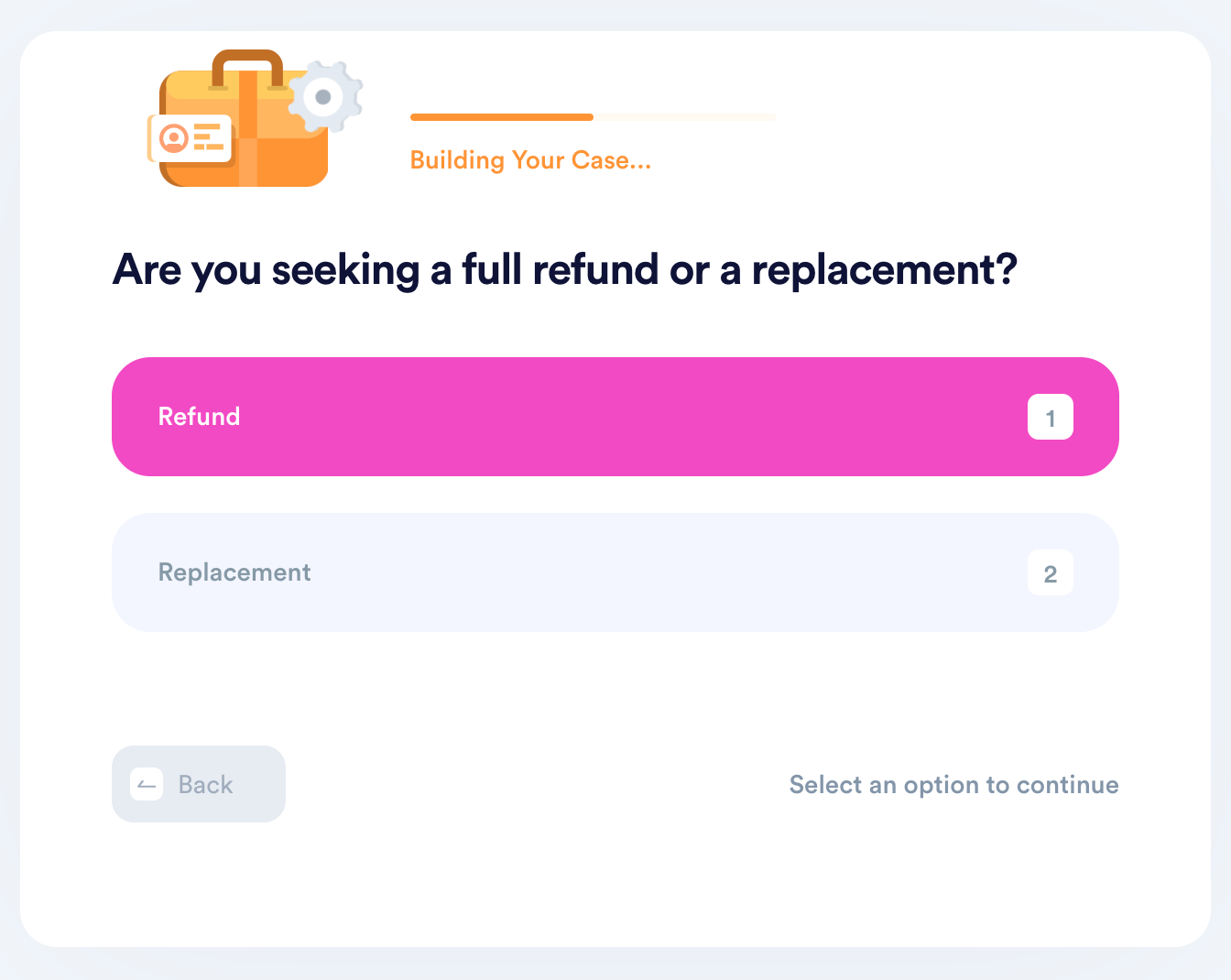 If you're dissatisfied with any other company's product and want to return it, this table contains some of the other companies DoNotPay can also help you with:
The Company Doesn't Want To Refund the Damaged Item? We'll Help You Get Money in Other Ways
If the company you're dealing with refuses to issue a refund, you can take it to small claims court with your personal robot lawyer assistant. We'll create any legal document you may need for the lawsuit, have it notarized remotely, and fax it to anyone you specify in our short questionnaire.
Is there anything else you'd like us to help you with? No problem—rely on our AI-powered products to save the day:
Our Array of AI-Driven Products Doesn't Stop There
You can count on DoNotPay to lend a helping hand no matter what kind of struggle you're dealing with. Need financial assistance? Check out how our app can lower your utility bills and property taxes, appeal your parking tickets, get you a refund from any company or airline, find your unclaimed money, get you free raffle tickets, check your gift card balance and turn it into cash, and so much more!
Dealing with a noisy neighbor or a creepy stalker? Report them using our app! Want to get a refund for a late or missing parcel? Say no more—we'll help you get what's rightfully yours in mere minutes.