Optima Red Top Battery Warranty Explained
Optima Batteries is an American company that manufactures batteries and chargers used mainly in the auto industry. Its portfolio includes famous Red Top batteries used in passenger vehicles and commercial and non-commercial light trucks.
What's Included in Optima Red Top Battery Warranty?
Optima Red Top battery warranty covers free replacement for batteries used in:
Passenger vehicles

Light trucks
The duration of the free replacement period depends on whether the battery was used for commercial or non-commercial purposes. Check out the overview in the table below.
| | |
| --- | --- |
| Type of Use | Duration of Free Replacement Period |
| Non-commercial | 36 months |
| Commercial use | 12 months |
The warranty doesn't cover defects that appeared as a result of the following:
Improper installation

Theft

Overcharging

Mishandling or negligence

Natural forces (lightning, wind, hail, etc.)

Opening or penetration of the battery
The free replacement excludes the costs of the following:
Labor for the removal and installation of the battery

Shipping

Applicable taxes
How To Claim Optima Red Top Battery Warranty via DoNotPay
If you're searching for a simple and fast way to file a claim under Optima's Red Top battery warranty, DoNotPay is for you. Our AI assistant can do most of the work, so you don't need to deal with tedious details.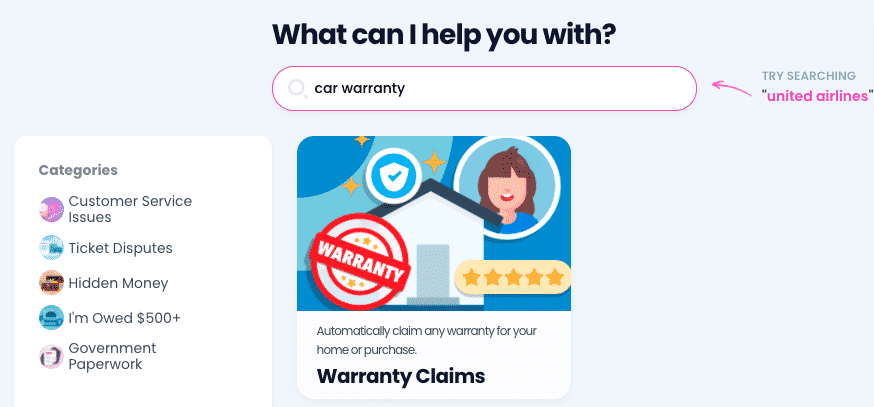 Here's what you need to do:
Open DoNotPay in your

Find the

Claim Warranty

feature

Select the

Warranty on a Purchased Item

option

Provide the required details

Click on

Submit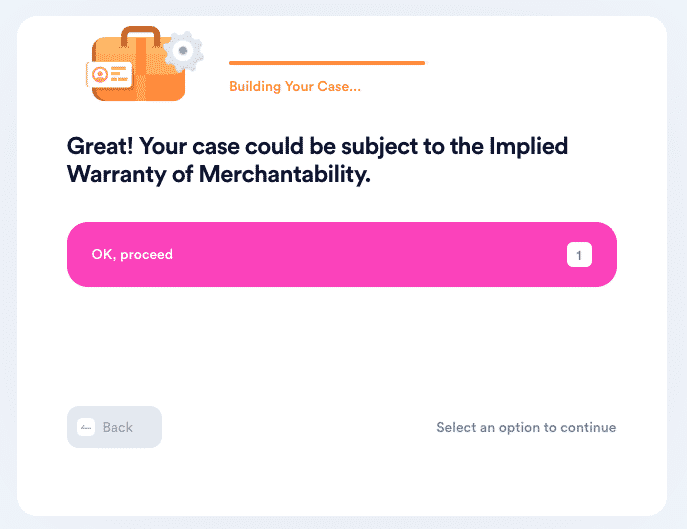 DoNotPay will automatically submit the warranty claim for you. The company should reach out to you directly with a follow-up regarding your claim.
Submit a Claim For Optima Red Top Battery Warranty on Your Own
The process of filing the Optima Red Top Battery warranty claim by yourself depends on whether you purchased the battery:
Directly from Optima

From an online reseller
| | |
| --- | --- |
| Warranty Claim Method | Accepted |
| Email | No |
| In-person | No |
| Phone | Yes |
| DoNotPay | Yes |
Filing a Warranty Claim Directly to Optima
If you bought your Red Top batteries directly from Optima, here's what you need to do:
Call 888-8OPTIMA to contact customer service

Check with a representative if the location of the nearest online sales service center is convenient for you

If the location of the nearest service center is convenient, take the battery and the purchase receipt to the service center
In case it's not convenient for you to take the battery to the service center on your own, you will have to send it in the following way:
Get the Return Goods Authorization Number (RGA) from the Optima customer service rep

Optima will send special packaging to your address and a call tag to pick up the battery

Send the battery in a package with a copy of the original purchase receipt to
OPTIMA Batteries, Inc.
5757 N. Green Bay Ave.
Milwaukee Wisconsin 53209
Filing a Warranty Claim With an Online Reseller
If you purchased the battery from an authorized online reseller, you have to contact them to check their policy and the details for filing a warranty claim.
Your Optima Red Top Battery Warranty Claim Was Denied. What Now?
Many companies tend to deny initial warranty claims. You shouldn't accept this as the final verdict, as it's possible to appeal a warranty claim rejection. The easiest way to do this is by using the world's first robot lawyer—DoNotPay.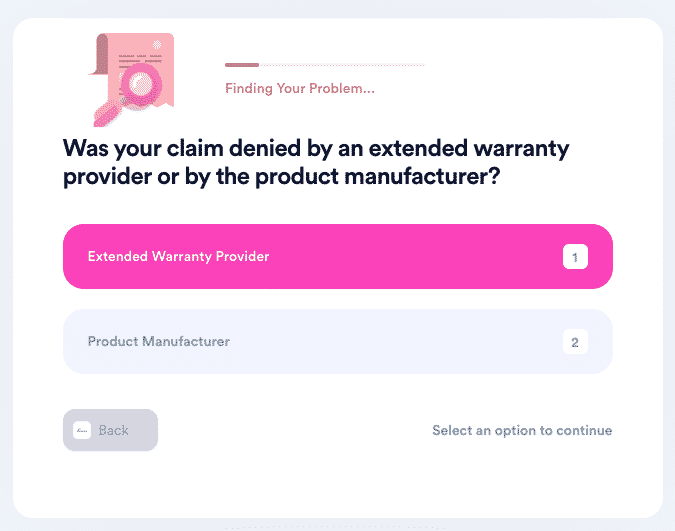 The process includes a few simple steps:
Open DoNotPay in your

Choose the

Claim Warranty

option

Select

Appeal a Denied Warranty Claim

Indicate that you're appealing against a product manufacturer's rejection

Provide details about Optima Batteries and your original warranty claim

Click

Submit
DoNotPay will send your appeal letter to Optima for you! The company should reach out to you directly as soon as possible.
DoNotPay Can Help You Resolve Many Other Issues
DoNotPay provides a simple and user-friendly way to file claims with many different companies. Having issues with your car? File a car warranty claim for your Audi, Toyota, BMW, Honda, Mercedes-Benz, Kia, and many more!
We deal with home warranties and provide warranty reviews from home warranties of America to extended warranties for used cars! If your car dealer refuses to cancel the extended warranty, we can help with that as well!
Open DoNotPay in your and look into numerous features that can make your life easier:
Fighting speeding tickets

Disputing traffic tickets