Notary Services and the Notary Statement in Florida Explained
A notary statement is one of the integral parts of a notarized document. Understanding a notary statement in Florida is the first step toward understanding a Florida notary's job. We'll answer all your questions and show you the ropes of finding a notary and notarizing documents with ease.
A Breakdown of Notarization
Before you learn about notary statements, you should get an idea of what notarization entails. The process of notarization requires a notary to:
Check the signer's ID and ask several questions to verify their identity

Make sure the signer is not forced to enter into an agreement

Establish everyone involved is of sound mind and that there are no signs of fraud

Witness the signing

Provide a notarial statement

Sign

and stamp the document
What Are
Florida Notary Statements
?
Notary statements validate a document's authenticity. They prove that a notary has verified a person's signature on a document.
The most common notary statement forms are:
Oaths—a confirmation that the contents of a document are truthful

Affidavits

—a voluntary declaration of the written facts

Certificates (e.g., jurats or

acknowledgments

)—a statement attesting a document's authenticity
What Is a
Florida Notary Acknowledgment?
A notary acknowledgment is a written statement verifying that the signers entered into an agreement willingly and that they understood it. Since 2020, notaries in Florida have to use a different certificate wording for acknowledgments. They have to include a statement saying whether they notarized a document in person or remotely.
Florida Notaries Public
The main purpose of notaries is to notarize documents. Notaries public in Florida can also take on other tasks, including:
Taking acknowledgments

Attesting to document copies

Administering oaths and affirmations

Performing wedding ceremonies

Verifying the contents of safe deposit boxes

Certifying vehicle identification numbers (VINs)
Regardless of which notarial act a notary is performing, they should always add their signature and seal.
How Much Do Florida Notaries Charge?
While Florida notaries can choose how much to charge for their notary services, the state of Florida imposes a fee cap. Check out the notary costs in the table below:
Notary Service

Maximum Fee

Oaths

Jurats

Protests

Acknowledgments

$10

Online notarization

$25

Wedding ceremonies

$30
A notary is allowed to charge extra for travel costs—especially if they are mobile notaries—but these costs are not considered notary fees. If a notary overcharges a client, they may face suspension.
Can FL Notaries Refuse To Provide Notary Services?
A notary's responsibility is to notarize a document, but in certain circumstances, they can and should refuse to perform a notarial act. In this case, a notary should explain why they cannot notarize a client's document.
A notary may reject notarization if the:
Signer is not present

Signer is a minor

Document is incomplete or has blank sections

Signer is intoxicated or mentally incapacitated

Signer doesn't have a valid ID or other acceptable identification

Document does not include a notary certificate or other type of statement

Notary notices signs of fraud or coercion

Signer refuses to pay the notary fees

Document is written in a foreign language unknown to the notary

Notary has a financial interest, or they're part of a transaction stipulated in the document
How To Notarize a Document in Florida
Before you search for a notary, you should know what types of notaries there are. While all types can notarize your document, how they do it differs. A notary can be a:
Regular in-person notary
Mobile notary

—visiting their clients to perform a notarization

Online notary

—notarizing documents remotely
Another type includes notary signing agents, which are certified notary publics, but they typically only deal with loans and loan documents.
Where To Find a Notary in Florida
The most convenient method of searching for notaries on your own is by using websites, such as 123Notary, Notary Public Stamps, American Society of Notaries, or Florida Department of State. You can also check whether certain facilities offer notary services in your area, including:
Credit unions

Money transfer stores

Tax preparation firms

Accountant offices

Law offices

Insurance agents

Police departments

Office supply stores

Courthouses

Public libraries

Real estate agents
Florida notary search doesn't have to be this tedious. You can rely on , and we'll match you with a notary within minutes!
DoNotPay—Online Notarization at Its Finest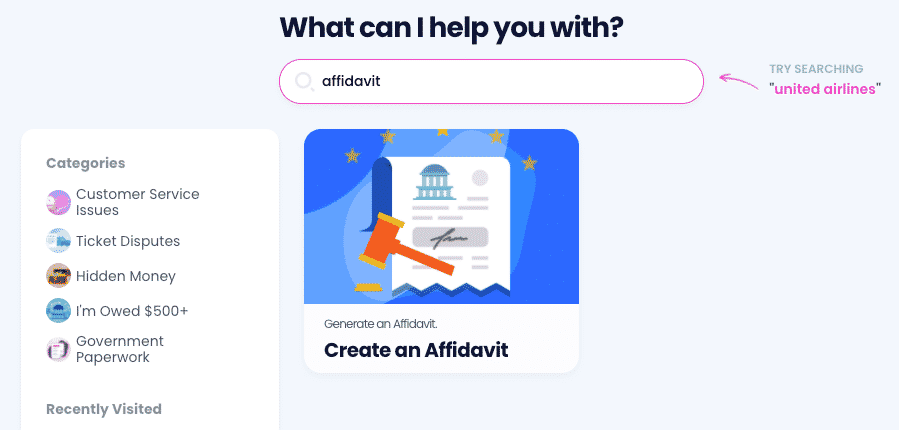 Thanks to our AI-powered app, notarization has never been easier. Not only will you be able to get a document notarized online, but we'll also find a Florida notary for you in a flash.
All you have to do is open DoNotPay in your and follow these instructions:
Select our

Notarize Any Document

feature

Upload a document ready for notarization

Enter your email address

Follow the link you receive via email
Aside from being convenient, DoNotPay is also an affordable and multifaceted app. You can notarize documents, draft and fax them, and use any of our features.
Use Our Robot Lawyer To Eliminate Pesky Tasks
Administrative tasks are often time-consuming, which is why many people give up on them before even trying to tackle them. Requesting refunds, canceling services, signing up for clinical trials, reporting stalkers and robocalls, and trying to find unclaimed money are all processes that would usually take a long time to resolve.
With the help of DoNotPay, though, all of these admin hurdles become a piece of cake. In just a few minutes, our app can assist you in appealing parking tickets, getting in touch with your imprisoned loved one, getting an extended warranty, reporting copyright infringement, and so much more!
Don't Break the Bank—Sign Up for DoNotPay!
Our app can save you lots of money by helping you get a refund from any airline, sign up for a free trial without your credit card info, earn off persistent and illegal spam emails, and get an application fee waiver for a college you apply to.
With DoNotPay, you can even schedule a DMV appointment or jump the phone queue when getting in touch with a customer service representative without breaking a sweat!