Find a Notary Public in Naples, FL, in a Few Steps
If you need to get a document notarized in Florida, you should learn about the notarization process in the Sunshine State. DoNotPay can inform you about the duties of a notary public in Naples, FL. Our app can also let you know how to deal with notarization the easiest way.
What Are the Duties of a Notary Public in Naples, FL?
Notaries in Naples have to make sure the notarization process is done according to Florida law. Take a look at the table below to see what duties notaries have:
Performing Notarial Acts
Ensuring There Is No Fraud

Administering oaths and affirmations

Performing a jurat

Taking acknowledgments

Certifying document copies

Performing a wedding ceremony

Verifying your identity

Ensuring you are of sound mind

Witnessing the signing of the document

Writing a notary statement

Making sure you are signing the document without coercion

Adding a

notary's signature
It is uncommon for public notaries to perform wedding ceremonies in the U.S. Besides Florida, the only two states where this is possible are Maine and South Carolina.
How Can You Find a Notary in Naples, FL?
You can search for a notary in Naples by using one of the popular platforms, such as:
An alternative way of finding a notary involves going through the yellow pages. You can also look for notaries public in banks, insurance agencies, tax preparation firms, or money transfer stores.
What Documents Should You Get Notarized?
You don't need to take all legal documents to the notary, but notarization is still a good way of increasing the legal weight of your agreements and contracts. You should definitely consider notarizing the following:
Business contracts

Consent forms

Loan documents

Trusts

Employment contracts

Real estate deeds
How Do You Get a Document Notarized in Naples, FL?
If you decide to visit a notary in Naples and get your document notarized the traditional way, you will need to follow this procedure:
Schedule an appointment

Prepare the necessary documents

Go to the notary's office
The issue with the current notarization process is that it is considered outdated. With new technology, we have options of handling certain procedures in a more convenient way. For this reason, mobile and online notaries exist.
Mobile Notarization Explained
Mobile notaries can be a good option for people who can't go to the notary's office. Sometimes this is due to a disability that prevents them from leaving the house, and other times the person may be in jail or a hospital. Some people don't want to spend time stuck in traffic.
In any case, the notary is the one who has to come to the client. The problem is that mobile notaries charge extra for their notary services. You will need to set aside from $20 to $40 for their travel expenses in Florida.
Online Notarization Explained
Online notarization lets you get a document notarized without any discomfort or inconvenience. You won't have to deal with traffic jams to visit a notary or pay for the mobile notaries' travel expenses. Each step of the process is handled virtually, even the signing of the documents.
If you choose online notarization, you are not only saving time and money but also protecting your health. With the COVID-19 global pandemic, it is best to avoid any unnecessary human contact. Online notarization lets you do just that. But how can you find a reliable online notary to notarize documents in Florida remotely?
DoNotPay Is the Fastest Way To Get Documents Notarized Online
You can use DoNotPay to find an online notary and deal with the task without trouble. Our app will make sure you get your documents notarized as fast as possible. To get access to this feature, you only need to follow a few simple steps:
in any web browser

Find and open the

Notarize Any Document

product

Attach the document you wish to get notarized

Enter your email address in the provided field

Wait for an email from us to confirm your appointment
DoNotPay can let you know how the notarization process works in other states as well. Read our guides about Arizona, Colorado, Washington, Pennsylvania, and many more to find out how to get a document notarized there.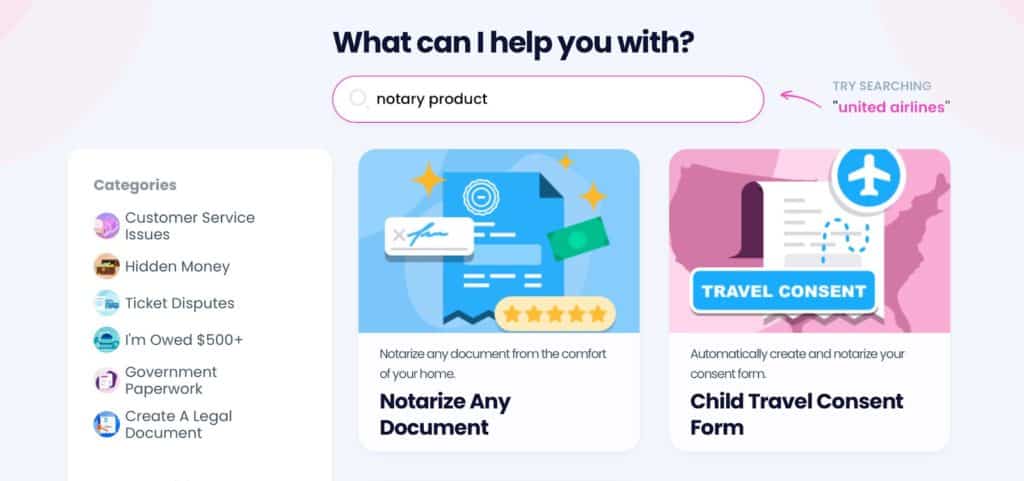 If you need to create a legal document before notarization, you can count on DoNotPay for assistance as well.
Making Legal Documents Is Easy With DoNotPay
The Standardized Legal Document product available in our app can help you create various agreements and contracts. can currently generate these documents:
Bill of Sale

General Affidavit

Parenting Plan (Child Custody Agreement)

Promissory Note

Prenuptial Agreement

Quitclaim Deed

Intent To Purchase Real Estate

Estoppel Certificate

Residential Lease Agreement

LLC Operating Agreement

Independent Contractor Agreement

Non-Disclosure Agreement

General Business Contract

Non-Compete Agreement
You can also learn more about forbearance agreements, partnership agreements, freelance artist contracts, horse lease agreements, and many more.
Explore DoNotPay's Products and Save Both Time and Money
Are you sick and tired of spending ages on the phone with customer support trying to get more info about how to return a faulty product and get a refund? Maybe you'd like to cancel memberships you don't use but can't find that unsubscribe button anywhere? DoNotPay can help you sort out all of these issues in a jiffy!
Contest parking tickets, claim your car warranty and insurance, schedule a meeting with the DMV, and handle your other problems through the same app on your tablet or smartphone.
Getting access to public records or drawing up various legal documents with DoNotPay is child's play.
That's Not All!
The first thing you'll notice when you open DoNotPay is that you can use our app for almost anything.
Do you wish to enter raffles or sweepstakes? Are you interested in applying for paid clinical trials and earning some cash? Would you like to send mail without going to the post office? You're in the right place!
We will help you feel safe while browsing the Internet by assisting you in blocking and reporting spam emails, suspicious text messages, and pesky robocalls.