Book an Online Meeting With a Notary Public in Mobile, AL, ASAP!
There are several ways to get documents notarized in Alabama, but choosing the most suitable one cuts down the required effort to a minimum. In case you are unable to go to the notary's office, one of the solutions is to have the notary come to your home or place of work. It isn't the only option, though.
Contrary to popular belief, you don't have to meet a notary public in Mobile, AL, to have your paperwork notarized— offers an easier solution!
Duties of a Notary Public in Mobile, AL
An Alabama notary is a public official that the state government appoints to detect and prevent potential fraud by witnessing the signing of documents and verifying the signers' identities. The Code of Alabama states that notaries public can perform the following notarial acts:
Administering oaths and affirmations

Taking

acknowledgments

and proofs of conveyances

Issuing protests

Exercising other notarial powers according to the state's laws
A notary public in Alabama is required to:
Make sure the signer is of sound mind and know what they're signing

Ensure the signer is signing the document willingly

Witness the signing

Create a notarial certificate that should include:

The signer's name

Date and place of the notarial act

Notary's seal and

signature
How High Are Notary Fees in Mobile, Alabama?
How much you'll have to pay to get documents notarized in Mobile depends on the notary service you choose. In 2012, the State of Alabama set a notary fee limit of $5 per notarized signature and each notarial act.
If you opt for the mobile notary service, you should prepare to pay more—mobile notaries can charge an additional fee to compensate for travel expenses. The state does not set limits on those types of fees.
Who Can Perform Notarization in Alabama?
Before choosing a notary public in Alabama, you should learn about all available options and opt for the most suitable one. Check the following table for clarification:
Notary Type

Explanation

Standard notary service

Getting your documents notarized the standard way includes

finding a notary

, setting up a meeting, going to the notary's office, and waiting for the notary to perform the notarization

Mobile notary service

When you're unable to go to the notary's office, a mobile notary public will come to your home, work, or other appointed location

Electronic notary service

If you have paperwork in electronic form, you can choose an electronic notary. eNotarization works on similar principles as standard notarization, except for the seal and signatures, which have to be in electronic form. For this type of notary service, you still have to go to the notary's office

Online notary service

With online notary services, you can arrange a virtual meeting with a notary and get documents notarized from afar by using audio-video communication tools.

Remote online notarization (RON)

is not approved in all the states—luckily, in Alabama, it is!

to schedule a meeting with an online notary hassle-free

Notary signing agents

A notary signing agent is a notary public who specializes in handling loan documents
DoNotPay Can Get You a Virtual Appointment With a Notary Public in Mobile, AL, in a Flash
Getting a document notarized—be it will, contract, affidavit, or another formal document—is not as complicated as it used to be, thanks to online notarization. The popularity of online notaries is increasing, and there are more and more online notary apps every day. How do you pick the one that is effective, easy to use, but is also budget-friendly? It's not impossible—DoNotPay offers all of that!
We created an online notary service that helps you find a notary and set up a virtual meeting with zero hassle.
Our Notarize Any Document service is super easy to use. from any web browser and follow these steps:
Locate the

Notarize Any Document

product

Upload the document that you have to get notarized

Type in your email address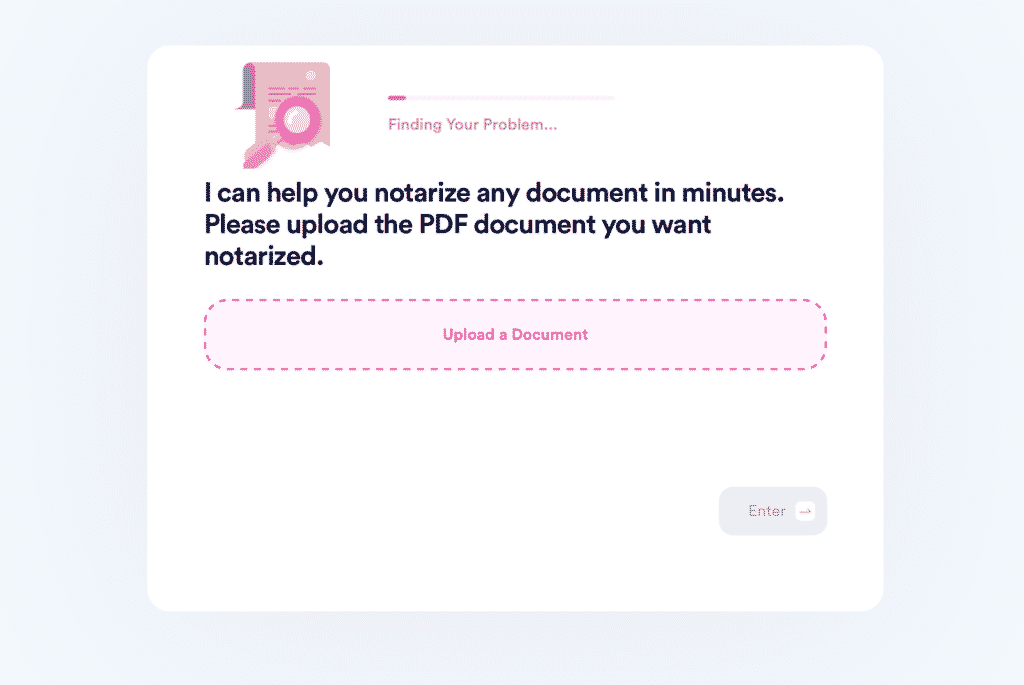 You will receive an email from DoNotPay that contains a link that you should follow to confirm the time and date of your virtual appointment with a notary.
Draft, Fax, and Get Documents Notarized in a Heartbeat With DoNotPay
We can all agree that dealing with paperwork is a nightmare! That's why we're trying to make it easier for you—we've integrated our products to help you with various paperwork-related issues in one place and for the same price.
With our Standardized Legal Documents tool, you can create contracts and other legal documents, such as:
Non-Disclosure Agreement

General Affidavit

Bill of Sale

LLC Operating Rules Document

General Business Contract

Non-Compete Agreement

Quitclaim Deed

Lease Agreement

Estoppel Certificate

Intent To Purchase Real Estate

Prenuptial Agreement

Promissory Note

Custody Agreement

Child Care Authorization Form

Independent Contractor Agreement
In case you need to send these or any other documents to your lawyer, business partner, or notary, you can use our practical Online Fax feature.
Your Online Safety Is Our Priority
The benefits of the internet are numerous, but so are the opportunities for scams of all kinds. DoNotPay can help you fight scammers left and right with easy-to-use features, highly customizable to match your needs.
Our app can provide invaluable resources for fighting:
If you're an avid online shopper, we have your back. In case something goes wrong, we will help you contact customer service without holding, request a refund, or even sue the company in small claims court.
Diversity Is Our Middle Name
DoNotPay doesn't stop at online safety. Do you need to set up an appointment at the local DMV, but keep procrastinating because you know how awful the lines are? Are you a prospective college student trying to save on application fees? Have you lost track of all unnecessary subscriptions and memberships that keep draining your bank account?
If the answer is yes, DoNotPay is the right platform for you. Whether you're preparing for government-issued tests or looking for ways to lower your bills, our app will be of assistance.