What To Do When You Need a Notary Public in Chesterfield, VA
If you need a notarized document, prepare for a difficult and time-consuming process, regardless of the state of residence. Dealing with paperwork and administration is never light and breezy, but what if we told you it doesn't have to be?
to use the notary service that can speed up the entire process and find you a notary in Chesterfield, VA, in a flash!
What Is a Notary Public in Chesterfield, VA, Authorized To Do?
A notary public in Virginia is a public official who acts as an unbiased witness when a person comes before—most often, to sign legal documents. The main responsibility of a notary public is to make sure that the signer is who they claim to be.
The following table shows what power a notary in Chesterfield has, according to the Code of Virginia:
A notary in Virginia can:
A notary in Virginia can not:

Take

acknowledgments

Administer oaths and affirmations

Perform verification of facts

Certify

affidavits

and depositions

Verify true copies of documents

Certify true copies of birth, death, and marriage certificates

Verify true copies of court issued documents

Perform marriage testimonies
Each notarial act has to include seven items of information:
Notarial statement

Date of the notarial act

Place of the notarial act

The expiration date of the notary's commission

Notary's registration number

Photographically reproducible notary seal
DoNotPay Can Find a Notary Public in Chesterfield, VA, for You in No Time!
How can I get a document notarized in Chesterfield, Virginia? With DoNotPay—in a breeze! Our online notary service connects you with a notary in a heartbeat and helps you set up an appointment with zero hassle.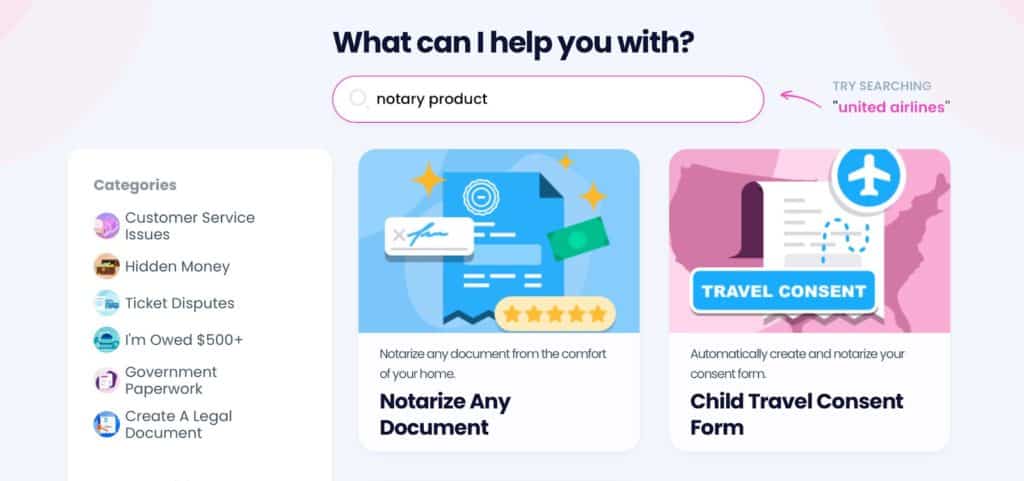 Forget about going to the notary's office—follow these steps to get paperwork notarized effortlessly:
Locate the

Notarize Any Document

feature

Upload the document you have to get notarized

Add your email address

Wait for the email from DoNotPay
You can confirm your appointment by following the link from the email.
Fight Administration With DoNotPay
We are aware of how everything paperwork-related can be tiring and tedious. That is why we have more useful features. You can use DoNotPay to create and deliver legal documents. Take a look at the documents our Standardized Legal Documents tool can help you draw up:
Once you finish creating your legal document, you can use our Online Fax service to send it to other parties or the notary—if the document needs notarization.
Can I Find a Notary Public in Chesterfield, VA, on My Own?
There are many ways to get paperwork notarized in Chesterfield, Virginia. You can do a basic Google search or visit some of these websites:
If that doesn't pan out, you can gather your documents and head out to one of the following places in Chesterfield:
Official Notary Services in Chesterfield, Virginia
The following notarization methods are legally approved by the Virginia laws:
Notaries in Chesterfield are allowed to perform mobile notary service, meaning they can go to the appointed location to perform notarial acts if the person cannot come to their office. Both traditional and electronic notaries are enabled to carry out this service.
How Much Do Chesterfield Notaries Charge?
By Virginia laws, notaries are not required to charge fees for notarial acts, but they can.
For each paper-based notarial act they perform, traditional notaries may charge up to $5. For every electronic notarial act performed, an electronic notary public can charge up to $25.
If the notary is required to travel to a location to perform notarial acts, they may request extra fees to cover travel expenses. If that is the case, the notary and signer should discuss and agree upon any additional fees beforehand.
DoNotPay Is a Time-Saving App
How many customer service reps do you have to deal with only to file an insurance claim or book your DMV appointment?
DoNotPay helps you sort out these tasks and much more in only a few clicks.
Get your revenge on robocallers, report text scammers, find validated clinical trials, claim your warranties, get in touch with your loved ones in prison, and protect your creative content—all in less than five minutes.
No more hours-long phone calls, emails, or in-person visits.
We cover everything from freeing your inbox from spam to providing excellent prep tests for government exams! Save time with your all-in-one app!
Keep Your Money Safe With DoNotPay
Don't let greedy companies threaten your consumer rights by holding back refunds, refusing to cancel your subscriptions, or charging you after your free trial ends.
DoNotPay helps you try out different services without providing your credit card info or phone number—you will never again have to deal with unexpected post free trial charges!
Our app also helps you avoid paying unnecessary parking tickets, delay challenging bills, or waive your college application fees.
If any company refuses to issue you a refund or an airline won't compensate for canceled flights, we can help you sue them in small claims court.