Skip Looking for a Notary Public in Cambridge, MA—Get a Document Notarized Online
If you need to have a document notarized, you look for a notary in the phone book, call to schedule an appointment, print your document, and bring it along with your ID to the notary's office.
This outdated method of getting notary services isn't the only option now. A notary can notarize electronic documents, come to you, and most conveniently, perform remote online notarization.
Follow our guide and find out why you don't need a notary public from Cambridge, MA, if you and book an online notary.
How Does Notarization Work?
Notarization is performed by a notary public who is an impartial witness attesting to the identity of the person signing a document. While notarization doesn't make a document legally valid since notaries aren't allowed to interpret a document or give advice, a document is sometimes only accepted as legitimate if it is notarized.
A notary can:
Certify a

copy

Take an

acknowledgment

Administer an oath or affirmation for an

affidavit

, for example

Take a verification on an oath or affirmation
The main purpose of notarizing a document is to deter fraud and coercion. Here's what the entire process typically entails:
Steps

Brief Description

Verifying the signer's identity

The notary checks the signer's ID card, passport, driver's license, or other government-issued photo ID

Checking the signer's willingness to sign the document

The signer needs to show that they understand the content of the document they're signing. The notary must ensure no one forced the signer to enter into an agreement

Establishing the signer is of sound mind

The signer cannot be under the influence, medicated or drunk, or mentally unstable

Witnessing the signing

The notary witnesses the signing of the document

Notarizing the document

The notary adds a

signature

and seal on the notary section of the document
Where Can I Find a
Notary
in
Cambridge
?
You can search for a notary online using Yelp or the Yellow Pages. You can also find a notary in the following places in Cambridge, MA:
Insurance agencies

Tax service offices

Real estate offices

Translation services

Law offices

Shipping centers

Travel agencies

Pharmacies
What Types of Notaries Are There?
Depending on the type of notary service they offer, there are different types of notaries, such as:
How High Are Notary Fees?
In Massachusetts, a notary cannot charge more than $1.25 per signature for a notarized document. Notaries can charge additional fees depending on the notarial act they're performing and whether they have any additional expenses, such as travel.
What To Expect From Remote Online Notarization
Due to the COVID-19 pandemic, Massachusetts temporarily allowed remote online notarization. Even if MA notaries lose this ability in the future, out-of-state notaries can help. Luckily, you don't have to worry about finding an online notary with DoNotPay by your side—we'll match you with one in a few clicks.
Here's what you need to know about online notarization in MA:
MA online notaries can use Zoom or Cisco Webex for the virtual appointments

"Wet ink" signatures on paper documents are required in MA, while most states allow electronic signatures

The notary must record the online notarization and keep the record for ten years

Both the MA notary and the signer need to be in MA

All documents that can be notarized in person can be notarized online

The notary and the signer need to see and hear each other at all times during the appointment
Schedule an Online Notary Appointment Using DoNotPay
Rely on DoNotPay so that you don't have to wonder about following the state notary regulations, searching for a notary on your own, and visiting a notary in person if you'd prefer to stay home.
All it takes is several clicks, and you'll book your online notary appointment.
and follow these steps:
Type in

Notarize Any Document

in the search field

Upload your document

Enter your email address
You'll get an email from us containing a link. By following this link, you'll choose the date and time of your appointment, schedule, and confirm it.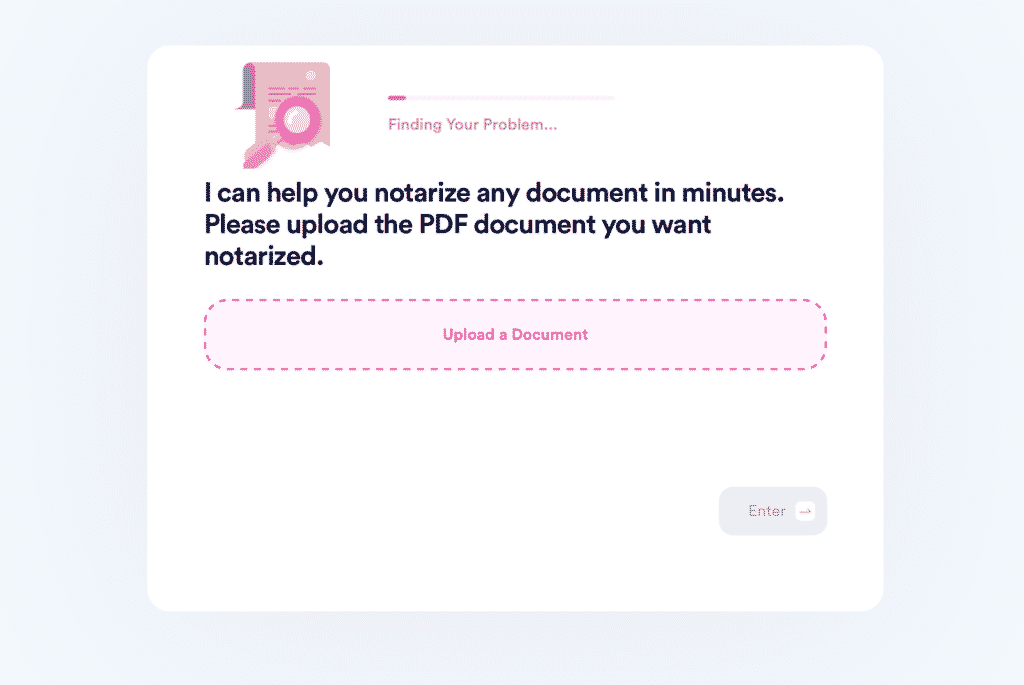 Use DoNotPay To Draft and Notarize Legal Documents
DoNotPay is so much more than a virtual assistant for notarizing documents. You can enjoy every feature at your disposal as a DoNotPay user. We integrate our products so that you can perform certain tasks in a matter of minutes using only one app.
One of the products we offer is Standardized Legal Documents, which allows you to generate numerous legal documents, such as:
Real estate documents

Residential

Lease Agreement

Quitclaim Deed

Intent To Purchase Real Estate

Estoppel Certificate

Business documents

LLC Operating Agreement

Bill of Sale

Non-Disclosure Agreement

General Business Contract

Non-Compete Agreement

Independent Contractor Agreement

Miscellaneous documents

Parenting Plan (Child Custody Agreement)

Child Care Authorization Form

Prenuptial Agreement

General Affidavit

Promissory Note
Use Our Robot Lawyer To Eliminate Pesky Tasks
Administrative tasks are often time-consuming, which is why many people give up on them before even trying to tackle them. Requesting refunds, canceling services, signing up for clinical trials, reporting stalkers and robocalls, and trying to find unclaimed money are all processes that would usually take a long time to resolve.
With the help of DoNotPay, though, all of these admin hurdles become a piece of cake. In just a few minutes, our app can assist you in appealing parking tickets, getting in touch with your imprisoned loved one, getting an extended warranty, reporting copyright infringement, and so much more!
Don't Break the Bank—Sign Up for DoNotPay!
Our app can save you lots of money by helping you get a refund from any airline, sign up for a free trial without your credit card info, earn off persistent and illegal spam emails, and get an application fee waiver for a college you apply to.
With DoNotPay, you can even schedule a DMV appointment or jump the phone queue when getting in touch with a customer service representative without breaking a sweat!