Stop Looking for a Notary Public in Augusta, GA—Try Online Notarization!
Remote online notarization (RON) is a temporary or permanent method of notarizing documents in nearly 30 states, and Georgia is among them.
If you need a notary's signature on a deed, affidavit, or other documents, paying a visit to a notary public in Augusta, GA, isn't necessary. to get documents notarized online!
What Is a Notary Public in Augusta, GA, in Charge Of?
An Augusta notary is a public official of the State of Georgia, whose job is to witness or attest signatures on documents and verify the identity of the person signing them.
Besides that, a notary public in Augusta, Georgia, is in charge of:
Taking:

Administering:

Making certified

copies

of documents
In-Person Notarization in Augusta, GA, Explained
Even though it's widely used, traditional notarization has many weaknesses. Finding a notary and scheduling an appointment seems to be the most troublesome parts for many people. Taking the time to go to the notary's office and fighting possibly bad traffic are not helping either. If you are considering getting documents notarized the standard way, you should check out the following table to see what it entails:
Steps
Details

Finding a notary

Websites like

Yelp

and

Yellow Pages

can help you look for a notary in your area. You can opt for more specific search platforms, such as

123notary.com

,

American Society of Notaries

, or

American Association of Notaries

.

Another option is visiting the following public places as they tend to offer notary services:

Police departments

Courthouses

Insurance companies

Law offices

City clerk offices

Public libraries

Accountant offices

Scheduling an appointment

Going to the notary's office without scheduling a meeting is a no-go. Make a phone call or send an email to set a date and time of your appointment, and make sure to come on time

Going to the notary's office

Collect the documents that need the notary's signature, pack an identification document, such as an ID, passport, or driver's license, and head out to the notary's office

Signing the document and waiting for the notary to perform the notarization

The notary will witness your signature and perform required notarial acts. They will also:

Verify your identity

Make sure you're aware of the document's content

Check for signs of coercion

Ensure you are mentally stable and not under the influence

Paying

notary fees

Most states set the limit on notary fees that applies to all the counties and cities. Find out what the fee for the notarial act you require is and pay it beforehand

Waiting for the notarial certificate

To complete the notarization, the notary will create a notarial certificate that usually includes:

Your name

Date and time of the notarial act

Notary's stamp

Notary's signature
The Perks of Online Notarization
Yes, you have to be personally present for notarization since it's the notary's job to witness your signature, but it doesn't mean you can't do it online. Remote online notarization enables the signers to appear before the notary by using the audio-video means of communication instead of being physically present.
With online notarization, you can forget about scheduling meetings and wasting time in waiting rooms. RON is especially useful during difficult times, such as the COVID-19 pandemic, which caused many states to allow RON in the first place.
Another aspect that makes online notarization better than the traditional one is working hours—most online notaries are available 24/7.
Not all online notary platforms are the same. For increased safety and convenience, find an online notary using DoNotPay!
Get Documents Notarized Online With DoNotPay's Assistance
When you need an easy, convenient, and budget-friendly way of dealing with bureaucracy, you should turn to DoNotPay for help! Notarization is no exception! Our Notarize Any Document product is an out-and-out champion among online notary platforms.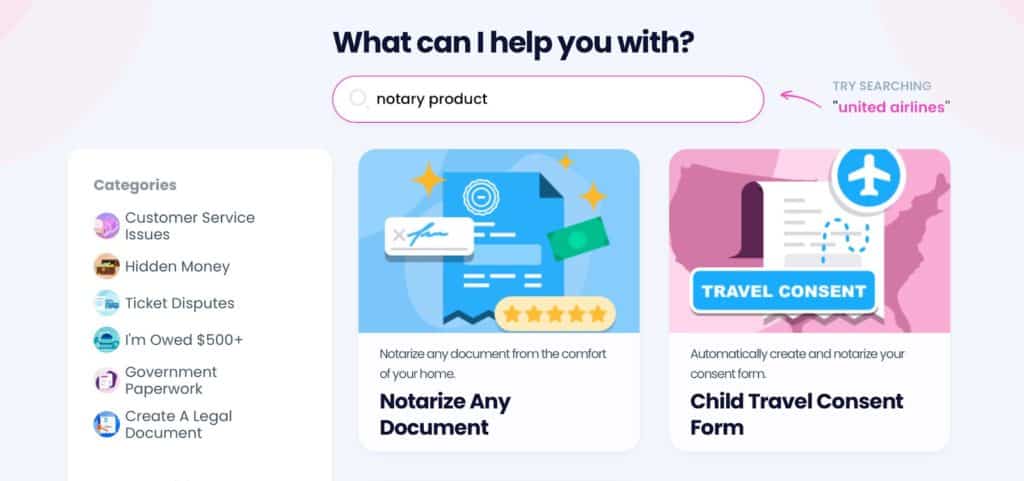 You don't have to be tech-savvy to use it since the process is as straightforward as it could be. Follow these steps to book a virtual appointment in seconds:
Click on the

Notarize Any Document

tool

Upload the document that needs to get notarized

Provide your email address
Once you complete these steps, we will send you an email with a link that you should follow to confirm your virtual meeting with the notary.
With DoNotPay, booking an online appointment with notaries is possible 24/7 all year. Another benefit of using DoNotPay for bureaucracy-related issues is that you can also draw up and fax your legal documents for the same subscription price!
How Else Can You Get Documents Notarized in Georgia?
Besides traditional and online notarization, you can use these notary services to get documents notarized in Augusta, Georgia:
Mobile notary

—When you are unable to go to the notary's office, a mobile notary public will come to your home or other location you agreed on. Because of travel expenses, these notaries charge more for notarization than others

Electronic notary

—Having electronic documents notarized is becoming more common, so most notaries perform eNotarization now. Electronic notarization requires you to meet up with a notary in person, but the signing is performed with electronic signatures
DoNotPay Is an Ultimate Money-Saving Assistant
Our app can help you manage bills that are too high to pay, but there are plenty of other money-saving possibilities out there we can help you with.
Want to challenge a parking ticket? DoNotPay can dispute parking citations in any city! Is someone getting revenue from your creative work? Cut the thieves off with DoNotPay!
We can also help you get your college application fees waived, file any insurance or warranty claims, locate unclaimed funds in your name, or earn some extra cash from paid clinical trials in your area.
No More Risky Free Trials With DoNotPay
Do you love free trials but tend to forget to cancel your subscription before the trial ends? If this is the case, check out DoNotPay's virtual credit card for a risk-free experience.
With our virtual credit card, you can sign up for any service without worrying about unwanted charges. DoNotPay will even provide you with a random email address, which will help keep your inbox clean from spammy emails from the company.
Our app can also get in touch with the company's customer service, request a refund from them, or even escalate your issue to small claims court if the company is challenging to communicate with.