Need a Notary in Palo Alto? DoNotPay Helps You Book One!
To get a legal document—such as a will, affidavit, or power of attorney—notarized in Palo Alto, you need to know your options. The notarization process doesn't have to take up a lot of time. DoNotPay will explain where to find a notary in Palo Alto and how to get any document notarized without trouble!
What Does the Notarization Process in Palo Alto Entail?
Notaries are public officials appointed to verify signatures on legal documents. Take a look at the table below for a more detailed description of the notarization process in Palo Alto, California:
How Notarization Works in California

Details

You make a personal appearance

The signer and the notary must be physically present during the document signing

The official reviews the document

The notary has to check whether the document:

Contains blank spaces

Includes information important for the journal entry, such as the document title

Has a proper signature date

Notary identifies the signer

The signer has to prove his or her identity by:

Showing a government-issued ID to the notary

Providing credible identifying witnesses

The notary will also ask a series of questions to determine the signer's mental state, awareness, and willingness to sign the document

Notary public makes a journal entry

The notary will complete the journal with information about the document and its notarization

Notary provides the notarial certificate

The certificate has to contain the signer's and

notary's signatures

and a notary seal
How Can I Get My Documents Notarized in Palo Alto?
You can get your documents notarized in Palo Alto by visiting a notary in your area. If you choose this method, you have to find a local notary service, schedule an appointment, and head to his or her office.
The problem with this traditional method is that most notaries public have busy schedules and work strictly during business hours. Waiting for days or weeks for an appointment can become an issue when you need to get a document notarized urgently.
Another downside of choosing a traditional, in-office notary is that if you fail to meet the requirements (forget your ID or sign the document in advance), you will have to repeat the process.
A more convenient option would be to hire a mobile notary. Mobile notaries have more flexible working hours. They will visit you at the agreed time and place and notarize your documents instantly. Bear in mind that mobile notaries charge for travel expenses in addition to the regular notarization fee.
Where Can I Find a
Notary Public in Palo Alto
?
You can google "notary in Palo Alto" or access one of the online databases. The notary search websites are handy because they contain notaries' contact information and, sometimes, even customer reviews.
Check out some of the most reliable websites for locating notaries in Palo Alto:
You can also contact local businesses and institutions. Take a look at the places that may have a notary on site:
AAA

stores

UPS

stores

Colleges and universities

Insurance agencies

Tax preparation firms

Libraries

Photocopy shops

Lawyer's offices
Is It Possible To Get Documents Notarized Online in Palo Alto?
California doesn't allow its notaries to perform online notarizations. The state recommends hiring mobile notary services during the pandemic instead. This doesn't mean you cannot book an appointment with an online notary.
You can find a notary from another state to notarize your document online. The out-of-state online notary will:
Meet you during a video call

Verify your identification documents online

Witness you e-signing the document

Provide an electronic signature and stamp

Make a recording of the session
Get Your Documents Notarized Online With DoNotPay
Online notarization is by far the most practical method of all. You can get your document notarized from the comfort of your home, saving time and money. DoNotPay facilitates the process by connecting you to an out-of-state online notary.
You only have to visit our app in a web browser and:
Find the

Notarize Any Document

product

Upload the document you want to get notarized

Enter your email address

Click on the link you get from us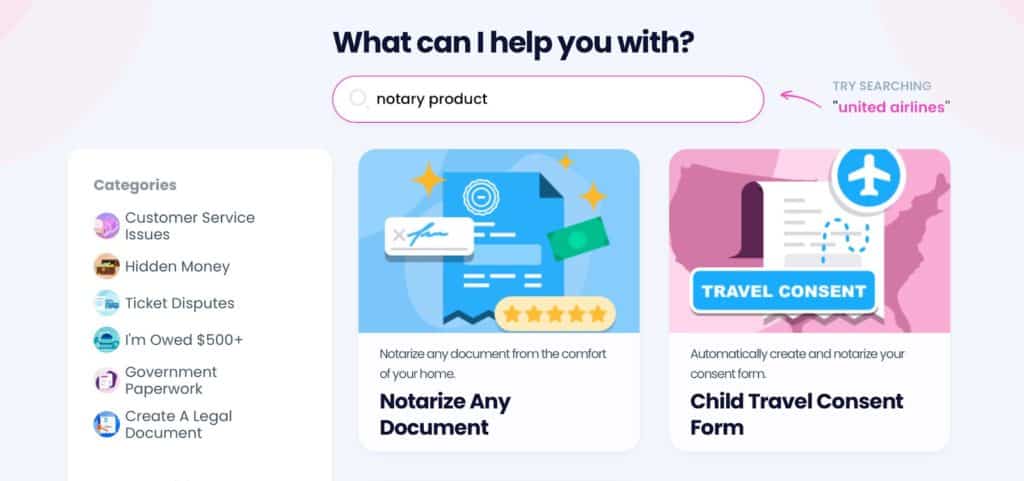 The link will take you to a webpage where you can schedule an appointment with the online notary at any time convenient for you. The notary will notarize your document on a video call and send it back in record time.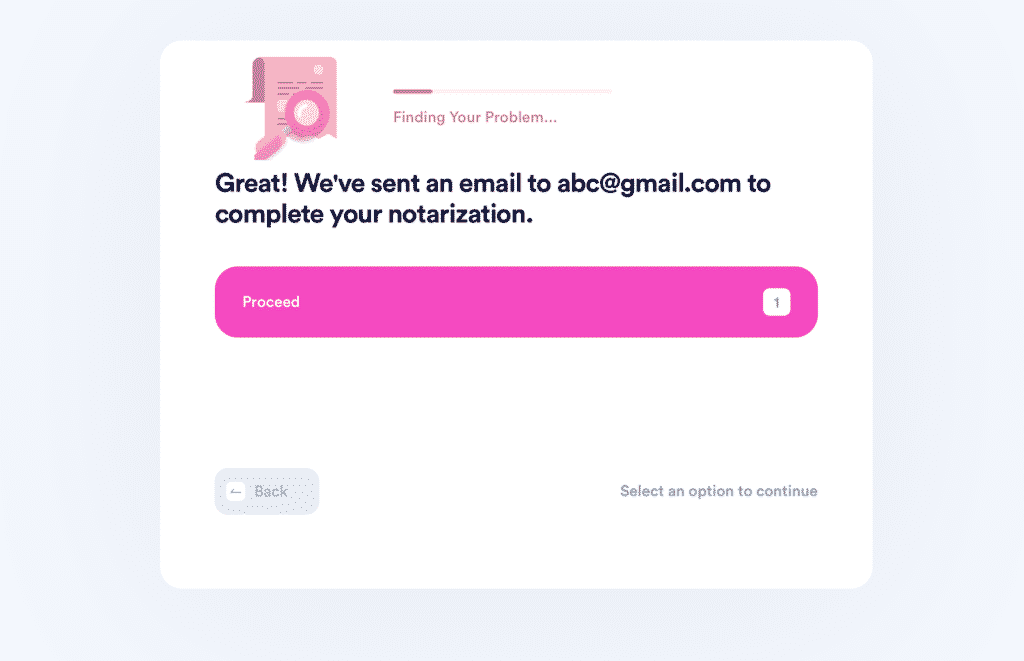 What Else Can DoNotPay Do for Me?
Our app has many additional perks. By subscribing to DoNotPay, you can:
Create various business, real estate, and other

legal documents

Notarize any contract or agreement

Fax

your docs to any recipient
Check out which documents DoNotPay can generate on your behalf:
Child custody

Independent contractor agreement

Quitclaim deed

LLC operating rules document

General business contract

Promissory note

Intent to purchase real estate

Bill of sale

Child care authorization form

Residential lease agreement

Estoppel certificate

Non-disclosure agreement

General affidavit

Prenuptial agreement

Non-compete agreement
DoNotPay Leads the Way Against Spammers
Browsing the internet has never been more popular than today, but you must not forget to keep your private and financial information safe. You know you can cancel any streaming service or magazine subscription easily, but that won't stop them from using your personal details for marketing purposes.
DoNotPay has a solution for that!
Is a company pestering you with incessant robocalls, spam emails and text messages? Use our Virtual Credit Card to catch them in the act and claim compensation for your troubles.
To prevent that from happening ever again, use our card to sign up for free trials—not only will you not pay a dime for the service, but you will be automatically unsubscribed as soon as the trials are up!
If you want to avoid revealing your personal phone number, we'll generate a temporary burner phone for you so the company won't have any way to reach you.
Already Been Scammed? DoNotPay Knows the Way!
If you've already made the mistake and divulged your personal info to the wrong party or experienced any other kind of crime or injustice, you don't have to sit tight and suffer the consequences. DoNotPay can assist you in taking anyone to small claims court!
We'll help you gather evidence—correspondence proving stalking or harassment took place, customer service call recordings, denied chargeback and refund claims, online fax transcripts, or proof of copyright violation. Then, we'll fill out the relevant legal documents for you and draft a court script that you can use in your hearing.