Reach Out to a Notary in Palmdale, CA, in a Trice
While many allow online notarization, California isn't one of them. If you live in Palmdale, CA, you can visit a local notary's office, hire a mobile notary, or find an out-of-state online notary to complete the notarization.
If you want to know more about hiring a notary in Palmdale, CA, DoNotPay has all the information. We will also explain the benefits of online notarization and help you make an appointment in a heartbeat!
Which Documents Can a Notary in Palmdale Notarize?
Notaries in Palmdale can notarize any document, contract, or agreement. While a notary's signature is not necessary to make a document legally valid, it adds to its legality. If contract signers end up in a legal dispute, a notarized document proves that:
The signers are who they claim they are

Signatures on the document are authentic

Signers were mentally stable during the signing and aware of the document's content
Some documents are not acceptable in courts, banks, etc., without the notary's signature. Documents that have to be notarized include:
Deeds

Mortgages

Trusts

Real estate transfers
What Can I Expect From a Notary in Palmdale?
Regardless of the method you choose, a notary has to fulfill their service according to the law. Skipping any of the required steps constitutes notary misconduct, which is punishable by law. To perform a lawful notarization, a notary in Palmdale will do the following:
Confirm your identity using one of two methods:

Asking for your ID

Checking the IDs of credible witnesses that are vouching for you

Determine your mental state and awareness by:

Asking open-ended questions

Observing your behavior and making a commonsense judgment

Check if the document:

Contains any blank spaces or missing pages

Has a notary certificate

Contains the name of the document

Has a signature date that coincides with the notarization date

Complete the notary journal with:

Date and time of the notarization

Type of ID used for identification

Signatures of involved parties

Fee

charged

Document and notarization type
If a notary finds that not all criteria have been met or that the signers exhibit suspicious behavior, they will refuse to notarize the document.
Where Can I Find a Notary Public in Palmdale?
Notaries public in Palmdale are fairly easy to locate. You can search for a notary in one of two ways:
Checking out local businesses, such as large

banks

,

UPS

stores, real estate agencies, or courthouses—They typically have an in-house notary, but you must call them first to confirm

Visiting one of notary search websites, including

Yelp

,

123notary.com

, or

American Association of Notaries

—You have to type in your location and adjust the filters to access the notaries' contact information
Different Notarization Methods in Palmdale Explained
If you are uncertain about which notarization method to choose, check out the table below for a more detailed description of each:
Traditional Notary
Mobile Notary
Out-of-State Online Notary

To obtain the

services

of a regular notary, you must:

Schedule an appointment

Collect the documents and bring an ID

Visit the notary at the agreed time

Complete the process in his or her office

Hiring a mobile notary requires you to:

Book an appointment

Meet with the mobile notary at a suitable place, including:

Your home

Hotel

Office

Somewhere outdoors

Have the document notarized at the agreed location

If you want to get documents notarized by an out-of-state online notary, you should:

Set up a meeting

Meet with the notary on a video call at the agreed time

E-sign the document

Have the document notarized with an electronic signature and stamp
Regular notaries are often overbooked and rarely work outside of standard business hours. You will likely have trouble setting up an appointment. If you make any mistake, such as sign the document in advance, you will have to repeat the whole ordeal.
Mobile notaries have a more flexible schedule and often work on weekends. Since they will travel to meet with you anywhere, you can expect them to charge you heavily for it. California doesn't put caps on mobile notaries' travel fees, so you may end up paying a considerable sum.
Out-of-state online notary services allow you to schedule an appointment at any time since they are available 24/7. You won't have to jeopardize your health during the COVID-19 pandemic or pay for mobile notary's travel expenses. All you need is an internet connection, a digital device, and to set you up with an appointment!
DoNotPay Offers a Hassle-Free Notarization
DoNotPay can help you connect with an online notary promptly. Get the document and your ID ready, , and take these simple steps:
Find our

Notarize Any Document

product

Upload the document

Check your inbox
You will find a link from us. Follow the link to a webpage where you can confirm the appointment with an online notary. The rest is easy—meet with the online notary at the agreed time and get the document notarized.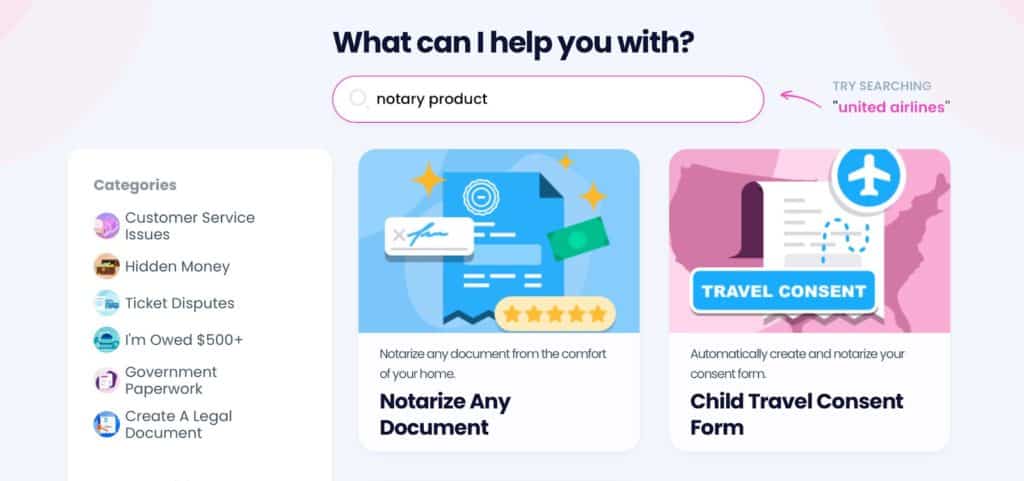 You are more than welcome to use other benefits of subscribing to our app. Access our other useful products, such as the:
Standardized Legal Documents

tool— helping you

create personalized contracts

and agreements

Online Fax

product—enabling you to send the document without using a fax machine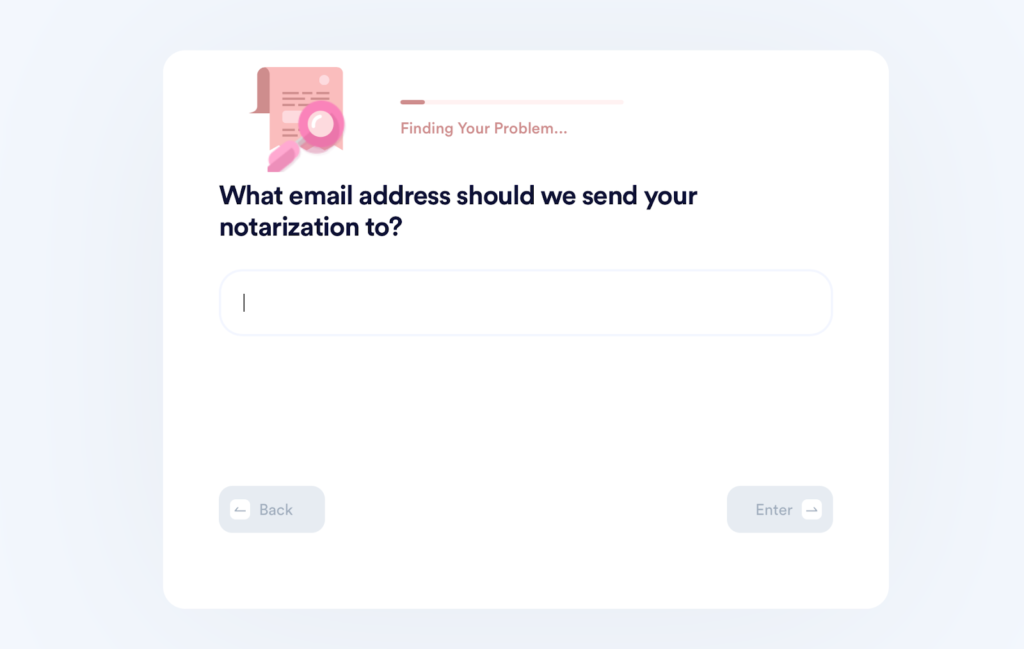 Let DoNoPay Help You With Your Paperwork
Why waste time on bureaucracy if you can rely on DoNotPay to handle pesky tasks for you? Cancel all your subscriptions at once, find unclaimed funds in a matter of minutes, appeal parking tickets hassle-free, and discover the best way to get your documents notarized remotely.
In case you need help paying bills or you want to earn some money by participating in paid clinical trials, DoNotPay is here to help you out!
Fighting workplace discrimination is of utmost importance, but the entire procedure seems rather complicated. The same goes for the crime victims compensation application in most states. DoNotPay is here to change that. We will help you file a report, request compensation, and create numerous other documents, including demand letters for neighbor complaints.
Keep Your Online Safety in Check!
While internet safety should be one of your top priorities, staying anonymous while surfing the web is almost impossible. If you want to avoid giving out your number when registering for services, you should try out our Burner Phone product.
DoNotPay can also protect your credit card info, name, and email address, all through our handy virtual credit card. Sign up for free trials without worrying about unexpected charges.
With our app, you will learn how to deal with stalkers and harassers and how to access public records the easy way.
DoNotPay offers many other useful products that can help you prepare for government tests, have your college fees waived, and manage any annoying issue in minutes.