Should You Look for a Notary in Manhattan Beach?
A notary in Manhattan Beach can notarize documents strictly in person, which leaves you with limited options.
For those not thrilled with this concept, there is an alternative in the form of out-of-state online notary services. In this article, we will explain what constitutes notarization under California law and why getting your documents notarized online is the best choice!
What Does the Notarization Process Involve?
Notaries public have a crucial role during the signing of legal documents. Their job is to verify the signatures on contracts and other documents and vouch for their authenticity.
Every state has its rules regarding notarization. In California, a secretary of state oversees the licensing of notaries and determines requirements for the documents.
During the notarization process, notaries have to:
Check your ID

—You have to prove your identity as a signer

Assess your mental state

—A person mustn't be intoxicated, unaware of the document's content, or coerced into signing. If a notary suspects any of that, he or she should refuse to notarize the document

Revise the document

—Notaries must decline to notarize a document containing blank spaces or missing pages. You should check for any irregularities before taking the document to the notary

Witness the signing

—You must sign the document in the notary's presence. If you

sign it beforehand

, the notary may refuse to notarize or ask you to sign it again

Notarize the document

—A notary completes the process with a

signature

and stamp if everything is in order

Make an entry in the notary journal

—Notaries in California have to keep a journal of every notarization. The entry must specify the date and time of the notarization, ID used for identification, type of notarized document, the fee charged, and signatures of involved parties
What Are Notaries in Manhattan Beach Authorized To Do?
Besides notarizing wills, affidavits, powers of attorney, and other legal documents, notaries in Manhattan Beach can:
Take

acknowledgments

Administer oaths

Certify

copies

Protest notes or bills of exchange

Take depositions and statutory declarations

Provide notices of foreign drafts
How Much Do Notaries in Manhattan Beach Charge?
California law has put a cap on how much state notaries can charge. Take a look at the maximum fees for some of notaries' public standard services in the table below:
| | |
| --- | --- |
| Notary Public's Services | Maximum Fees |
| Taking an acknowledgment, proof of a deed, or any other instrument | $15 for each signature, including the seal and writing of the certificate |
| Executing a jurat | $15 for each signature, including the seal |
| Certifying a power of attorney | $15 for each copy |
| Taking a deposition | $30 for each deposition |
Why Is In-Person Notarization in Manhattan Beach Impractical?
The traditional method of getting your documents notarized in Manhattan Beach, CA, is time-consuming and outdated. You have to find a local notary, schedule an appointment, and head down to the notary's public office yourself.
Notaries public can often be found in banks, UPS stores, AAA offices, and tax preparation firms. They operate during standard business hours and are typically overbooked. That means that you will have to wait for days or even weeks for an opening. If you don't bring an ID, forget to check the document for blank spaces, or make any other mistake, you will likely have to repeat the process.
Another way is to hire a mobile notary to visit you. They are available on the weekends and can accommodate your schedule. The downside is the price. On top of the notarization fee, they charge for travel expenses. Since California doesn't put a cap on mobile notaries' travel fees, you could end up paying a significant amount.
Why Is Hiring an Out-of-State Online Notary the Best Option?
Hiring an online notary is the most efficient way to get any document notarized. Online notarization is not only practical but also more secure. Take a look at some of the greatest advantages of online notarization:
Being able to schedule an appointment at any time convenient for you

Meeting the notary on a video call via any digital device

Completing the notarization in record time

Finishing the whole process from the comfort of your home

Ensuring the maximum protection of your document by getting it notarized with an encrypted electronic signature, stamp, and seal
If online notarization sounds appealing, ! We can help you connect to an out-of-state online notary with a few simple clicks!
How Can DoNotPay Connect Me to an Out-of-State Online Notary?
and skip the tedious in-person notarization! All you have to do to get your document notarized online with DoNotPay is:
Find the

Notarize Any Document

product

Upload the contract you'd like to get notarized

Enter your email address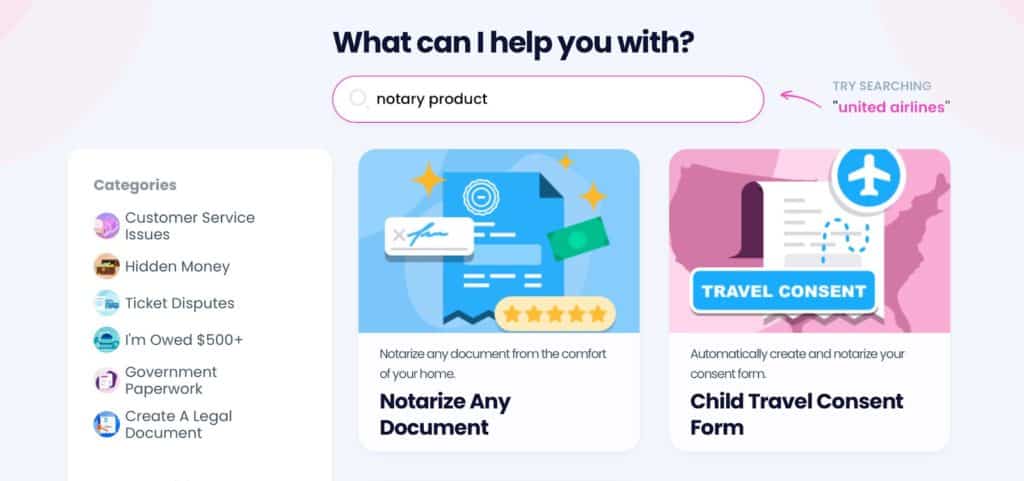 After you receive a link from us, click on it and confirm the appointment with the out-of-state online notary. Next, you will have a chance to:
Meet with the out-of-state online notary on a video call

Prove your identity online

E-sign the document

Download and print the document after the notary completes the notarization process
Learn About DoNotPay's Awesome Products!
DoNotPay is a multifunctional app that can solve numerous everyday challenges swiftly.
You can use our app to protect your work from copyright violations, schedule your driving exam or any other appointment with the DMV, reduce your property taxes in a few steps, and similar.
We have created many useful products to help our users take care of their issues through the same app. With us, you can:
DoNotPay Connects You With Your Loved Ones
Sending letters to inmates can be difficult since you have to follow certain rules to a T to avoid having your letter rejected. The situation is even more complicated if you don't know where your incarcerated loved one serves time. DoNotPay's app can help you locate prisoners and correspond with them without worrying whether you're breaking any rules.
Do you want to send a letter, but you don't feel like heading over to a post office? By using our mailing service, you can mail as many letters as you want from the comfort of your home. With DoNotPay, you can also send online faxes in under five minutes!
Email and text spam is something that everyone experiences at least once in their lives. DoNotPay has a solution for that too. Access your DoNotPay account and count on us to help you block spam and get compensation by reporting pesky robocalls.