Do You Need a Notary in Hammond, LA? DoNotPay Will Help You Find Them!
Drawing up legal documents for any minor or major change in your life is a norm of our modern-day society, but this requirement is far from convenient.
For example, you may not be sure how to notarize documents or where to find good notary services. You don't have to worry, though—DoNotPay has your back!
In this article, you'll find out where to go to get a notary signature on your document in Hammond, LA, and how to schedule a meeting with a notary quickly!
How To Know Whether You Need a Notary
You should go to a notary if you need your documents to be legally enforceable because notarized documents are authentic and valid. A notary public isn't just someone who puts their seal and signature on a paper. They verify several aspects of the signing process, which you can find in the table below:
What Notaries Verify

Identity

A notarized document is a proof that you signed it, making it legally binding

Authority

A signer who isn't authorized to sign the document won't get a notary's signature on it

Understanding

A notary inspects whether you have the full understanding of what the document is and what its effects are

Legal capacity

Your age and state of mind play a factor in your legal capacity to sign the document. When a notary sees you are of age and sound mental state, they will certify the document you sign
There are a lot of documents that require notarization these days. The following are only some of the most common ones that aren't legally binding if they don't have a notary's seal and signature on them:
Powers of attorney

Deeds

Sale or purchase of property documents

Business contracts

Immigration or emigration papers

Trusts

Study abroad qualifications

Consent forms
How To Get Your Documents Notarized
The traditional way of getting your documents notarized is by:
Finding a notary office near you

Contacting the notary to set up a meeting

Showing up in person with your documents and proof of identification

Standing by while the notary certifies your documents
Many find fault with this way of getting something notarized because it takes too much time.
One of the alternatives is employing a mobile notary to come to your home or workplace to notarize your documents. This option isn't perfect either since the notary public will charge additional notary costs for their travel expenses.
By far, the best way to notarize documents is through remote online notarization.
Notary Services in Hammond, Louisiana
Many companies and institutions offer notary services, including:
Here are the addresses and contact information of some of the notary services within or near Hammond, LA:
Notary Service
Contact Information
Address

The UPS Store

(985) 902-1711

1905 W Thomas St Ste D, Hammond, LA 70401

Louisiana Notary Public LLC

(985) 222-0817

700 E Morris Ave, Hammond, LA 70403

Renee Beech Smith, Mobile Notary Public

(985) 966-2277

3656 W. Loyola Drive

Kenner, LA 70065

Angel Roe, Mobile Notary Public

(985) 320-6293

42204 Yokum Road

Ponchatoula, LA 70454

Bice Notary Services

(985) 345-7890

620 N Morrison Blvd # 1, Hammond, LA 70401

John Pino, Mobile Notary Public

(985) 602-6845

Available Upon Request

Hammond, LA 70403
All the notaries listed in the table that aren't within Hammond are mobile notaries, so they can meet with you in Hammond. Some of them even work 24/7, but you would have to contact the notaries to get specific information.
How Much Do Notaries in Hammond, Louisiana, Charge?
The majority of states in the U.S. determine the maximum price notaries public can charge customers. Louisiana isn't among them, though. Notarial acts in Hammond, LA, can cost any amount the notaries see fit to charge for their services.
Do You Need To Be Present in Front of a Notary in Hammond, LA?
Many wonder whether they can get something notarized without being present. Since the notary public authenticates your signature on the document, you have to be present for the signing part.
This doesn't mean you should waste time and energy walking or driving to notaries' offices each time you need to notarize a document for your business or personal life. The state of Louisiana allows notaries public to perform their services over a video call. You only need to have an internet connection and a device with a working camera and microphone to get the job done without leaving your house.
If you're not sure how to get a virtual meeting with a notary, DoNotPay is here for you! When you , we can get you an appointment in a jiffy!
Set Up a Virtual Meeting With a Notary With the Help of DoNotPay!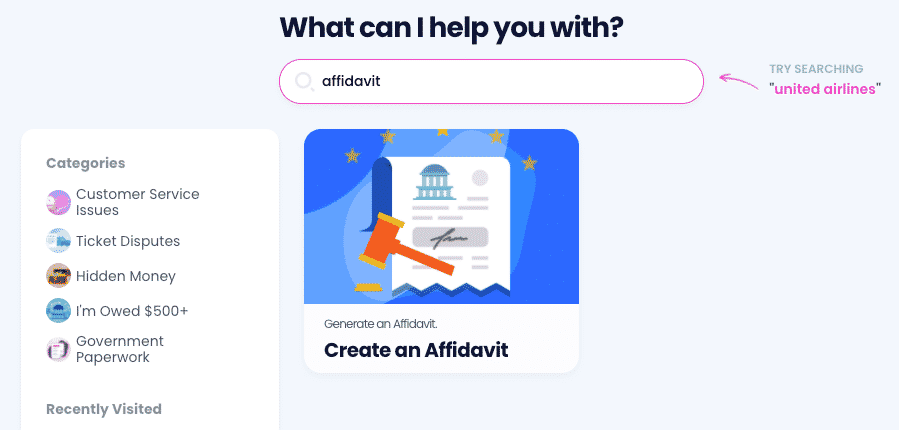 Getting an online appointment with a notary through DoNotPay takes only a few steps! Here's what to do:
Find the

Notarize Any Document

product

Upload your document

Type in your email address

Find the email DoNotPay sends you to set up your notary meeting
Outsmart Scammers With DoNotPay
Are you troubled every time you think about subscribing to a service because you fear your personal information will leak and your privacy will become invaded?
There's no need to fret anymore as DoNotPay has come up with a way to shield you from hackers, scammers, and identity thieves alike.
Check out how you can use DoNotPay and browse the internet care-free:
Open DoNotPay in your web browser

Locate our

Virtual Credit Card

generator

Use the made-up card number to sign up for any

free trial

Move forward to our

Burner Phone

product

Use the temporary phone number to verify any online account

Enjoy the trial without worrying about

canceling it

—the service will do it on its own
Signing up for services with DoNotPay's hacks frees you from ever falling victim to a serious crime, such as identity theft, and liberates you from the bothersome and never-ending spam calls, texts, and emails that you never explicitly agreed to receive.
What Else Is Hot About DoNotPay?
DoNotPay does wonders in protecting your online privacy, but it can do so much more for you!
With our assistance, you can claim compensation for canceled or delayed flights, request refunds and chargebacks for unsatisfactory purchases, file warranty claims for defective products, and even overturn unjust parking tickets!
Our app can locate unclaimed funds that exist under your name, the best clinical trials for your needs, and public records that you couldn't identify on your own.