Here's How To Find a Notary in Cupertino Without Hassle
Notarizing documents is a frequent but dull part of a contemporary lifestyle. Whether you need to notarize an affidavit, a bill of sale, or a consent form for child travel, you will need to do it by taking your document and your ID to a notary public.
You can find no shortage of notary services in Cupertino, California—but which ones are actually worth employing?
DoNotPay can help you filter through the many notaries in Cupertino to find the one nearest to you and show you how to set up a meeting with a notary in no time!
What Kind of Notarial Acts Do Notaries Perform?
Notaries public offer a lot of services to their customers. When it comes to authenticating legal documents, a notary's main job is to:
Verify the identity of the signer using an identification document, such as a passport, a driver's license, or a government-issued ID

Check whether the signer understands the contents of the document as well as its effects

Determine that the signer is of age and sound mental state to sign the document
When a notary public confirms all three of the above, they will put their seal and signature on your document, making it legally binding.
Documents that individuals and business people most often deal with are:
Trusts

Deeds

Business transactions

Loan documents

Real estate purchase and sale contracts
Besides notarizing any of these documents, notaries can also administer oaths and acknowledgments.
Why Won't a Notary Notarize My Document?
If a notary public doesn't want to put their seal or signature on your documents, you may have:
Left blanks in your contract

Failed to bring a witness to the signing when it was necessary to do so

Forgotten your identification documents

Failed to notice your ID had expired
Even though the act may seem tedious, you have to take going to a notary office seriously. If you forget to bring your ID or the document you want to notarize, you will have to schedule another appointment. Since you probably need your documents notarized sooner rather than later, it's clear why this is a hindrance.
How To Notarize Documents in Cupertino, CA
Unfortunately, California is one of the states that still doesn't allow its notaries public to offer online notary services to their customers. While some of the states allow remote notarization temporarily due to the COVID-19 pandemic, California is not among them.
Here's how you can notarize documents in Cupertino, CA, for now:
How To Get Documents Notarized in Cupertino, CA

In person

Going to a notary office is the traditional and the most inconvenient method. You have to schedule a meeting, show up in person with your ID and document, and sign the document in front of a notary

Mobile notary

Hiring a mobile notary may be convenient since you'll get a notary public to come to whatever place suits you, whether your home or your work office. This method isn't that affordable, though, since notaries charge additional travel costs

Remote notarization through an out-of-state notary

Living in Cupertino, CA, doesn't mean you can't get a document notarized online. You only need to be careful to schedule an appointment with a notary that works in a state that allows remote notarization, whether temporarily or permanently
How To Find a Notary In Cupertino, California
Finding a notary near you isn't so difficult. The part where you have to compare the prices and locations can take a while, though.
Here's what you can do if you need a notary in Cupertino, California:
Look through the

Notary.net

or

123Notary

databases

Go to the Cupertino

UPS Store

to get a document notarized for a fee

Stop by your

bank

to potentially notarize a document free of charge
Other places that usually have a notary public offering their services to citizens are:
Law offices and courthouses

Public libraries

Police departments

Real estate offices

Money transfer services
Why Remote Online Notarization Is the Option You'll Want To Go With
Having to walk, drive your car, or take public transport to go to a notary office results in an unnecessary waste of time and money. The fact that you have to repeat the entire process if you miss your meeting or forget an important piece of documentation is both tiring and annoying.
You may want or need to use your document right away, and having to schedule and wait for another meeting with a notary is not an option.
This is why getting your documents notarized online is the best alternative. You have the freedom to schedule an appointment whenever it suits you, and the process is over quickly. Plus, you don't have to put on a suit and leave your house at all!
if you want to book a meeting with an online notary without wasting your time.
Schedule Notary Appointments in a Flash by Signing Up for DoNotPay!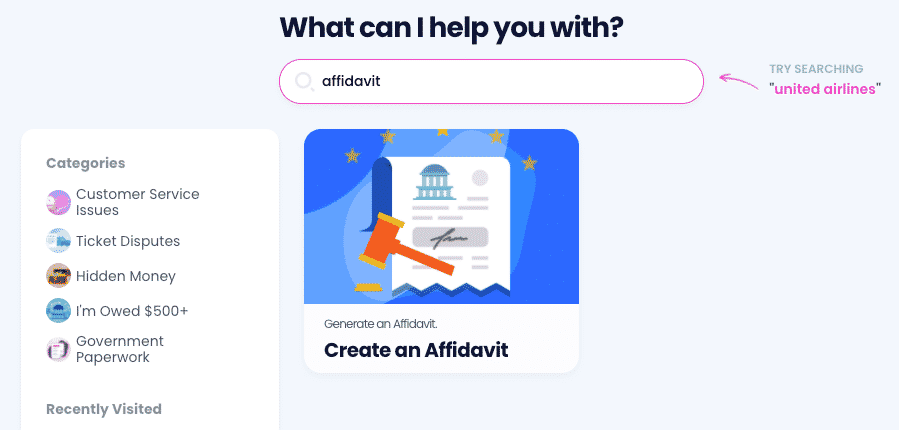 Regardless of your location, you can get your documents notarized online by a notary public working in a state that allows remote online notarization. If you use DoNotPay, you'll have your notary meeting scheduled in under a few minutes.
You only need to:
Navigate to our

Notarize Any Document

product

Upload your document to our app

Give our chatbot your email address

Open the email we send you to set up your meeting with an online notary
The best part of using DoNotPay is that you have access to all our products without paying any extra fees! For example, you can generate legal documents, send faxes electronically, and schedule virtual meetings with a notary from one centralized place!
Do You Know What Else You Are Eligible For?
DoNotPay is a handy virtual assistant that can reveal a world of possibilities that you may not have even been aware of. We've perfected our algorithms to identify opportunities for you to save up and take charge of your rights.
Here's a fraction of what we can do for you:
What Else Is New With DoNotPay?
DoNotPay boasts several new features that can help make your everyday life so much easier.
Have you been wondering how to file an insurance claim but weren't sure where or who to turn to? We'll gladly do it for you.
Are you tired of outdated faxing practices and manual documentation? Our app can provide you with an online fax solution and draft all your legal paperwork in no time at all.
Do you need a safe place to prepare for your upcoming government test? DoNotPay will give you all the prep tests you need.
We can help out with locating an imprisoned loved one and keeping correspondence with them via our virtual mailbox.
See what else DoNotPay has in store by accessing our web app in any browser.