Finding a Notary in Brooklyn Has Never Been So Simple
Getting a document notarized can be a tiring and time-consuming task. Not knowing where to search for a notary can prolong the process even more. All of that is about to change!
and learn how notarization in New York works, what methods of notarizing a document you can pursue, and how to find a reliable notary in Brooklyn in a few clicks.
Where Can You Find a Notary in Brooklyn?
There are numerous notary services in Brooklyn—both online and traditional. Sometimes, too many options can be counterproductive. Narrowing down the search is the first step to finding a notary, so we did a little research to help you. In the following table, you can find some of the most common notary services Brooklynites use:
Online Options
Public Places in the Brooklyn Area

Courthouses

Law offices

Credit unions

Accountant offices

Public libraries

Insurance agents

Police offices

Larger

banks

, such as

Wells Fargo

or

Bank of America
What Does a Notary Public in Brooklyn, NY, Do?
The main responsibility of a notary is to witness the signing of a document and verify its authenticity. By doing this, notaries prevent potential fraud. Other notary duties include:
Administering oaths and affirmations

Taking

affidavits

, statutory declarations, and

acknowledgments

of deeds

Completing jurats

Protesting notes and bills of exchange

Certifying copies of documents
To write a notary statement and put the official notary signature on your document, a Brooklyn notary will have to:
Verify your identity

Ensure you are aware of what you are signing

Check if you are signing the document willingly and if you are of sound mind

Witness the signing
What To Expect From Traditional Notarization in Brooklyn
If you choose a traditional notarization method, you should get ready to:
Find a notary

Schedule an appointment

Gather the papers you want to get notarized

Bring the official identification

State that you are aware of what you are signing and that you are doing that of your own free will

Pay required

notary fees

Sign the documents in front of the notary

Let the notary confirm and sign the papers
Other Notary Types in Brooklyn
If dealing with administration in person stresses you out or you are unable to leave your house, you should check out some of the notarization options from the following table:
Notary Type

Description

Mobile Notary

Brooklyn mobile notaries perform notarial services by coming to the appointed location. This option is great if you have to notarize original documents that are in physical form. Mobile notary service is often more expensive than other types due to the fact that you have to pay the notary's travel expenses

Online Notary

Virtual remote notarization enables notarization of legal and personal documents while practicing social distancing. Here's what remote notary service consists of:

Live interaction between the notary and a client via audio-video tools

The signing party providing proof that they are currently in the State of New York and showing their ID

The signer electronically sending the legible copy of a document with signature and current date

The notary notarizing the document and sending it back to the signer

Electronic Notary

This type of notary service provides in-person notarization of electronic documents. To notarize your e-documents this way, both you and the notary have to be in the same room at the same time
Tired of Searching? DoNotPay Can Find a Notary in Brooklyn for You in No Time
Getting your documents notarized without leaving the house is the dream, especially during difficult times, such as the COVID-19 outbreak. Unfortunately, some online notarization platforms can be pricey, especially when you have to notarize more than one legal document.
With DoNotPay and our Notarize Any Document service, you don't have to pay big bucks to have your documents notarized.
To get any document notarized, you have to follow these steps:
Choose the

Notarize Any Document

service

Upload the document you need to get notarized and insert your email address

Click on the link we will send to your email inbox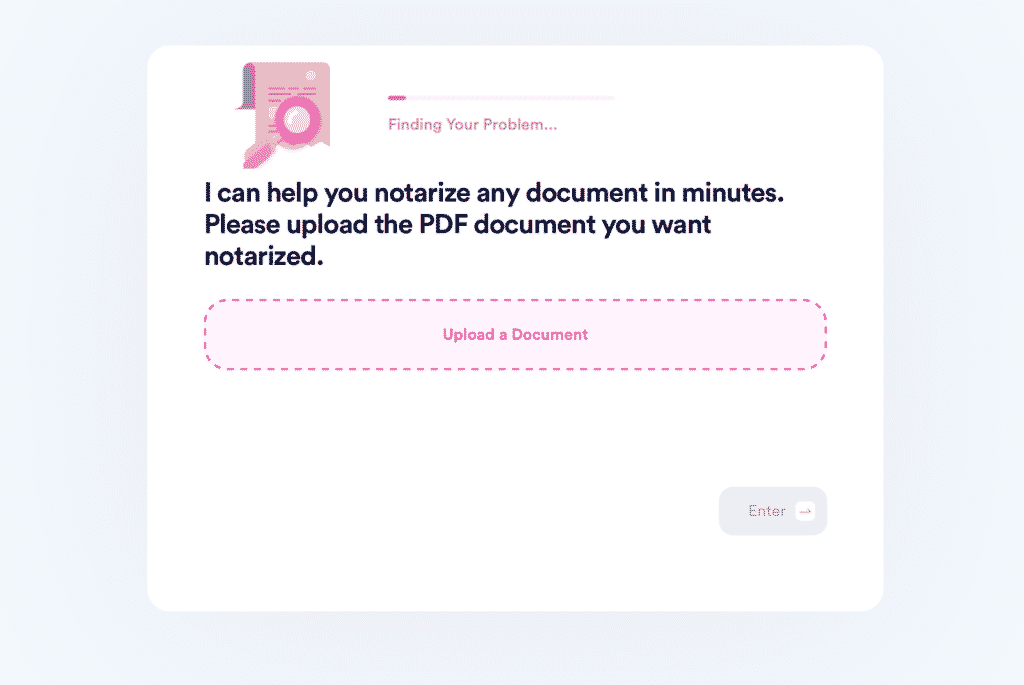 Avoid the Bureaucracy—Use DoNotPay To Create and Notarize Documents
DoNotPay can help you notarize wills, affidavits, and other contracts and documents, but that is not the best part! Our notary service is integrated with the Standardized Legal Documents feature, which means that you can create your contracts and documents and notarize them in the same app and all within minutes.
Some of the documents that we can help you create are:
Estoppel Certificate

Parenting Plan (Child Custody Agreement)

Bill of Sale

Non-Compete Agreement

Quitclaim Deed

Non-Disclosure Agreement

Child Care Authorization Form

Prenuptial Agreement

General Affidavit

Promissory Note

Independent Contractor Agreement

Lease Agreement

Intent To Purchase Real Estate

LLC Operating Agreement

General Business Contract
No More Risky Free Trials With DoNotPay
Do you love free trials but tend to forget to cancel your subscription before the trial ends? If this is the case, check out DoNotPay's virtual credit card for a risk-free experience.
With our virtual credit card, you can sign up for any service without worrying about unwanted charges. DoNotPay will even provide you with a random email address, which will help keep your inbox clean from spammy emails from the company.
Our app can also get in touch with the company's customer service, request a refund from them, or even escalate your issue to small claims court if the company is challenging to communicate with.
DoNotPay Is an Ultimate Money-Saving Assistant
Our app can help you manage bills that are too high to pay, but there are plenty of other money-saving possibilities out there we can help you with.
Want to challenge a parking ticket? DoNotPay can dispute parking citations in any city! Is someone getting revenue from your creative work? Cut the thieves off with DoNotPay!
We can also help you get your college application fees waived, file any insurance or warranty claims, locate unclaimed funds in your name, or earn some extra cash from paid clinical trials in your area.