Learn Whether You Qualify and How To Apply for a Veterans Affairs Scholarship in No Time
Veteran Affairs Department aims to provide financial and educational support to individuals specializing or pursuing further education in health care. Veterans Affairs scholarship covers various professions catering to people suffering from immobility, visual impairment, and other issues. Scholarships and grants are awarded nationwide every year, including college financial aid and scholarships for high school seniors or other students.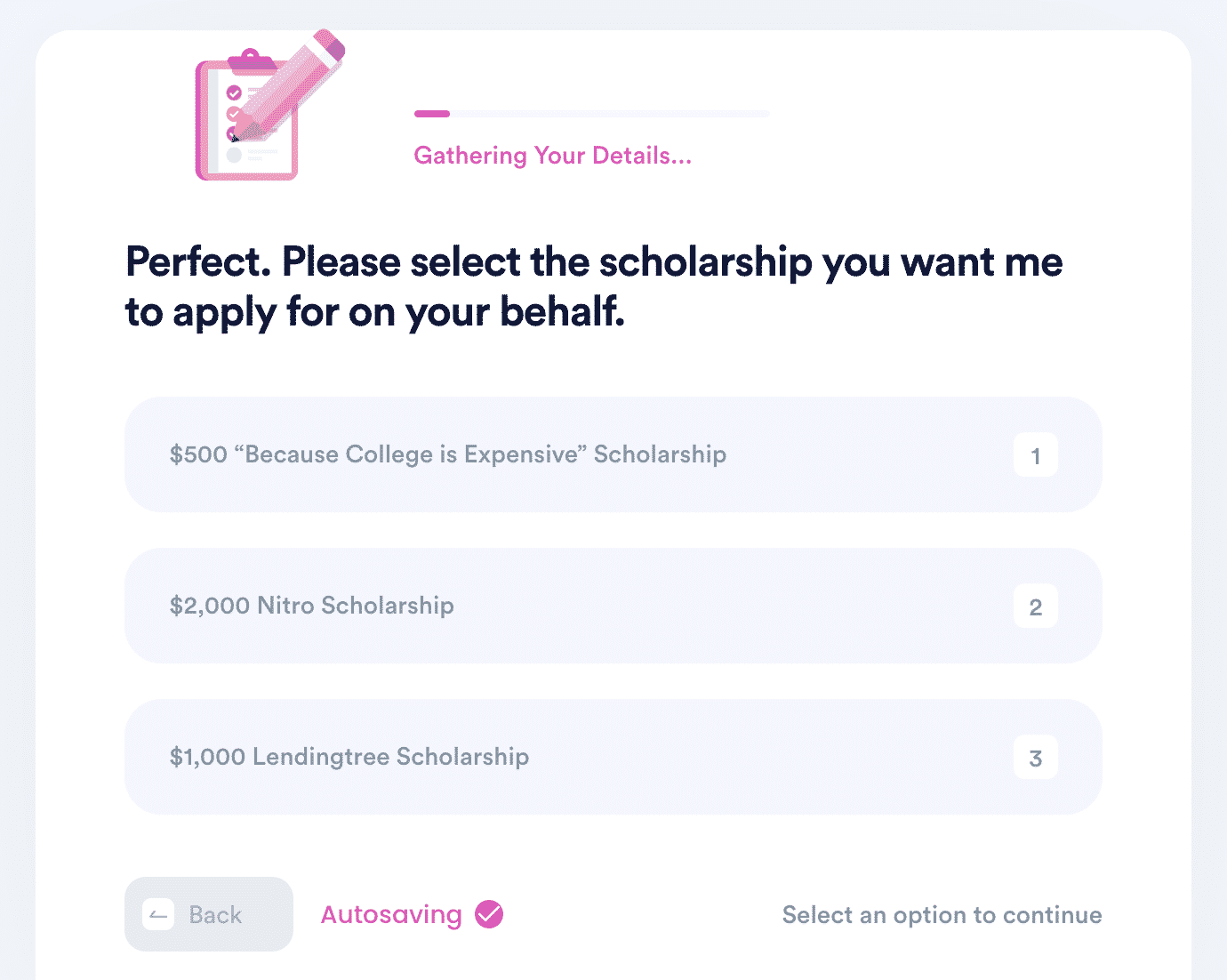 explains how VA programs work and helps you find the best scholarship opportunity for you. The process takes several minutes, providing you with personalized scholarship options so you can apply immediately.
What Are Veterans Affairs Scholarships?
The Veterans Health Administration awards financial aid exclusively to U.S. citizens, so international students cannot apply. Depending on the specific needs, the Veterans Health Administration may offer scholarships to graduates in various fields, including:
Social Work (MSW)
Medical Technologist (MT)
Diagnostic Radiologic Technologist (DRT)
Note that from the 2020–21 scholarship cycle, the Health Professional Scholarships Program (HPSP) for Physician Assistants will be awarded only to trainees with veteran status.
To apply for a scholarship, you must have a Cumulative Grade Point Average of 3.0. minimum. Other special requirements you must fulfill relate to the federal debt and service obligation.
If you get financial aid, you will have to complete your studies within the defined time. The minimum length of your future employment will be based on the period you spent as a student.
What Kind of Support VA Offers?
Veterans Affairs offers support through the following programs:
Health Professional Scholarships Program (HPSP)
Visual Impairment and Orientation & Mobility Professionals Scholarship Program (VIOMPSP)
VA Learning Opportunities Residency
HPSP
Part- and full-time students get paid scholarships for four years. Covered costs fall into the following categories:
Tuition
Stipend
Authorized required fees
Annual education expenses payment
For part-time students, the ratio of full-time attendance accounts for award amounts.
VIOMPSP
VIOMPSP covers tuition and required expenses for full-time and part-time students. The award maximum for part-timers depends on the full-time attendance ratio. The total expenses for full-timers are $15.000 per academic year and $45.000 of the total award.
VALOR
Students completing ten weeks of full-time work can decide to continue working until graduation. VALOR students receive an hourly payment but aren't entitled to holiday pay or overtime compensation. The amount changes every year.
How Do You Apply for a Veterans Affairs Scholarship?
To apply for a Veterans Affairs scholarship, you need to register on the official website and state your:
First and last name
Email address
Program type, such as HPSP, Visual Impairment and Orientation, etc.
Specialty type
You can enroll as a full-time or part-time student. Required time for studies completion is different for these two categories, so refer to the following table for additional details:
| Study Type | Time You Have To Complete Your Education |
| --- | --- |
| Full-time | Four years |
| Part-time | Six years |
VA scholarships entail specific demands in terms of eligibility and service obligations:
Eligibility Requirements
Candidates must be U.S. citizens. They also must subject themselves to a background check. Green Card holders and people enjoying Resident Alien status cannot apply.
Applicants must accept to enroll (if not enrolled already) in an academic program, preparing them to qualify for the employment standards of the chosen occupation.
Service Obligations Upon Completion of Studies
After completing the education, you will be a full-time employee.
If you were a full-time student, your service obligation is two to three years. Part-time students are obliged to a one- to three-year service. If you studied for a physician, you will have to work 18 months for every year you received financial aid.
Note that you will have to sign a Mobility Agreement, which obliges you to move at your expense if the service demands relocation.
How To Use DoNotPay To Shortlist Scholarships and Apply
If VA scholarships seem too restrictive and you would like to enjoy more freedom once you complete your studies, DoNotPay can help you find the right scholarship for you. Before you start searching online, keep in mind that financial aid grants and scholarships might be gender-specific (for women only, for instance) or location-based. Obligatory letters of recommendation may also get in the way.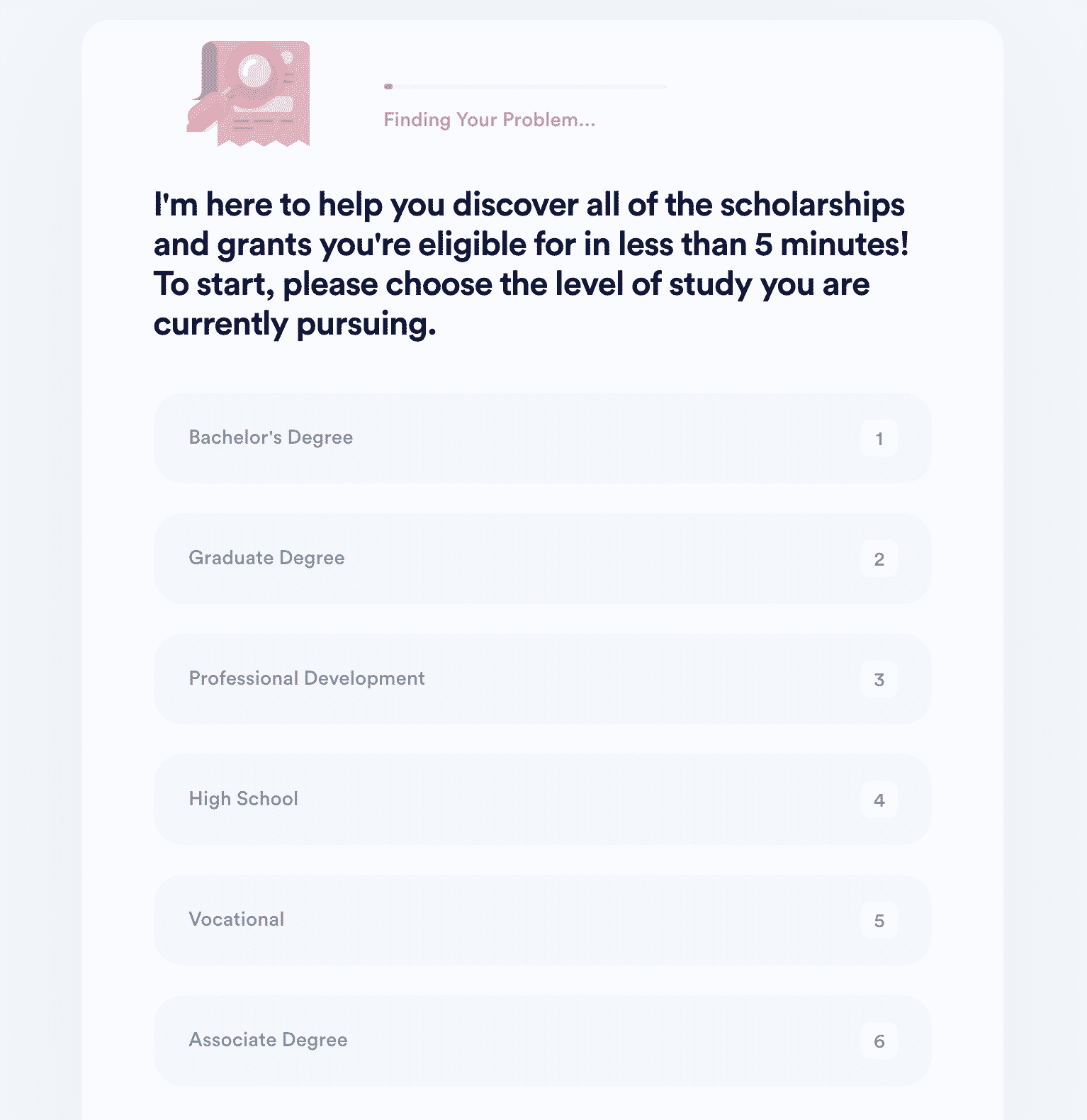 We'll list all prizes, grants, and scholarships you qualify for in no time. You should fill out a short questionnaire, and our app will find matching scholarships. With extensive research out of the way, you can focus entirely on applying.
Questions relate to your:
Grades
Residency
Career goals
Level of education
Academic interests
DoNotPay also filters essay-based and no-essay scholarships offering to handle the application procedure for the latter.
Here's how straightforward our process is:
Choose the Apply for Scholarships feature
Select the level of study
Answer our chatbot's questions
Use DoNotPay To Deal With a Plethora of Bureaucratic Tasks!
Tired of dealing with bureaucracy? We understand the struggle, and that is why our app makes handling administrative tasks a breeze!
Regardless of whether you need to compose a legal document, such as a power of attorney or a child travel consent form, appeal property taxes or your parking tickets, file a financial aid appeal and a FOIA request, or get a document notarized, DoNotPay has got you covered!
In case you also need to submit anonymous HR complaints, our app will provide you with the easiest way to do so!
Go on a Stress-Free Shopping Spree With DoNotPay
Do you like to shop until you drop? With DoNotPay, you won't have to worry about dropping! We'll make sure you can:
If you need more money to continue your shopping spree, let our app help you find any unclaimed funds under your name and enter numerous giveaways and sweepstakes!