How To Retrieve Your Missing Belongings From the Lost and Found at Orlando Airport
If you ever find yourself in a situation where you lost an item at the Orlando Airport, don't despair!
This guide summarizes the entire procedure of the Lost and Found at Orlando Airport and explains how the !
The Basics of Orlando Airport Lost and Found
The first step in finding your lost item on Orlando Airport's premises is to fill out the Lost and Found form on the airport's website.
Some of the required fields you need to fill out include:
Your first and last name and general contact details
Your mailing address
A detailed description of the missing item
The date when you lost the item
The location where you think you have lost the item
The airport's staff will contact you as soon as possible. They advise against sending duplicate lost item requests as it may slow down their item search process.
Once your item has been found, you can claim it at the division's office at Orlando International Airport's main terminal—provided you are in the Central Florida area.
Orlando Airport Lost and Found office is open between 7 a.m. and 10 p.m.
Its phone number is 407-825-2111.
Another thing to note is that Orlando Airport doesn't charge any fees for helping you locate your lost belongings.
Where To Look for the Items You Have Lost on an Airplane
You should also be aware that MCO Airport's Lost and Found only handles items that were lost within the airport's terminals.
Here is a brief overview of who to contact depending on where you lost your item:
| Where Did You Lose Your Item? | Who Is in Charge of Finding It? |
| --- | --- |
| Airport terminals, airport shuttles, or parking lots | Orlando Airport Lost and Found |
| Airplane | The airline you traveled with—You can find the entire list of contact details on the official Contact page |
| TSA security checkpoints | TSA—You should call 908-787-0667 |
| Rented vehicles, shuttles between gates, and taxis | The companies that provide these services |
In case you lost personal belongings at the Club MCO, email MCO1concierge@gideontoal-ms.com or call:
407-825-7853 (for The Club MCO at Gates 1-29)
407-825-4747 (for The Club MCO at Gates 70-99)
For items lost on Disney's Magical Express, you should call 866-599-0951.
How To Avoid Losing Your Items at an Airport Ever Again
Here is how you can never prevent losing an item again when flying:
Keep track of your baggage with a tracking device for luggage
Keep your phone or wallet close to you at all times (e.g., in the inside pocket of your coat)
Tag your personal items with vibrant stickers that stand out
Keep smaller items in a carry-on
How DoNotPay Handles Lost Item Inquiries on Your Behalf (To Save You Time and Money)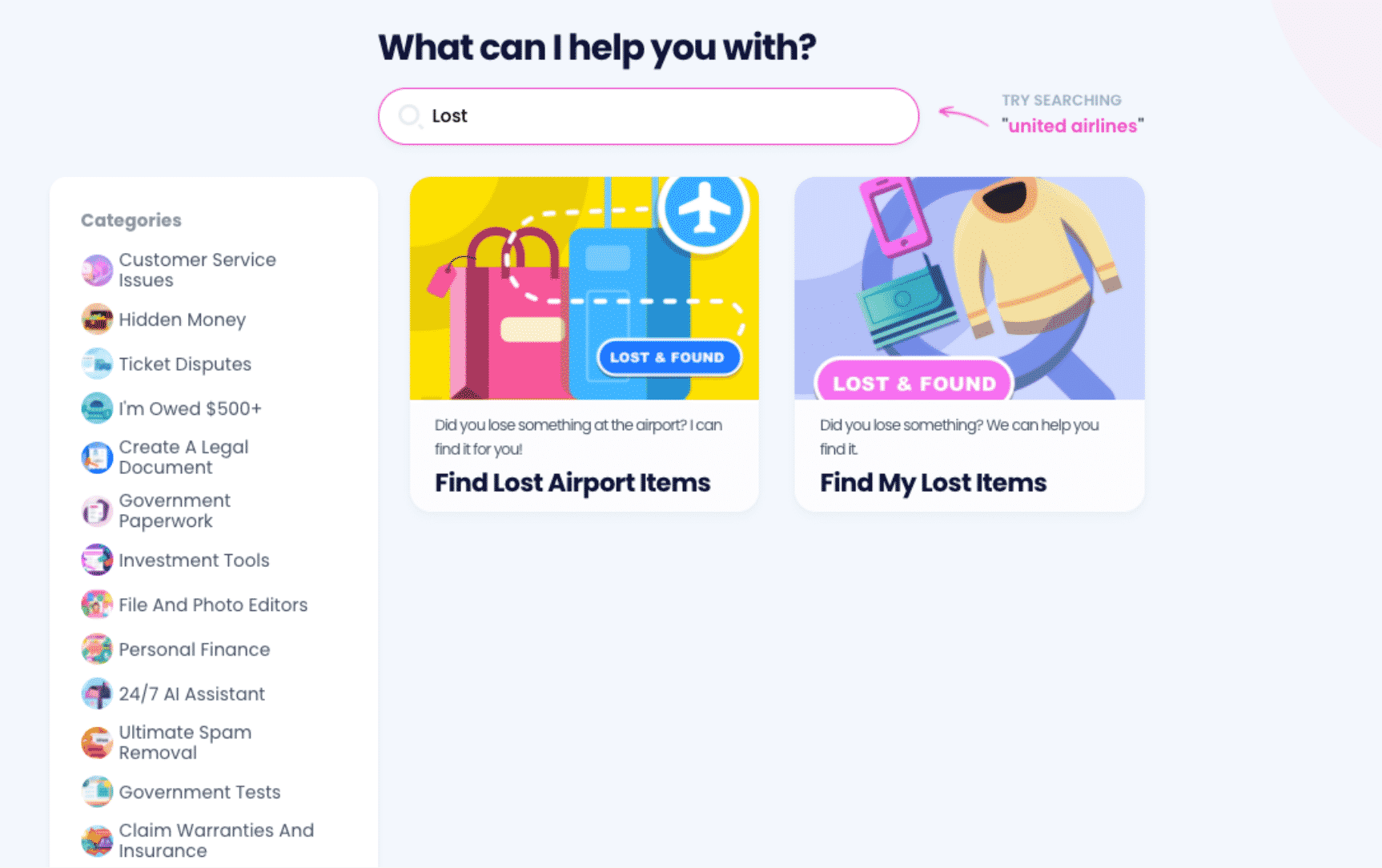 If you feel a little lost or aggravated by the entire Orlando Airport's Lost and Found procedure, there is still one option you can rely on and save your time, money, and nerves—the DoNotPay app!
With DoNotPay, the process of returning your lost items is fully automated and simplified. All you have to do is feed a few of your personal details into the app's chatbot and DoNotPay drafts and sends the lost item letter to the airport.
Here's what you need to do:
Locate the Find Lost Airport Items tool
Provide the necessary information
DoNotPay gets in touch with the airport on your behalf and helps you locate your items! Our app can also request a full refund for canceled or delayed flights in case you ever require this service.
Turn to DoNotPay and Remove Bureaucratic Issues in a Snap
Does paperwork bring you to the edge of a nervous breakdown? With our help, you will skip all administrative impediments and get ready-made legal documents before you know it! No failed drafts or huge legal fees! DoNotPay can generate:
Once you create the desired document, you can fax it online without a faxing machine or have it notarized with zero complications in the same app!
Your Info Is Safe With Our App
You don't need to leave your credit card info or personal details if you want to start free trials that won't turn into paid subscriptions without notice. DoNotPay will create a virtual credit card with a fake name and generic credit card number for you in just a few clicks. This way, greedy companies won't take a single penny from your account without your authorization! Our app can also help you file anonymous HR complaints or create burner phone numbers to avoid disclosing your real info when signing up for apps and platforms.