All You Need To Know About Hawaiian Airlines Refund Policy
Hawaiian Airlines is an acclaimed, Honolulu-based airline established under the name of Inter-Island Airways in 1929. Their offer involves more than 30 destinations and a satisfying fleet involving over 50 aircraft.
Would you like to request a refund, but you're having issues understanding the essentials of the Hawaiian Airlines refund policy? This article will help you resolve all dilemmas related to this company's refund conditions and get your money back.
What Are the Key Points of Hawaiian Airlines Refund Policy?

Hawaiian Airlines has straightforward rules for getting a refund for plane tickets in situations when your traveling plans fail or you encounter other difficulties related to your booked trip.
The company permits passengers to cancel the flight and request a full refund if:
You purchased the ticket less than 24 hours ago

You purchased the ticket at least seven days before the scheduled flight
You are eligible for a partial refund—usually a difference between the paid amount and the applicable price—in case:
You paid for a Preferred or Extra Comfort seat, but Hawaiian Airlines staff had to exchange it for a different, cheaper kind of seat for relevant reasons

You paid for a first-class seat, but Hawaiian Airlines staff had to downgrade you
If your plans change, you can't transfer the ticket to another user. Once the compensation is processed, the paid amount will go back to the original payment method. Keep in mind that this airline hardly ever accepts alternatives.
Situations in Which Hawaiian Airlines Refund Can't Be Issued
Bearing in mind the information provided in the previous section, you can conclude that there are only a few situations in which you can hope for a refund. The rest of the cancellation reasons usually don't qualify you for receiving compensation. You won't be able to get a refund if:
You didn't meet the flight cancellation deadline

You changed your mind and canceled your flight voluntarily

Any reroute or other changes concerning the flights from Australia, Korea, Japan, or the USA flights terminating in Japan take place

You bought a ticket at a lower price or used a discount, but the flight was changed or rescheduled by the company at a higher price

You paid for a Preferred or Extra Comfort seat and decided to make a voluntary change to a cheaper seat
How To Request a Hawaiian Airlines Ticket Refund via DoNotPay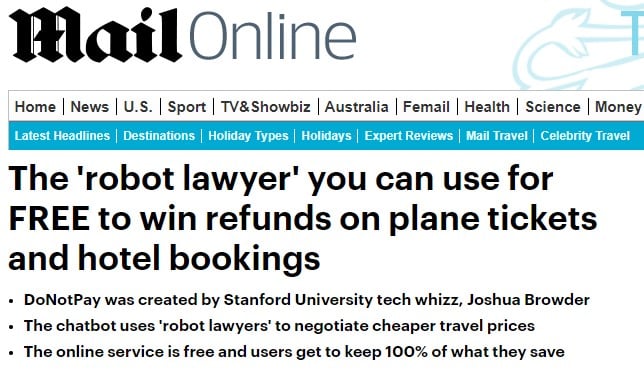 At times, Hawaiian Airlines' customer support phone lines and other channels might be overwhelmed with countless queries. This means that you might spend hours waiting for a reply.
Unlike other forms of communication, DoNotPay provides an efficient and time-saving solution without direct contact with this airline, as the whole process takes place on our platform.
Using our request submission form will strengthen your chances to get back your funds at no cost and without breaking a sweat. To send a refund request through our app, follow the instructions below:
Access DoNotPay through your

Scroll down to the

File a Chargeback

option

Hit the

Get Protected

button

Complete all the fields and add required details regarding the seller and the transaction in question

Generate your digital signature

Send the request form
Our app also sends this request to your bank, together with an additional letter containing Visa and Mastercard regulations, as requested by the Fair Credit Billing Act. By doing so, DoNotPay facilitates evidence collection and supports your request.
Other Ways To Ask for a Hawaiian Airlines Ticket Compensation
There are four additional ways to report the issue and start a refund procedure, and they are listed in the table below:
| | |
| --- | --- |
| Can You Request a Refund Via | Yes/No |
| DoNotPay | Yes |
| Email | Yes |
| Phone | Yes |
| Letter | Yes |
| Website | Yes |
| In Person | No |
How To Ask for a Hawaiian Airlines Ticket Refund via Phone
In case you think that a phone conversation is the best way to start a refund procedure, do the following:
Call

1-800-367-5320

Describe the issue you're facing to the representative

Recall all the details regarding your purchase—destination, e-ticket number, purchase date and time, and any other info the agent might need to locate your reservation
The customer support representative will cancel your flight or check the reported issue and start a refund process right away.
Hawaiian Airlines' phone line is available 24/7 and it also helps passengers with hearing or speech issues thanks to a special channel dedicated to this customer profile. In case you are one of these, dial 711 to access relay services.
How To Ask for a Hawaiian Airlines Ticket Refund via Email
Email correspondence can be another way of communication between you and Hawaiian Airlines. These are the steps you need to complete the process:
Go to

the

Help Center

Scroll down to the

Contact Us

section and click on

Email Us

Click on

Make a Request

Complete the form and send the email request
The customer support representatives will get in touch with you within a couple of days by responding to the email address provided in the form.
How To Ask for a Hawaiian Airlines Ticket Refund via Website
You can also demand a refund by canceling your reservation via a website form. To do that, follow these steps:
Find the

Manage flights

section on the Hawaiian Airlines official website

Choose

My Trips

from a drop-down menu

Enter the required information and hit

View My Trip

Choose an option to cancel the reservation
How To Ask for a Hawaiian Airlines Ticket Refund via Letter
Sending a letter to Hawaiian Airlines is the longest procedure of all listed options, but if it seems like the best one for you, you can give it a go. All you need to do is:
Write a detailed letter explaining why you're asking to receive your money back

Include all relevant details regarding your purchase in the body of the letter

Send the letter to:
Hawaiian Airlines
P.O. Box 30008
Honolulu, HI 96820
How Long Does It Take To Receive Hawaiian Airlines Refund?
In case you purchased your ticket using a credit card, the estimated refund period is seven business days. Passengers who paid in cash have to wait for up to 20 business days to receive their money back.
Let Your Flight Issues Remain in the Past Thanks to the Assistance Provided by DoNotPay

Hawaiian Airlines is just one of the companies from which you can demand your money back. DoNotPay can also contact Frontier, United Airlines, American Airlines, Turkish Airlines, and numerous other airlines in your stead and get you a refund.
We are sure you will love getting informed about virtual credit cards our app offers and other creative ways to keep the money in your pockets. With our amazing platform available in your you will be able to explore a full range of possibilities we have for you.
DoNotPay will also provide you with tips for:
Disputing traffic tickets

Fighting speeding tickets