A Guide on a Lifetime Powertrain Warranty
Cars have different types of warranties. The two main ones are a manufacturer warranty and an extended warranty. A manufacturer or limited warranty should come with the purchased vehicle. You can usually buy an extended warranty that will start as soon as the limited one ends. Even used cars have extended warranties.
Another car warranty type is a powertrain warranty. Learn all about it, if it's worth buying, and how to eventually claim it.
What Is a Lifetime Powertrain Warranty
?
A powertrain warranty—as the term suggests—is a warranty on the powertrain of a car. This includes the main internal parts of the car that help the car run.
More and more car dealerships offer a lifetime powertrain warranty. This is usually not a lifetime warranty and comes with certain restrictions:
The warranty lasts for eight to ten years or 100,000 to 150,000 miles

Frequent maintenance services at the dealer where you bought the car
What Does a
Car
Powertrain
Lifetime Warranty
Cover?
Check out a few dealerships offering a lifetime powertrain warranty and their key features:
Dealership
Lifetime Powertrain Warranty Covers
Key Features

Engine

Transmission

Transfer Case

Drivetrain Assembly

Free of charge

Valid as long as you own the vehicle

Car maintenance as per the manufacturer's recommendations
How To Claim a
Lifetime
Powertrain
Warranty on Cars
?
The conditions of filing a lifetime powertrain warranty claim depend on the dealership. Typically, you can file a claim and schedule a warranty service in the following ways:
Via email

Over the phone

Through an online form

By visiting an auto service and schedule it in person
Streamline the Warranty Claim Procedure With DoNotPay
By using DoNotPay to submit a warranty claim, you'll skip combing through various websites, checking if you should contact the manufacturer or the dealership, and searching for their contact details.
DoNotPay is an all-in-one tool! After a few clicks, we'll contact the car company in question and file your warranty claim. The company will then contact you directly and schedule a service.
Open DoNotPay in a , and do the following:
Choose the

Claim Warranty

option

Select

Car Warranty

Answer a few short questions

Tap on

Submit My Claim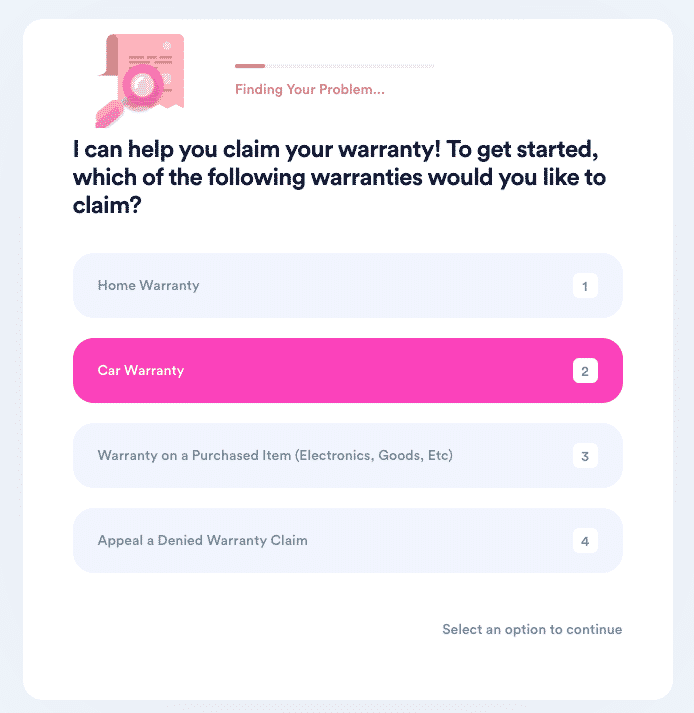 Use DoNotPay To Appeal a Rejected Warranty Claim
If your car breaks down and you file a warranty claim, the last thing you want to hear is that a company rejected it. Companies often deny warranty claims. You should read the fine print and check your warranty for any hidden rules or requirements. An even better way is to leave it all to DoNotPay!
All you need to do is press a few buttons and provide us with the information about your original claim. Aside from your info, DoNotPay relies on the relevant warranty laws to make sure your car company doesn't wiggle out of honoring your warranty claim.
Check out how it works:
Access DoNotPay from your

Select the

Claim Warranty

feature

Click on

Appeal a Denied Warranty Claim

Answer a few questions about your warranty claim

Tap on

Submit
Lean on DoNotPay for other issues, such as when a dealer refuses to cancel your extended warranty.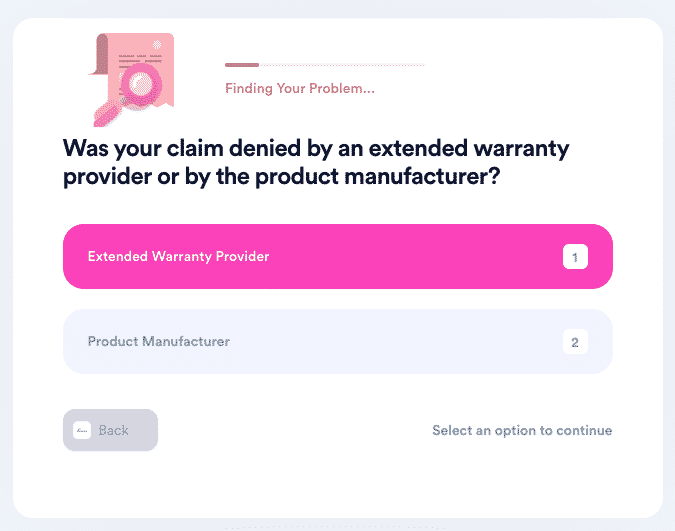 DoNotPay Helps You Free Yourself From Bureaucracy for a Lifetime
Are you interested in any other car warranties? We have guides on KIA, Toyota, Fidelity extended warranties, Honda certified pre-owned warranties, and many others.
Aside from car warranties, DoNotPay can be of assistance with warranties for your home. If you're looking for home warranty reviews to find the best home warranties in America, look no further! DoNotPay has done the work so that you can pick and choose. Our app can help you with plenty of other issues!
Visit DoNotPay in any , and access our learning center offering versatile features such as:
Contesting your traffic tickets

Overturning your speeding tickets