How To Verify Your Account With an Instant Virtual Credit Card for PayPal
Data gathered by Statista shows that there are currently over 360 million active PayPal users all over the world. Many people are switching from traditional to online payment providers, but the transition isn't without its drawbacks.
Most people are concerned about the safety of their banking information, and rightfully so. You are required to provide your credit card information in order to verify your PayPal account, leaving you exposed to data breaches and cyber-attacks.
As one of the most popular online payment processing service providers, PayPal is often the target of cybercriminals. Various reports over the years show that PayPal isn't as secure as it claims to be, and the platform has experienced data breaches that resulted in people losing access to their account information in the past.
The question begs itself—what can you do to protect yourself when creating your PayPal account? Instant virtual credit cards for PayPal come to the rescue! Before we delve deeper into how you can verify your PayPal account without disclosing your personal banking details, let's address a more rudimentary question first—what is a virtual credit card?
What Is a Virtual Credit Card and How Does It Work?

A virtual credit card (VCC) is a randomly generated credit card number that follows all the parameters of a real credit card but doesn't reveal your actual banking information. You'll have two options when creating virtual credit cards:
Connecting the VCC to your real credit card

Leaving the VCC completely separate from the real card
Connecting the VCC to Your Real Credit Card
If you're planning to use your virtual credit card for online shopping, you will have to connect it to your real credit card so that funds can be withdrawn from it. Even when you do this, your sensitive information will still not be exposed, so the chances of misuse are minimal. To be completely safe, you should set a spending limit and an expiration date. That way, even if someone tries to overcharge you, they won't be able to take a penny over the previously set spending limit.
Leaving the VCC Completely Separate From the Real Card
In case you don't need a virtual credit card for shopping, there's no need to link it to your real credit card. When these two are not connected, you can be one hundred percent sure that no service provider can access your funds on the real card. For instance, if you need a virtual credit card to sign up for a free trial, you can rely on DoNotPay's instant approval virtual credit card.
How To Verify Your Account With a
Virtual Credit Card for PayPal
Now that you know what virtual credit cards are, you're one step closer to getting one for your PayPal account verification. Check out our detailed, step-by-step guide on how to get a free virtual credit card to verify your PayPal account.
Once you've set up your VCC for PayPal, the verification process is rather straightforward:
Log in to your PayPal account

Select and click on the Wallet section

Link your instant VCC to the account

Confirm your credit card

Wait for PayPal's four-digit verification code

Re-login and enter the verification code to complete the process
Is a
PayPal Temporary Credit Card
the Best Account Verification Method?
If you need a PayPal account for online transactions, but you don't feel comfortable leaving your real credit card info, a virtual credit card will do the trick. Even though a virtual credit card will be linked to your actual card, no sensitive information will be visible, so you don't have to worry about any fraudulent activity. Your bank account will be 100% secure while you'll get to enjoy all the convenience PayPal provides.
One thing to note is that, with PayPal, a virtual credit card only goes so far. What we mean by this is that if you don't opt to link your real credit card to your PayPal account, you won't be able to withdraw money from your PayPal account. You can still use the funds you have on PayPal for online purchases, but you won't be able to transfer the money to the VCC.
In other words, all of the funds in your PayPal account will have to remain there. In the event of a data breach or a cyber-attack, your banking information will be protected, but there's nothing stopping the hackers from emptying out your PayPal account. We recommend that you use a virtual credit card for PayPal account verification and only hold small amounts of money on your PayPal account at all times.
DoNotPay's Free Trial Card—A Virtual Credit Card With an Added Layer of Security

We've all been there—you get your billing statement, and the sum is much higher than you've anticipated. You stop for a second to try and figure out what you've spent all that money on, until it dawns on you—you forgot to cancel all those damned free trials.
That's exactly what service providers are banking on! They take advantage of the fact that you forgot to cancel the service on time and keep charging you a regular monthly fee.
There are so many interesting services that you would like to try out, so you can't possibly keep track of all the free trials you have active. As long as you do things this way, there's a great chance that your service provider will continue to slowly drain your bank account month after month, regardless of whether you're using the service or not.
What's the solution? Should you quit signing up for free trials once and for all? That would be ridiculous. There's a much better solution—use the DoNotPay Virtual Credit Card.
Our Free Trial Card is designed to protect people from being charged automatically after a free trial period. Considering that DoNotPay does not link your real credit card to the virtual one, you can rest assured that there won't be any unauthorized charges on your billing statement ever again.
The best part is—you don't have to worry about canceling your subscriptions after the free trial period. The Free Trial Card holds no money, and since it isn't linked to your actual credit card, the service provider won't be able to charge you, so the subscription will be canceled automatically.
Speaking of unused services, DoNotPay is here to cancel any service or subscription for you in a matter of minutes. Whether you're no longer satisfied with a service, you find it too pricey, or there's some other reason why you don't need it, we can cancel it in just a few steps. You can also use our app to monitor your subscriptions and find the unused ones if you can't keep track of them yourself.
What You Can Use DoNotPay's Free Trial Card For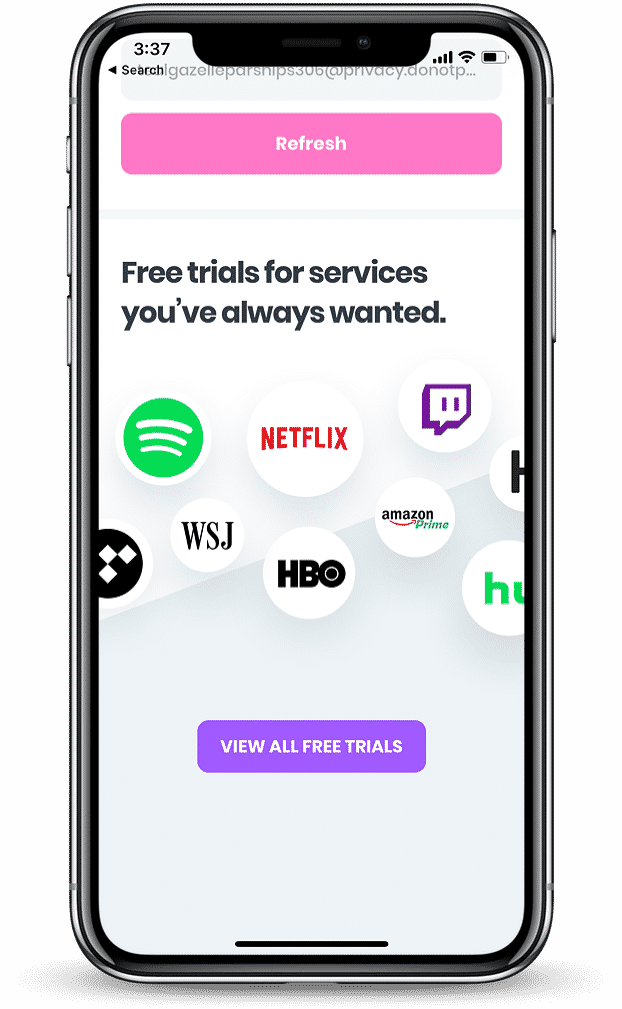 Signing up for a free trial seems so easy and safe. Most service providers will promise not to charge you a single penny during your free trial period, as well as to remind you to cancel the service on time. These promises are not to be taken for granted, though, as some providers never keep them.
What if they send you an email as a reminder, but it goes to spam, and you never see it? Or you see it after your free trial expires? Then you will have to pay for the service in question whether you want to keep using it or not. Luckily, you can use our Free Trial Card for a wide range of services, such as:
Jira

Postmates

ESPN Go

Doordash
Take Advantage of DoNotPay's Temporary Email Address
In addition to a credit card number, most service providers also require an email address. And you know what that means—a bunch of email spam every single day, along with annoying ads for the service whenever you're browsing the web.
You don't want to have your inbox clogged by a bunch of spam emails? We got you covered!
Our app will also generate a virtual email address that you can use instead of your real one and remain completely anonymous. Just like the virtual credit card number, this is a random temporary email that protects your real info. This is another reason why DoNotPay Virtual Credit Card is the right choice for you!
How Does DoNotPay's Free Trial Card Work?

The best way to explain the principle behind DoNotPay's free Virtual Credit Card is to compare it to standard chip credit cards.
When you use a chip credit card, you receive a single-use token to protect you from any fraudulent merchant or service provider. The token is sent to the merchant or service provider in question when you're buying something from them, so they don't have access to your credit card information. What's even better is that the token changes with every future purchase, whether you're buying from the same merchant or someone else. That way, they can never track you.
Something quite similar happens when you use DoNotPay Virtual Credit Card—the only difference is that we generate a random credit card number instead of a token. This is a temporary card number that changes with every transaction you make. Since it is not connected to your chip card, nobody can access your credit card info or the funds you keep there.
The Perks of DoNotPay's VCC

If you're new to the world of online payments and virtual credit cards, you might be somewhat confused about the best option to choose from. If you have any doubts, take a look at the following reasons why our virtual credit card is the best possible option available:

You can access your DoNotPay account via a

You can get your DoNotPay Virtual Credit Card in just a few simple steps

It's free—you don't have to spend a single penny on card activation or any monthly or annual fees

DoNotPay does not require a security deposit

You can sign up for as many free trials as you want without worrying about any of the providers charging you after this period

Your real credit card information is not revealed, so no one can misuse any of your sensitive information

You get a temporary email to use alongside virtual credit card number, so you remain completely anonymous
The Benefits and Downsides of Using Virtual Credit Cards
If you've never used virtual credit cards before, you might not be fully aware of all the benefits they bring. To be fair, there are some drawbacks. After all, there's no such thing as a perfect solution.
If you're still having second thoughts about using a virtual credit card, note that the advantages—starting with the safety of your banking information and the anonymity—far outweigh the drawbacks. Here's a quick overview of the major pros and cons, so you can decide for yourself:
Benefits

Downsides

Even when you forget to cancel your subscription before the free trial expires, service providers cannot charge you a monthly, annual, or any other fee

Not all merchants and service providers accept virtual credit cards, so they may reject your request if you don't provide your real card info

You can set the expiration date that works best for you

The expiration date may cause you some complications if you link the card to a subscription that you want to keep after the previously set expiration date

You can determine the spending limit if the virtual credit card is linked to the real one

If you're planning to use your virtual credit card for recurring payments, the spending limit feature may backfire

You don't expose your actual credit card information, so you're safe from any potential misuse

You can't use VCCs to pay for services that require you to show your credit card as proof of payment, such as airplane tickets, because the info from the two cards won't match

Most providers offer

free virtual credit cards with no deposit necessary

, so you don't have to pay an activation fee

Some virtual credit card issues will charge you a monthly fee for using their services, so pay attention to T&C before signing up for a "free" VCC

No malicious merchant can access your real credit card info, so there's no need to worry about this no matter where you leave your information

If you need to receive a refund and your card expires in the meantime, you won't be able to get the refund
How Does DoNotPay's Virtual Credit Card Compare to a Regular Credit Card?
Considering that virtual credit cards have started gaining traction fairly recently, we understand that many are still somewhat confused about the way they work and how they differ from regular credit cards.
When it comes to DoNotPay's Free Trial Card, the main thing you should remember is that you can rely on it to get all the free trials you want without any risk of being charged afterward.
There are some other differences between this virtual card and a real card that you should be aware of to get a clear picture of what each is. These include the following:
| | |
| --- | --- |
| Real Credit Card | DoNotPay's Free Trial Card |
| You can get it in plastic | It exists only in the virtual world, not in physical form |
| Your credit card information is at risk if the website where you entered it is hacked | Your real credit card info is not visible, so even if they hack the website, you're safe |
| When you forget to cancel a service before the free trial period expires, the service provider in question can charge you a regular fee | Even if you forget to cancel your subscription before the free trial expires, your service provider cannot charge you |
| Your credit card information is easily accessible, so a fraudulent merchant can misuse your card | Your real credit card info is not exposed, so even if a merchant wants to misuse it, it cannot be done |
| You risk losing hundreds or even thousands of dollars | Your virtual credit card is not linked to the real one, so there's no risk of wasting any money |
What else can DoNotPay help you out with?
Helping you avoid being charged after your free trial period is just one of the many things that our app can help you with. DoNotPay is designed to help people deal with various bureaucratic issues and get them the justice they deserve. Here are some other things that we will be more than happy to do for you to save you some trouble:
Dispute all your traffic tickets

Dispute speeding tickets