Implied Warranty of Habitability in California From Top to Bottom
California implied warranty of habitability ensures that landlords keep their properties habitable even if the lease doesn't compel them to make any repairs. Dangerous conditions, such as holes in the floor or exposed wiring, fall into the uninhabitable conditions. In such cases, you are allowed to move out without any notice to the landlord, according to the California Civil Code Section 1942. 
What Does California Implied Warranty of Habitability Include?
All residential rental properties in California have an implied warranty of habitability. You can also bring your own lawsuits if the landlord happens to breach the warranty. In these lawsuits, you will seek damages for loss of use of the rented property, emotional distress, and statutory penalties. A landlord's property insurance might provide coverage for these claims. 
California has a specific list of habitable conditions that include:
Roof and exterior walls that are waterproofed and weather-protected

Doors and windows without damage

Plumbing or gas facilities that are in good working order

Hot and cold running water supply that is connected to a sewage disposal system

Heating facilities that are in good working order

Electrical lighting that has proper wiring

Building and grounds that are free of pests and garbage

An appropriate number of garbage cans in good condition

Well-maintained floors, stairways, and railings
Ways To Deal With a Breach of a California Implied Warranty of Habitability
You can prove a claim for breach of warranty of habitability if you show proof:
Of an uninhabitable condition

That the landlord was aware of the cause that breached the warranty

Of damage
If you manage to prove a breach of the agreement, you should be able to get the return of the paid rents and attorney fees. You have several options to deal with a breach of warranty. Check the table below to see what each option means:
| | |
| --- | --- |
| Option | How It Works |
| Repair and deduct | Make the repairs yourself and deduct the cost of repairs up to one month's rent. |
| Withhold | Withhold the portion of the rent until the issue is resolved if the costs of repairs are higher. |
| Constructive eviction | Walk away from your lease if the repairs are not made after a certain period of time. |
How To File a Claim for Any Warranty With DoNotPay
DoNotPay has a nifty feature that you can use to claim any warranty for your home, car, or a purchased item. In our app, you can also find reviews of the best home warranties in the U.S.
The steps to claiming a warranty are simple and quick. Here's how it works:
Go to DoNotPay in your

web browser

Acquire the

Claim Warranty

tool

Click on

Home Warranty

Provide details about your claim

Tap on

Submit my claim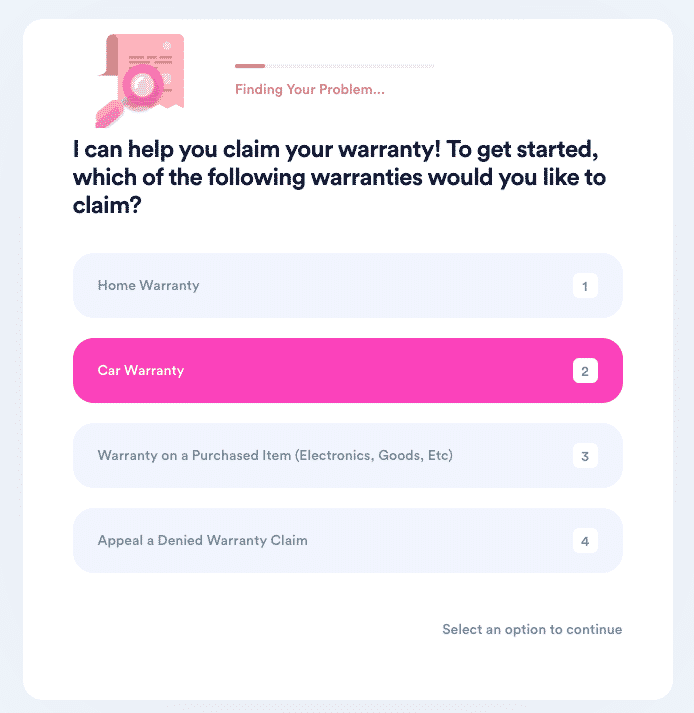 You Can Also Appeal a Rejected Warranty Claim With DoNotPay!
If your warranty claim gets denied, you can appeal it using another feature we designed for you!
With our Appeal a Denied Warranty Claim tool, you can get any rejected warranty claim appealed in four steps:
Load DoNotPay in any

web browser

Navigate to the

Claim Warranty

feature

Select

Appeal a Denied Warranty Claim

Choose whether your claim was denied by an extended warranty provider or a

product manufacturer

and provide additional details
DoNotPay will do the rest of the work and send the appeal letter on your behalf. You can sit back and wait for the company to contact you.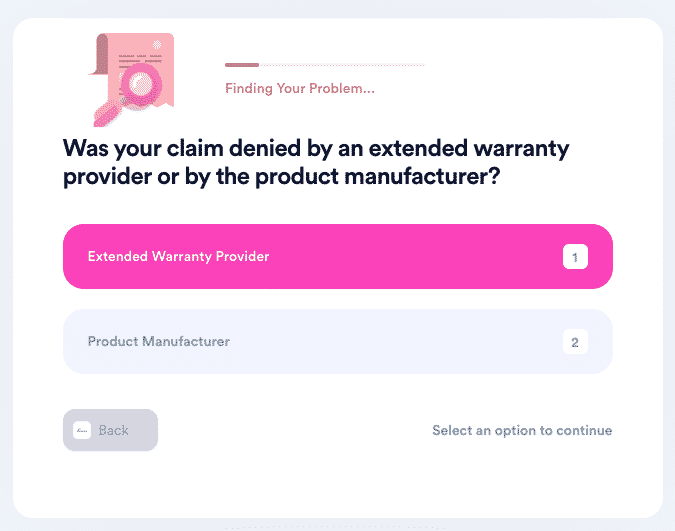 You Can Do So Much More With DoNotPay!
There's no issue you can't resolve with DoNotPay! Sending books to inmates, renewing your driver's license, paying medical bills, passing your DMV permit test on the first try—you can do it all with our app! 
You can also claim your warranty for used cars and handle a dealer refusing to cancel your extended warranty! Any mundane task you find boring, we can help get done trouble-free! 
Open DoNotPay in any web browser and see all the amazing features it boasts! Here are all the tasks we can help you with:
Disputing traffic tickets

Fighting speeding tickets