Everything You Need To Know About Finding a Scholarship for Your Kid
Many parents and young students look for scholarships and grants to offset the increasingly high cost of education. Although opportunities for college students—both American and international—are relatively easy to find, finding a scholarship for a kid is a difficult task.
You will have to visit multiple websites to find scholarships that match different criteria such as age, grade, etc. You can save a lot of time and find all the info in one app by !
Scholarships for Children—What To Expect
There's generally a lot of confusion when it comes to finding scholarships and financial aid for children. Most people assume scholarships are awarded only to high schoolers or older students, but your youngsters also have some opportunities for financial aid.
Scholarships for kids can be divided into several categories, such as:
Scholarships for pre-K and kindergarten students
Scholarships for kids under 13
Scholarships for high school students
Scholarships for kids with special needs
Scholarships for Kindergarten and Pre-K Students
A lot of parents don't look for scholarships for Pre-K and kindergarteners, assuming there aren't any. There are a handful of scholarships that aim to reduce the cost of early-age education, including:
The Jim Joseph Foundation
Child Care & Development Block Grant
Child Care Grants
The Verizon Foundation
Scholarships for Kids Under 13
Elementary scholarships are aplenty if you know where to look. Some awards available to children aged below 13 include:
The Angela Award
Children's Scholarship Fund
Christopher Columbus Awards
The Gloria Barron Prize for Young Heroes
$1,000 CollegeXpress Last-Chance Summer Scholarship
$25,000 Scholarship - National Constitution Bee
$25K Be Bold Scholarship
John Sexton Essay Contest
JETAANC Scholarship
Targeting Excellence Scholarships
Joyce Komperda Athlete Support Fund
Scholarships for High School Students
High school freshmen, sophomores, juniors, and seniors can apply for one of the following scholarships:
| Scholarship | Award |
| --- | --- |
| "Species On The Edge 2.0" Social Media Contest | $1,000 |
| "You Will Be Found" College Essay Writing Challenge | $1,500 |
| A Voice for Animals Contest | $500 |
| AEP Diversity in the Environmental Profession Student Scholarship | $1,000 |
| Asian American Storytelling Video Contest | $1,000 |
| Distinguished Young Women Scholarship | Varies |
| Force For Good High School Essay Contest | $2,500 |
| L. Ron Hubbard Writers of The Future Contest | $5,000 |
| National Student Poets Program | Varies |
| Ramblers Scholarship for LGBTQI Student Athletes | $2,500 |
| Race for Education Scholarships | $5,000 |
Scholarships for Children With Special Needs
It can be difficult to fund education for children with learning disabilities or other special needs due to the high costs associated with special education. A few scholarships that can help make special ed programs more affordable are:
Microsoft Disability Scholarship
National Scholarship for College Students with Disabilities
Joe Cleres and Don Sage Scholarship Program
NBCUniversal Tony Coelho Media Scholarship
Buckfire and Buckfire, PC Disability Scholarship
Jack Scura Fund Annual Scholarship
Student with a Disability Scholarship
Google Lime Scholarship
AAHD Scholarship Program
RISE Scholarship Foundation
Marion Huber Learning Through Listening Awards
Anne Ford Scholarship
The Allegra Ford Thomas Scholarship
Joseph James Morelli Foundation Scholarship
Other Scholarship Opportunities for Children
There are multiple scholarships that are awarded to children of all ages. While most scholarships are awarded based on merit—high GPA, exceptional achievements in the arts or sciences—a few cater to low-income students or minorities. Some of the more popular ones include:
| Scholarship | Grade |
| --- | --- |
| American Legion National High School Oratorical Scholarship | 9–12 |
| AMVETS National Americanism Program | K–12 |
| Ayn Rand Institute Essay Contests | 8–12 |
| Blick Mixed Media Contest | K–12 |
| Club Z Annual Achievement Award | 6–12 |
| Courage in Student Journalism Award | 7–12 |
| Doodle 4 Google | K–12 |
| eCYBERMISSION | 6–9 |
| Gedenk Award for Tolerance | 7–12 |
| Intel International Science and Engineering Fair | 9–12 |
| Jack Kent Cooke Foundation Young Scholars Program | 8–12 |
| L. Ron Hubbard Writers & Illustrators of the Future | 9–12 |
| Letters about Literature | 4–12 |
| MATHCOUNTS | 6–8 |
Save Time Looking for Scholarships With DoNotPay
Finding the right scholarship for your kid can take days. There are so many factors to consider during the scholarship search process. Are your children entitled to scholarships because you are a veteran? Are there any easy scholarships that do not require you to write essays and letters of recommendation or pass complicated assessments?
You can find the answers to all these questions and make your scholarship search easier by using DoNotPay.
Here's what you have to do:
Navigate to the Apply for Scholarships product
Type in the necessary information about your child's age and education
The app will show you a customized list of scholarships that you can apply for and give you the option to apply automatically if you pick the no-essay opportunities!
Turn to DoNotPay for other scholarships you can apply for, such as those for undergraduate or graduate students or women.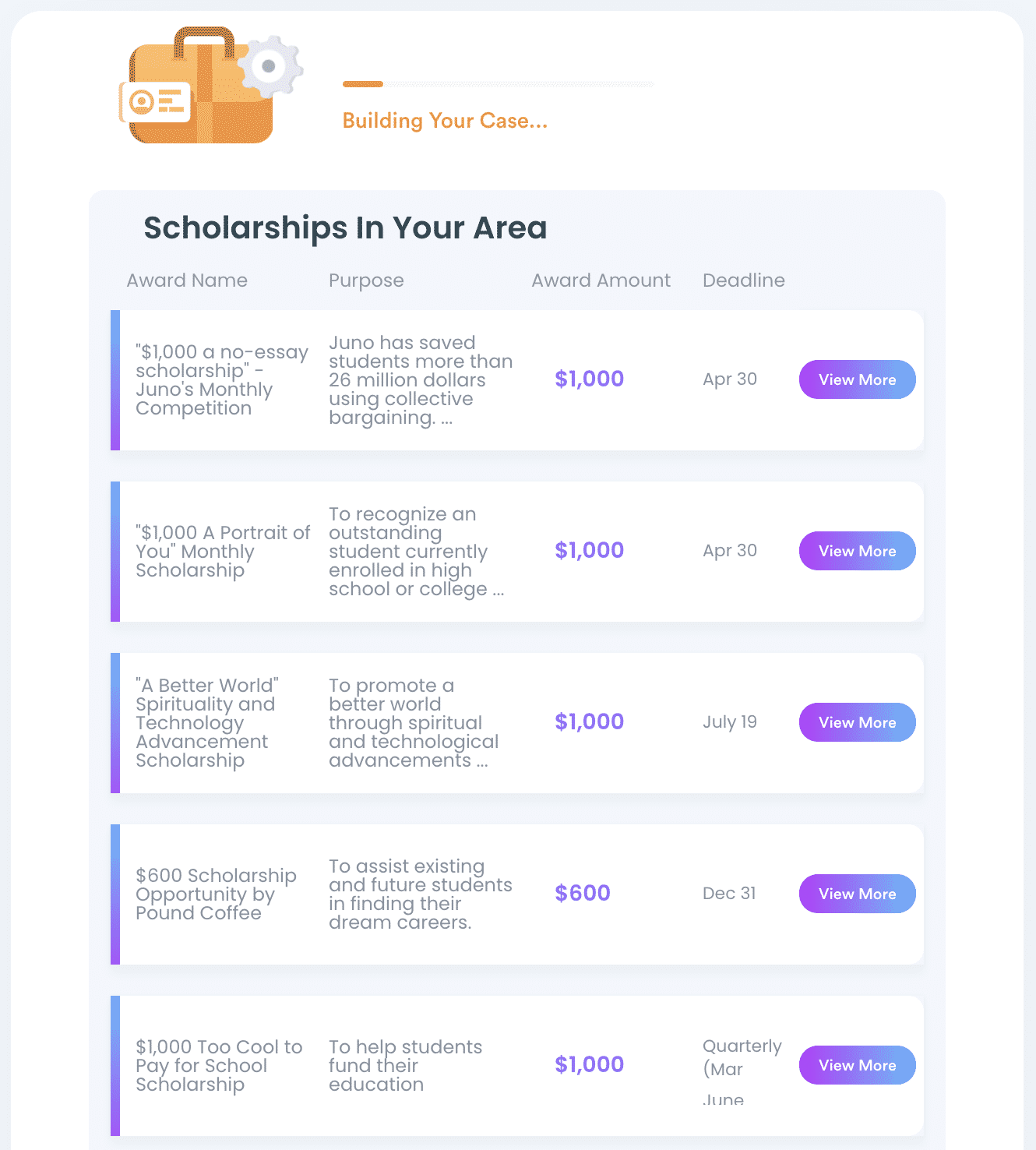 Don't Stop There—Check Out DoNotPay's Product Range
DoNotPay has many tricks up its sleeve—no matter the admin or legal issue at hand, our AI-enabled app can power through it in a split second. Look into our product range to find out how you can:
What Else Do You Need? DoNotPay Will Provide!
If you want to cancel a subscription before your free trial expires so that you don't get charged, you can count on our virtual credit card to do it in your stead! We can also make sure that you
You no longer have to go through legal or administrative hurdles on your own—as soon as you sign up for DoNotPay, you'll get access to our app's assistance and will be able to use it to fight injustice.get what's rightfully yours—be it a refund, insurance, warranty, unclaimed money, flight refund, raffle ticket, or gift card cash back.