A Step-by-Step Guide to the Footaction Return Policy
Have you bought sneakers or high-tops from Footaction that don't fit? Read this easy-to-follow guide to learn all you need to know about the Footaction return policy.
, and we'll make sure you get an exchange or refund on the item you bought from Footaction or any other company in record time!
Everything You Need To Know About the Footaction Return Policy
The Footaction return policy allows you to return or exchange your item within 45 days from the date of purchase. For your return to be successful, the company's policy requires the items to:
Be in their original packaging
Have their tag intact
Be in new condition
Once Footaction receives your item, they will refund you to the original payment method.
The company will not accept a return after the designated deadline. The company also doesn't accept:
Cash-on-delivery returns
International returns
How To Return an Item to Footaction
You can return a product to Footaction in the following ways:
Visit any Footaction location in person
Ship the product via mail
Footaction Return Policy—In-Store Returns
If you choose to return your item to a Footaction store, follow these steps:
Use the Store Locator tool on the company's website
Find the nearest Footaction department store
Bring your original receipt
Visit the store and find a clerk
Request to exchange your item or get a refund
If you don't have the original receipt, you can still get a replacement or in-store merchandise credit.
Online Return Requests to Footaction
If you wish to initiate your return request to Footaction online, do the following:
Visit the Footaction website
Find the Ready Returns option
Pick the method you used to buy the item (in-store or online)
Enter your email address and article number
Wait for your return request to be processed
Print the Ready Returns Label that Footaction will send via email
Ship off your article (including your original invoice or register receipt) to this address: 3131 Manchester Expy Ste 72, Columbus, GA 31909, USA
Keep in mind that the company will deduct $6.99 if you use a Ready Returns Label and request a refund. You will not be charged for the label if you choose to exchange the item.
Returns made by mail require 3–7 days to reach the store's distribution center. If you're sending a damaged item, keep in mind that the company may charge you a restocking fee.
The following table displays summarized methods of initiating a return request for an undesired product with Footaction:
| Method | Yes/No |
| --- | --- |
| Online | Yes |
| In person | Yes |
| Via phone call | No |
| With DoNotPay | Yes |
Does the Footaction return policy seem complicated and time-consuming? If you sign up for DoNotPay, you won't have to go through the Footaction return process alone!
Speeding Up the Return Process With DoNotPay
We know how unreliable and sly some retailers can be. You may end up waiting for ages to get a refund or an exchange on your item! Register for DoNotPay, and we will take away any inconvenience you may experience when navigating the Footaction return policy.
DoNotPay will create a tailor-made return request letter based on the details you provide and send it to the company on your behalf. The letter will explain the issue you're experiencing with the item you wish to return and the action you expect the company to take. We will set a deadline during which Footaction is required to process your request and provide you with a free shipping label!
Follow these easy steps to take advantage of our service:
Pick the Return My Purchase product
Specify why you want to return the article
With our help, you can expect Footaction to respond to your request in no time!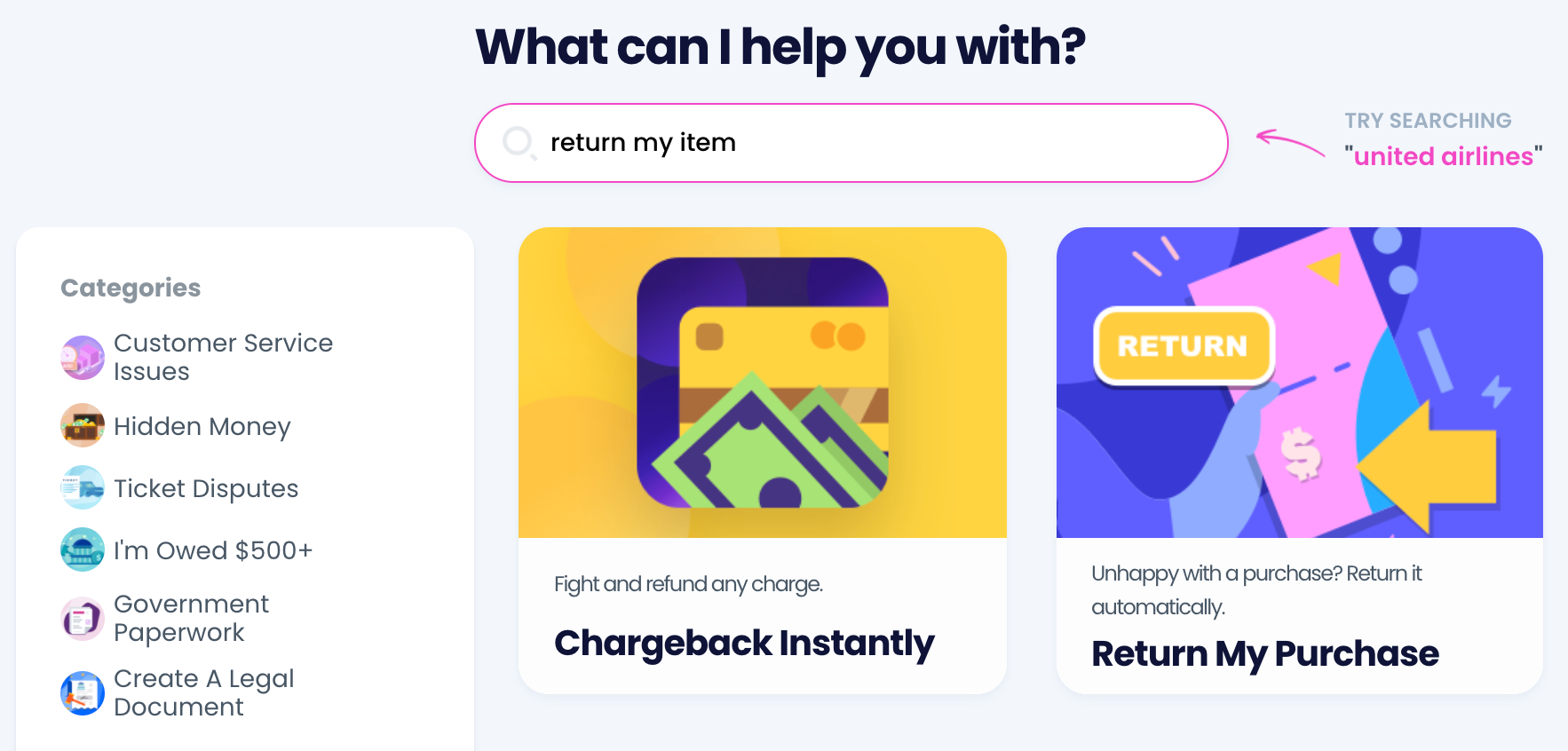 Do you need help returning a faulty product to another store? Here is a table with some of the other companies DoNotPay can also help you with: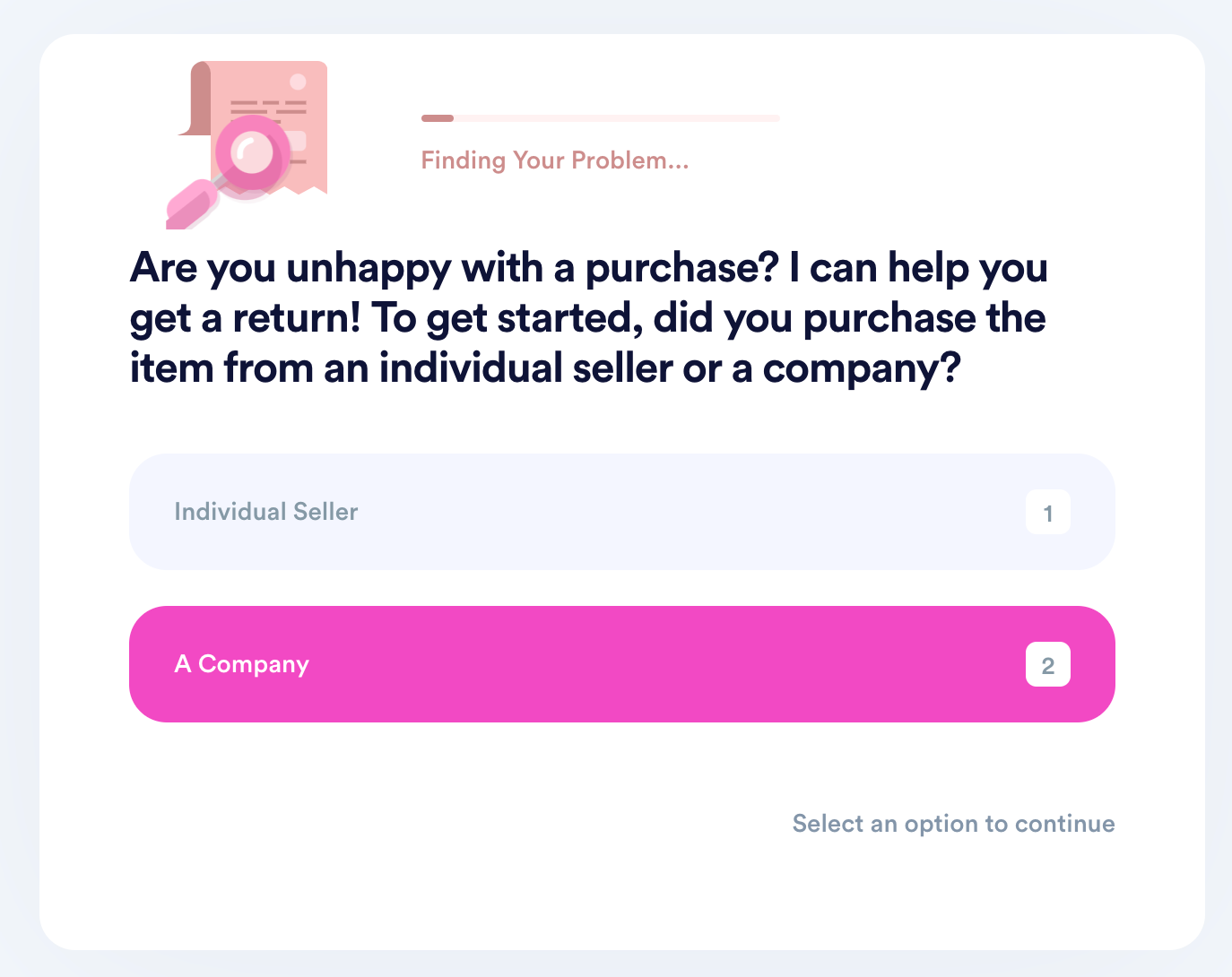 Don't Let Companies Trick You
Companies are known for tricking their customers into making bad purchases, and then they don't even deal with any repercussions. That will no longer be the case once you sign up for DoNotPay—we will protect you from corporations' malicious intents.
If you've ever taken up on a free trial offer that turned into a paid subscription automatically, you know what it feels like to be tricked. With our app, you don't need to worry about that happening ever again—we'll help you make the most of your trials without getting charged by providing you with a virtual credit card.
Too late for that? Use our nifty product to cancel the subscription in a split second and demand a refund. The company refuses to issue one? Sue it in small claims court! We'll help you generate any legal document you may need for the case, get it notarized online, and fax it quickly.
Curious To See What Else We Can Do?
As soon as you sign up for our robot lawyer app, you'll get access to a plethora of useful products that save you time and money and protect you from companies' and individuals' difficult attitudes. Check out how we can assist you in: