How To Test a Fax Number or Machine the Easy Way
Faxing is one of the most secure methods you can use for exchanging important contracts or paperwork with your colleagues or various companies.
If you use fax machines regularly, you must be aware of the fuss that may occur if the device you are using starts acting suspiciously. Use this guide to learn how to test a fax number and get familiar with fax services that can successfully replace your device!
We teach you how to fax with DoNotPay and avoid dealing with machine bugs once and for all. You can get some handy advice on:
Popular Ways To Test Your Fax Machine or Number
A functional fax machine can both send and receive faxes with zero problems. If you aren't sure whether all its features work well, you can check it by using the methods from the table below:
Method
Explanation

Using various online faxing tools

Many people use online faxing services such as

GotFreeFax

if they don't have a second fax machine nearby

Asking another person for assistance

You can send a test fax to a friend or a family member who owns a fax machine and ask them to do the same. If both you and the other person receive faxes from each other, it means your number and machine work fine

Using fax test numbers provided by certain companies

Fax machine manufacturers like

HP

or

Canon

provide the numbers to which you can send a test fax. All you need to do is provide your fax number in the header of your fax and unblock your Caller ID if you previously blocked it. If the company receives your fax, they will notify you about it via the provided fax number
Why Fax Machines Create So Much Hassle?
Here are some of the most common types of trouble that come with fax machines:
Age

—Fax machines belong to older tech equipment, which is why new generations aren't used to them

Maintenance

—Frequent use of fax machines requires a huge amount of ink and paper, which can be expensive

Portability

—It's not a device that can be transported or carried around easily, which means that you may not be able to use it anytime you need it

Security

—People usually use such devices to send signed documents or other important or confidential paperwork. If your machine is located in a room where many people work, the content you send or receive may not be safe
Can Online Fax Help You Avoid Fax Machine Hassle?
Modern times and technology made online faxing a more convenient solution than standard fax machines. It's a service that allows you to send documents without a machine by using the internet connection and your email address only.
The use of online fax apps includes the following steps:
Signing up for the chosen online fax service

Paying a monthly fee

Getting a new fax number

Receiving faxes via the connected email address
This method is more secure than using a fax machine and much faster than mailing your documents to a particular address.
With online service, handling important documentation becomes much easier, but standard online fax apps have their disadvantages. Some of them can send faxes on your behalf, but they can't receive them. Besides these problems, they usually charge up to $50 per month, which is too much money for a limited number of documents you can send or receive.
No Testing With DoNotPay's Amazing Service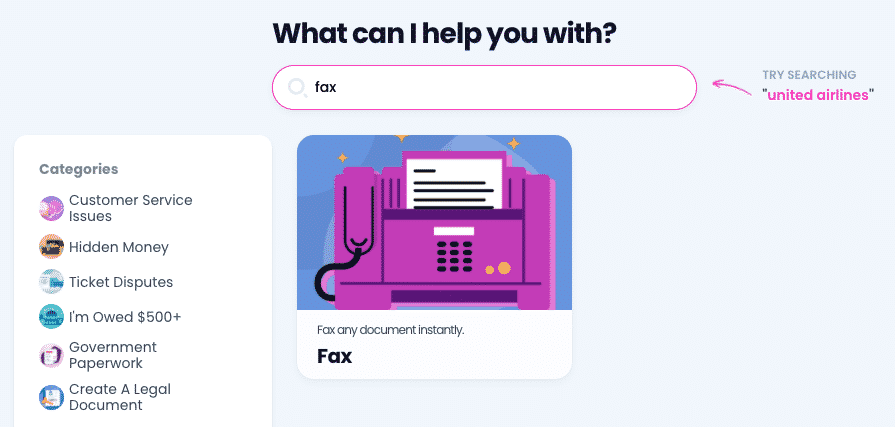 Trying out regular fax numbers or machines can be too complicated, take much time, or result in a failure. To make sure your faxing tasks go as smoothly as possible, you should opt for —an AI-powered service you don't need to test!
Our app has a super affordable online fax feature that allows you to send up to 100 copies per month. You don't need a fax machine for these tasks—we enable you to do them from your phone or laptop safely and quickly!
Some more benefits you can gain with DoNotPay are:
Instant photo faxing option

Practical email integration that lets you keep track of your faxes easily
You can use our guides for faxing documents via Gmail, Outlook, or Windows 10. We can teach you how to fax from your Mac or iPhone with no fuss.
How To Tackle All Your Faxing Issues With DoNotPay
Our app is the most efficient and cost-effective faxing option, and it will allow you to send a fax in no time and with minimal effort.
Sending Faxes With DoNotPay
Faxing your paperwork with our app is the simplest procedure ever—all you need to do is follow the instructions below:
Open DoNotPay in any

using your preferred device

Select the

Online Fax

feature

Upload a specific snap or file you want to fax

Enter the number to which you want to send your document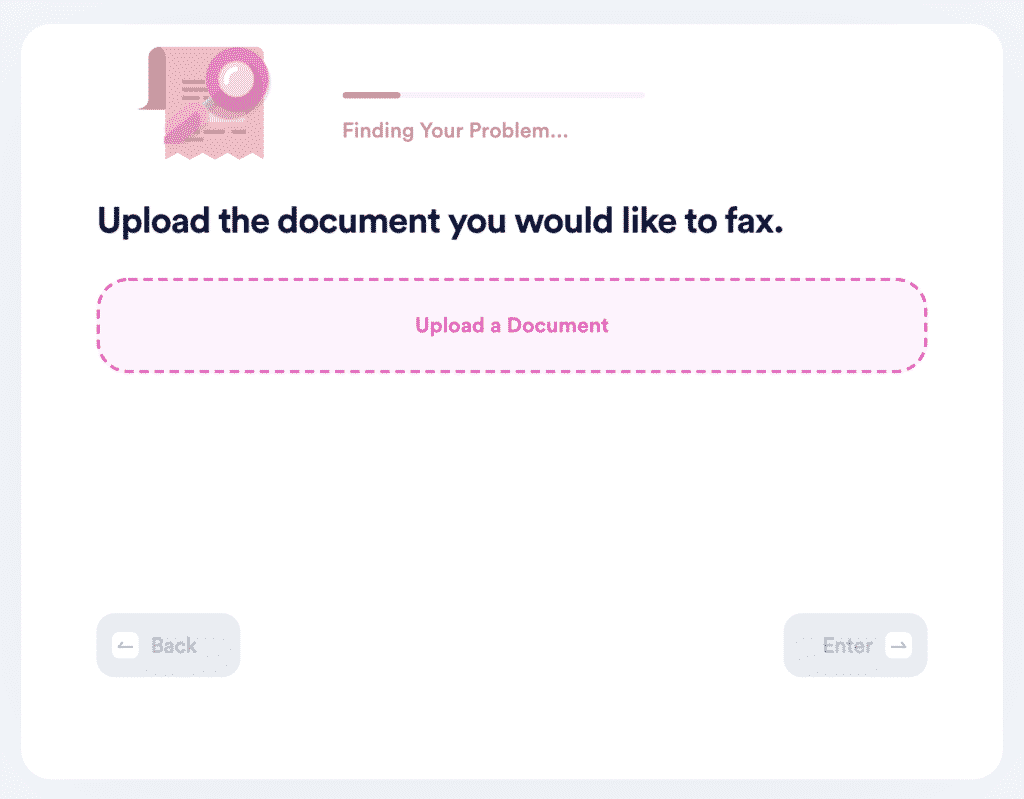 Our app will fax the chosen file right away and send you a notification once it's done!
DoNotPay Offers a Variety of Services
DoNotPay is the ultimate virtual assistant that takes over all those annoying tasks you don't want to deal with!
Need to schedule your DMV appointment? Want to get your college fees waived? Have to draft a legal doc quickly?
We can do all that and much more!
Our app waits on the phone line with customer service of any company for you, reports robocalls, and helps you file lawsuits in small claims court.
We can also help you deal with your parking tickets, get rid of spam emails and texts, or find and sign up for reputable clinical trials!
Keep Your Money in Check With DoNotPay
How often do you sign up for a free trial and then forget to cancel it before it expires? Unexpected charges are the worst, but you can prevent them if you use our free trial card. DoNotPay's virtual credit card is not connected to your bank account, which means that no money can be taken from it.
We can also help you get refunds for unsatisfactory purchases or compensation from airlines for delayed or canceled flights.
In case you are struggling with warranty claims, bill payments, insurance, or tax reduction, DoNotPay can solve these issues as well.
Our app also has the largest database of unclaimed assets in the United States, so you can find and claim your lost funds quickly.