Sending a
Free Fax Online
With
No Credit Card
Necessary!
If you are looking for ways to send a fax online without giving away your credit card info, we are happy to break down some of the methods you can go for.
You won't find a service that will let you send countless faxes for free, but there are a few apps that will allow you to send several documents free of charge.
We'll show you how to send your free fax online with no credit card required, as well as other affordable options.
You can count on DoNotPay to provide all the answers regarding online fax services, including how to get a fax number quickly!
How Can I Send a
Free Fax Without
a
Credit Card
?
To send your fax without a credit card, you will need to search for free faxing services online. You'll get a lot of results, so it may be challenging to determine which one would work best for you.
Some websites and fax apps will offer you three to five free pages before they charge you for their service, while others will offer up to ten but will have other drawbacks, such as:
Only being able to send or receive faxes, but not both

Showing ads
There are other methods, such as using your fax machine if you have it or paying to use one at a store. Keep in mind that both require time and money!
Why Is Online Faxing Better Than Using a Fax Machine?
There is no need to bother with fax machines and old-fashioned ways to send your fax anymore! Modern times require modern solutions, so we came up with new ways to send your faxes.
Fax machines are outdated and require too much work. Nowadays, most tasks can be done online, and faxing can also be done much quicker than before.
Online faxes are encrypted, and your documents are still safe from data breaches, but you can send them whenever and wherever you want.
That is why online faxing is the most convenient and straightforward option to go for. Traditional fax services are also never free.
How To
Send a Free Fax Online With No Credit Card
Sending a fax on your own is usually not something you'll have much fun doing. You can find a number of fax apps online, such as FaxPlus, HelloFax, or FaxZero. While all the apps mentioned above allow you to send free faxes, each of them has its flaws.
Using them isn't completely free, considering that they let you send a handful of pages before they start charging you for service. They are also not the most secure way to send your faxes, and keeping your documents private is one of the most important parts when sending faxes, so you should be careful with the services you choose.
With DoNotPay, you will be able to send a fax from Windows 10, Mac, or iPhone hassle-free. We can also teach you how to unlock your Google Voice number and use it to send or receive faxes or use Outlook and Verizon faxing services!
Not Sure How To Send a Fax Online? DoNotPay Provides an Answer!
DoNotPay will make sending faxes a smooth-sailing experience while helping you save a pretty penny!
Check out the list of benefits if you opt for DoNotPay in the table below:
Benefit
Is It Available on DoNotPay?

✓

Get easy email integration so you can see your faxes from your email

✓

Fax automatically from your

phone

or computer

✓

Have the option to fax with the snap of a photo (or you can upload files normally)

✓
How To Send a Fax With DoNotPay
DoNotPay is the most undemanding and easy-to-navigate method you can choose to send your faxes. Once you load DoNotPay in any web browser, follow these instructions to send your fax with our app:
Pick the

Online Fax

tool

State that you wish to

send

a fax

Upload your photo or file

Give us the number that you want to send your fax to
Wait for our app to send you a confirmation email that your fax has been sent.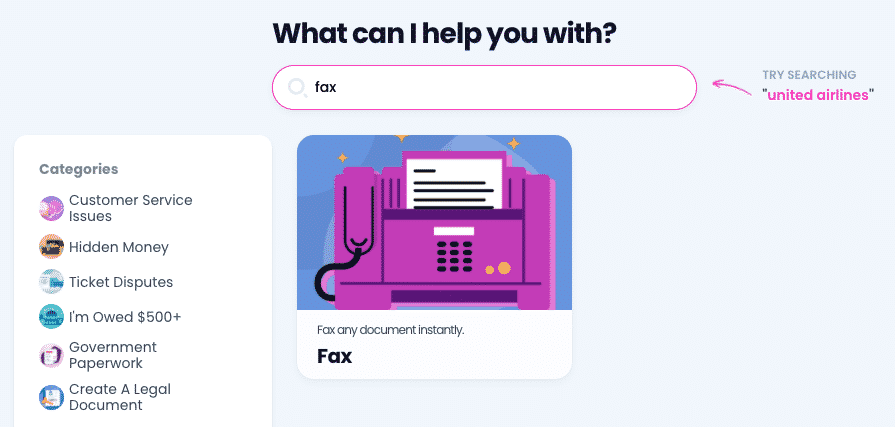 Free Online Fax With No Credit Card
—Advantages and Disadvantages
Opting for the online fax apps is the right call if you don't want to worry about finding a fax machine or figuring out how to operate it. Environmental issues are no less concerning since paper waste is enormous.
The online fax apps that allow you to send and receive faxes without providing credit card info aren't the most secure way to go about it, which is a significant disadvantage. You want to be positive that your documents are secured and safely transferred, and with free online fax services, you can never be 100% sure. 
DoNotPay's Online Fax is the most affordable, safe, and time-efficient method for worry-free faxing.
DoNotPay Helps You Claim Your Money
Our virtual assistant app makes sure you get back funds that are rightfully yours. 
Whether you need to claim insurance, warranties, or your property held by the state, we will help you do it in minutes.
DoNotPay can also help you initiate a chargeback on any transaction you disagree with. We can help you secure compensation from airlines, robocall and text scammers, or in case you've been a victim of a crime.
In case you are dealing with an unfair company regarding your subscription cancellation or any other matter, we can help you get your money back by suing them in small claims court.
Bypass the Administration With DoNotPay
There's no more need for extensive research, abundant paperwork, or endless phone calls with customer service reps.
DoNotPay brings the administrative nonsense to a minimum.
Book DMV appointments fast and easy, appeal your parking citations, sign up for free trials without disclosing your credit card info or phone number, or reach your loved ones in jail—all in less than five minutes.
We also generate any legal document, provide full access to public records, offer DMCA protection, and reduce your property taxes with a few clicks.